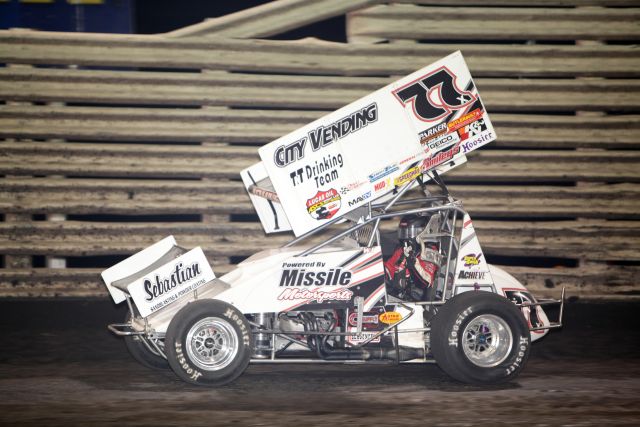 By Bill W
May 30, 2012 – The streak of top fives had to end, and it finally did after the first eighteen shows of the year for Wayne Johnson. Now we can say he has failed to miss the top ten in 21 appearances! Four shows made a busy week for the Lucas Oil ASCS National Series. A weekend off from the series will allow him some time to get home and race in Jackson, Minnesota and at Knoxville Raceway.
Wayne's best finish came Wednesday night in Grain Valley, Missouri at the Valley Speedway. He won his heat from the fifth position, and finished fourth in the feature. "We were so good in the heat," he says. "I really didn't change a whole lot for the feature. We just didn't tighten the car up enough. I was working the bottom, and after they reworked the racetrack, I never dreamed it was going to take rubber. I was just down there too long, and by the time I saw it, we just kind of followed everybody."
The Knoxville, Iowa driver traveled with the series to I-80 Speedway near Greenwood, Nebraska on Thursday. A fifth place heat run led to a ninth place run in the main event. "At I-80, we got up through there in the heat," says Wayne. "The car felt really tight and I couldn't figure out why. We came back in and found a bad stop. Once we re-blocked it, and put a new stop on it, I tried to compensate in my mind for the broken stop. I screwed up. The car was way too tight in the feature. That was probably the worst car I had all year and it showed with a ninth place finish."
It was on to Jetmore Speedway in Jetmore, Kansas for Saturday's prelim of the Steve King Memorial. Wayne would run from sixth to third in his heat, and finish eighth in the feature. "The first night, the car was really rolled up," he says. "The wind was blowing so hard, I thought the car may tip over down in three and four. The car felt really bad. I couldn't figure out why. 'Stretch' and I had a misunderstanding on the bar to put on the left rear, and we screwed up there. I'm glad we found it. I was really a little bit out to lunch that night."
The finale on Sunday didn't go much better. After a second place heat run, Wayne finished eighth for the second night in a row after starting tenth. "It was really a product of not getting in the redraw," he says. "Our finish was really a product of the race. I don't think anybody passed much. I'm not so sure there was any passing. It was a follow the leader track."
For some drivers, a fourth place finish to go with three more top tens would be welcome. For the way things have been going for the Wayne Johnson Racing #77x team, it was a disappointment. "We were just off this weekend," says Wayne. "We found a couple of deals with the car one night. There were just some issues that were there. I don't know. The car just didn't feel as good this week. We're not going to make excuses. It is what it is."
The team will try to bounce back this weekend. "We're headed to Jackson (Friday) for the 360 show ($5,000 to win Spring Challenge) up there," says Wayne. "Then we'll be back at Knoxville (Saturday) with the 410. The ASCS schedule really picks up after that."
Follow Updates on Facebook!
Wayne will update as his race night goes on at his Facebook page. Find it by searching for Wayne Johnson Racing or clicking the following link…
http://www.facebook.com/#!/WayneJohnsonRacing
Outlaw Wings – "The Wing with an Attitude"!
Check out the new "recessed rivet" design put out by Outlaw Wings. Talk to Wayne about purchasing Outlaw Wings for your car! Outlaw Wings – "The Wing with an Attitude"!
Wayne's World
Howard Hendricks asks: Do you prefer a draw or qualifying system?
Wayne answers: I would definitely rather qualify. I'm a little rusty at that right now, because we haven't done it enough this year. Qualifying really weeds out some of those slower cars that can cause a wreck sometimes.
Got a question for Wayne? Each week, Wayne will answer your questions about "Tech Tips", or anything that's on your mind. If you ever wondered what a part on a sprint car is all about, send an e-mail to us at sprntcar@iowatelecom.net, and we may answer it in this section! Put "? for Wayne" in your subject line. He'll try to keep it clean if you do!
Wayne's Fast Facts
Wayne had a good 2007 season at Knoxville in the 410 despite a limited number of starts. He only failed to finish in the top ten on two occasions. One was the Knoxville Nationals finale when he finished a respectable 11th, and the other was Knoxville's Season Championship night when he was a DNF. His finishes chronologically were 7th, 10th, 3rd, 4th, 6th, 3rd (Nationals Prelim), 11th (Nationals finale), 3rd, and 20th. He should get a few more starts this season at Knoxville in the 410.
Partner of the Week – City Vending
Rely on City Vending in Fort Worth, Texas, for vending services, including snack machines, beverage machines, food machines, and office coffee service. They provide a valuable service for your employees at no cost to your company. They use only name brand products with pricing that is very competitive. At City Vending Co. Inc., courteous staff specializes in providing a professional hassle free vending service for your company. them today for your free on-site analysis to determine what products and equipment best suit your needs. Visit them online at www.CityVending.net!
"Wednesday's with Wayne"
"Wednesday's With Wayne" is an up close look at the past, present and future of colorful and talented sprint car driver Wayne Johnson. You'll never know what to expect next with Wayne, so don't miss us on Wednesdays!
To receive "Wednesday's with Wayne", send an e-mail to sprntcar@iowatelecom.net with "Wayne" in the subject line.
Wayne Johnson Racing would like to thank Vern Rengen and Missile Motorsports, Sebastian Sandblasting & Powdercoating, City Vending, Outlaw Wings, Team Achieve, The Oil Medics, Century Signs, Smiley's Racing Products, Hoosier Tire Southwest, Simpson, Butlerbuilt, Super Shox, Maxim, Speedway Motors, Rod End Supply, Schoenfeld Headers and RCM Design.