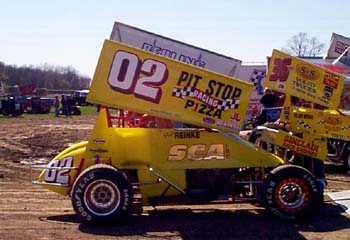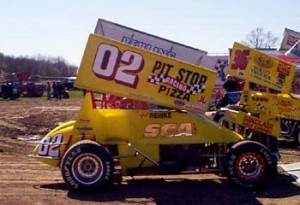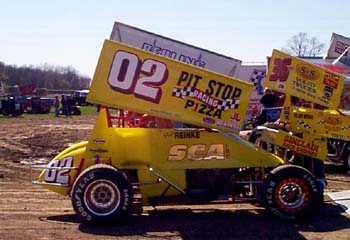 From IRA
New Richmond WI — (June 2, 2012) — It was a festival like atmosphere at Cedar Lake Speedway as the 3/8 mile high-banked clay oval presented it's inaugural Triple Crown event. With fireworks displays and rock music introductions it was a high energy evening of racing. Especially for those reaching victory lane.
It would be Mike Reinke of Howards Grove, WI making his way to the tracks victory lane as he paced the final two laps of the 30 lap main event collecting the $3,000 first place prize for his efforts.
It was his first feature win since his victory at Dodge County Fairgrounds in July of 2011. The win was his 22 A-main checkered in the Bumper to Bumper IRA Outlaw Sprints.
For much of the contest Reinke would be chasing four-time and defending series champion Billy Balog who appeared to be on his way to his fourth victory of the season by the mid-portion of the contest. However as laps wound down Reinke began to reel in Balog closing within a couple car lengths when the evening's only red flag flew.
On Lap 28 Scott Broty flipped his machine between turns three and four . Broty would emerge from his machine unhurt and while the safety crew was removing Broty's car from the track Balog retired to the pit area, the victim of engine problems . This ended Balog's night and continued a streak of bad luck which has resulted in three DNF's in the past four events.
This left Reinke in the lead of the event. A position he would hold for the two lap dash to the checkered flag.
Earlier in the evening Travis Whitney turned in the fastest qualifying lap of the night. Fresh off his win the evening before at Jackson Speedway in Jackson, Minnesota, Whitney clocked in at 11.759 seconds. The effort edged out Neitzel who earlier has turned in a time of 11.798 seconds. Four drivers got under the 12 second mark.
Heat race victories would go to Balog, Scott Pribnow and Kaley Gharst.
With preliminaries out of the way, Cedar Lake Speedway officials groomed the racing surface prior to the start of the main event for the Bumper to Bumper IRA Outlaw Sprint Cars. This left a smooth racing surface for the 23 drivers starting the contest. Phillip Mock would be sitting on the pole with Jim Moughan to his outside. Balog and Reinke would hold down row two as the green flag appeared.
Moughan blasted into the lead as racing got underway. Balog was quick to maneuver past Mock to garner second before the first lap was complete. Cars were three wide in the middle of the pack as everyone sought to find their preferred groove on the freshly groomed racing surface.
Brook Tatnell, who had started in the third row would work the low line past Balog for second on lap three.
Moughan who preferred running the high groove held a six car length advantage on Tatnell who preferred a much lower line around the raceway with Balog, Reinke and Mock giving chase with five laps in the books.
Tatnell's efforts to catch Moughan ended on lap eight when he looped his machine in turn two after closing within a couple car lengths. The spin was one of just two cautions in the contest.
Moughan would have Balog and Reinke on his rear bumper for the restart. Mock and Scott Neitzel would round out the top five as racing resumed.
Underway again Moughan assumed command of the race pulling away from Balog who has his hands full fending off the challenges of Reinke.
Once the leaders started to encounter lapped traffic Balog began to slice into Moughan's lead. On lap 15 Balog caught Moughan in lapped traffic. Diving to the bottom of the track he sliced past Moughan for the lead. The pair would duel in heavy lapped traffic with Balog attempting to keep cars between himself and second running Moughan.
The pair were frantically lapping backmarkers when Balog made contact with Kris Spitz. Spitz would have his machine stall in turn two as he attempted to make his way to the infield forcing the second caution of the event.
The contact did not appear to affect Balog's ride and he continued to pace the field with Moughan, Reinke, Neitzel all nose to tail for the restart.
Reinke would dart past Moughan on the restart to garner second and he then set out to run down Balog. Slowly Reinke began to reel in the leader, closing within a couple car lengths when Broty flipped his car with only two laps left in the contest.
Reinke inherited the lead when Balog headed to the pit area with engine troubles giving Reinke the lead for the final restart. Once underway, Reinke was able to pull away from Moughan taking the victory by two car lengths. Neitzel would reach the finish line in third less than a car length behind Moughan.
Tommy Sexton made a late race charge advancing to the fourth position in the closing laps after having started the contest in ninth place. Leading rookie Robbie Pribnow turned in a solid performance running among the lead group all evening. He would finish the contest in fifth place.
Bill Wirth in one of his strongest showings of the year finished sixth. Kaley Gharst, Mock, Tatnell and Travis Whitney who won the IRA main event ay Jackson (MN) Speedway the night before completed the top ten finishers.
The Bumper to Bumper IRA Outlaw Sprint series now concludes their triple-header weekend with a trip to Eagle Valley Speedway in Jim Falls, WI. The Sunday night, June 3rd program is set to begin on the 3/8 mile clay oval at 6:00pm. Adult admission tickets are just $20 for an event which will also include WISSOTA Modifieds, Super Stocks, Street Stocks and Eagle Valley Speedway's own Pure Stocks.
Next week The Bumper to Bumper IRA Outlaw Sprint Series makes it's third appearance of the 2012 season at Wilmot Raceway for an event on Saturday Night June 9th.
For more information on the IRA Outlaw Sprints check out the tour website at www.irasprints.com
The IRA Outlaw Sprint Series is proudly supported by Bumper to Bumper Auto Parts & Service Centers, Osborn & Son Trucking, Goodyear, TW Metals, Cummins Onan, DNA Energy Drink& Snacks, MPT Industries, UltraLube, Big Game Treestands, Carriage Auto Body, Otis Gun, Mother's Polishes and Waxes and Polaris DEFENSE. The office of the IRA Sprints can be reached at 815-759-9269 or by e-mail at steve@irasprints.com
BOX SCORE:
Bumper to Bumper IRA Outlaw Sprints:
A-Main: 1.) Mike Reinke; 2.) Jim Moughan; 3.) Scott Neitzel; 4.) Tommy Sexton; 5.) Robbie Pribnow; 6.) Bill Wirth; 7.) Kaley Gharst; 8.) Phillip Mock; 9.) Brooke Tatnell; 10.) Travis Whitney; 11.) Scott Uttech; 12.) Dave Uttech; 13.) Jared Goerges; 14.) Todd King; 15.) John Sernett; 16.) Brandon Thone; 17.) Tony Kaus; 18.) Dennis Spitz; 19.) Bill Balog; 20.) Russel Borland; 21.) Scott Broty; 22.) Kris Spitz; 23.) Chad Tessman
Heat 1: 1.) Balog; 2.) S. Uttech; 3.) Mock; 4.) Thone
Heat 2: 1.) Pribnow; 2.) Neitzel; 3.) Sernett; 4.) Reinke
Heat 3: 1.) Gharst; 2.) Tatnell; 3.) D. Uttech; 4.) Moughan
Qualifying: 1.) Whitney, 11.759 Seconds; 2.) Neitzel, 11.798 secs; 3.) Tatnell, 11.937 secs; 4.) Balog, 11.945; 5.) Reinke, 12.178; 6.) Moughan, 12.250; 7.) Mock, 12.294; 8.) King 12,298; 9.) Gharst, 12.331; 10.) 12.373.