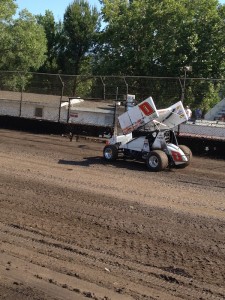 From Peterson Media
Making his first stop at the Kings Speedway since scoring the Cotton Classic win in October, Chico, CA driver, Jonathan Allard didn't have his best night as he fought back from a poor qualifying effort and scored a ninth place finish.
"It was a rough night," said Allard. "Our motor started laying down during time trials, and my guys busted tail to get a new bullet in, and we got going okay for the rest of the night."
Scoring a fourth place finish in his heat, Allard transferred directly to the feature where he lined up in the middle of the field in the 14th spot.
Allard slowly moved into the top-10 during a very slowly ran opening six laps that was marred by cautions and red flag stoppages.
The race finally got it's first extended green flag run following a lap six restart, and JA was able to work his Williams Motorsports entry towards the top five.
On the 18th lap, the caution waved again, and Allard sat in the sixth spot on the races final restart.
The restart didn't go JA's way and he slipped back to the ninth spot, the position he would go on to finish.
"We got going pretty good on that first long run we had, and got up to sixth," Allard explained.  "That restart hurt us a little, and we fell back, but ended up ninth after a pretty eventful night."
ON TAP: Allard and his team will now gear up for a The Road to Dirt Cup that kicks off Friday night at the Silver Dollar Speedway in Chico, CA on Friday before heading to Medford, OR and the Southern Oregon Speedway on Saturday, a track where Allard broke into victory lane last season.
STAY CONNECTED: For more information on Jonathan, including upcoming events, pictures, and news please check out www.allardmotorsports.com, or follow JA on twitter @Allard0.