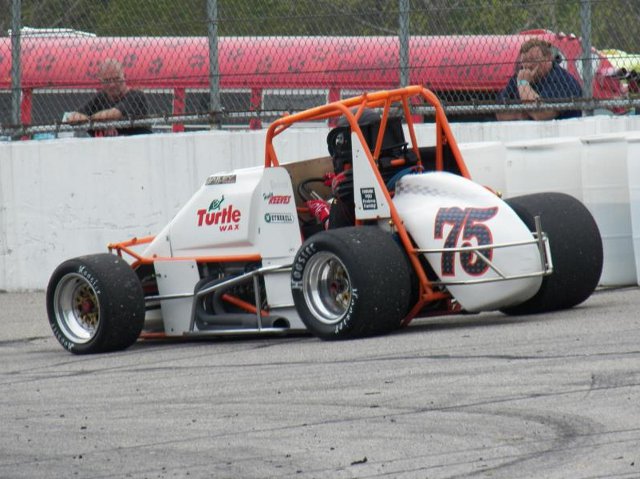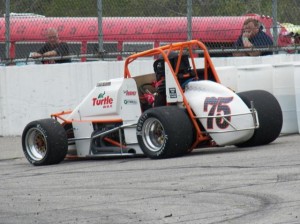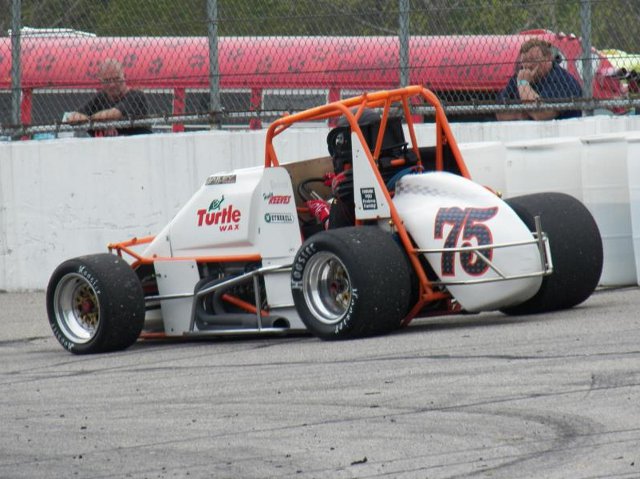 From Springport Motor Speedway
With May flowers in the rear view mirror and the heat of summer dead ahead, the schedule at Springport Motor Speedway is getting hot as the first double-header weekend of the season is up next. Saturday June 9th sees the Children's Miracle Network Open Wheel Extreme take the green flag as the Wingless Sprints make their debut at the Port. The following day, June 10th, the DTS Sunday All-Stars will christen their 2012 season as the regions best Outlaw Super Late Models, ABC Stock Cars and Sport Stock head to Springport to do battle on Michigan's fastest 3/8th mile pavement track.
Saturday Night, the Open Wheel Extreme and Autograph Night at the Port will greet drivers and fans. This special event will feature all the open wheel race classes of Springport.  Wingless Sprints, Hungry Howie Modifieds, Turbo Blue Michigan Legends and the Midwest Classic Dwarf Series will take to the track to do short track battle. Helping to make this an extra special night are the folks of Wal-Mart in Charlotte and Sparrow Hospital in Lansing as they head trackside to support the Children's Miracle Network. They'll be treated to Autograph Night as teams are encouraged to break out their racer photos, driver cards and team swag as everyone in the stands will be invited down onto the front stretch to meet the stars and cars which make Springport Motor Speedway so special.
Sunday Afternoon, the DTS Sunday All-Stars will kick off race one of their four extra special Sunday events featuring the best Michigan, Indiana, Ohio and Ontario Outlaw Supers, ABC Stock Cars and Sport Stock racers has to offer. They'll be making their way to Springport Motor Speedway to test their skills and their race machines versus competitors they might not normally get a chance to compete against virtue this special Sunday afternoon feature event. Springport Motor Speedway welcomes "Operation Homefront" to the speedway for this event.  Operation Homefront provides emergency financial aid and other help for families of deployed service members, and for Wounded Warriors during their recovery and transition.
This past Saturday Night, June 2nd, in the ABC Stock Car division, Tom Coleman of Jackson, MI made the "T&N Dairy Kreme Smooth Move of the Race" with a strong move on the first lap of the race to jump up from the end of the invert to the front row by dropping to the very bottom of the track and avoiding a jam up above him.  For Coleman, it was probably especially satisfing, as this was a total retart; on the initial start, he was part of the jam up and without the yellow would have likely lost a number of positions on the track. Coleman earned himself a free LARGE ice cream cone from T&N Dairy Kreme in downtown Springport thanks to Nancy & Corby Howk at T&N Dairy Kreme, Tom now has the opportunity to stop into Springport this week and have himself a big cone.
Don't forget to check out the Beacon Sales Fun Zone. A new amenity this season, the Beacon Sales Fun Zone will provide guests aged 12 and under with an additional entertainment option when they are at Springport Motor Speedway. The Beacon Sales Fun Zone will feature a a 30 foot tall inflated slide, a 60 foot long obstacle course and inflated rock wall and an inflated castle "moon jump". Wrist bands for the Fun Zone can be purchased for $5 at the souvenir stand, where the liability release and waiver form must also be signed.  Springport Motor Speedway will also be breaking out the Kids Bus this weekend, you can see Carla in the souvenir stand to purchase your token.
Feature Win trophies will be presented this weekend by Hungry Howies of West Michigan on Saturday and Hooters of Lansing on Sunday.  Hungry Howies is the presenting sponsor of the Modified division at Springport Motor Speedway and is the official pizza of the Port.  We invite you to check out their piping hot and fresh pizzas on the grand stand side and pit side concessions.  We ask you to support the businesses that support short track racing by visiting a Hungry Howies near you and tell them you are there because you saw them at Springport Motor Speedway.  Hooters of Lansing gives every feature winner an extra special treat – FREE WINGS !  Hooters of Lansing also hosts the monthly Hooters of Lansing Car Show where Springport Motor Speedway is very happy to participate.  Located on Lansing's southside, we invite everyone to stop out and check them out and add the dates of : June 13th, July 11th, August 8th and September 12th; to your calendar and join us as we great our feature winners from the month and enjoy some delightfully tacky fun.
Feature Winners last weekend were: Outlaw Super Late Model – No. 43 Brian Huntley; Hungry Howie Modifieds – No. 27 Nyle Wieler; ABC Stock Car A-Group – No. 24 Damon Place; ABC Stock Car B-Group – No. 2T John Trudell; Sport Stocks – No. 06 Nic Wiemer.
Beacon Sales & Service Spring Champions were : Outlaw Super Late Models – No. 45 Robby Henderson; Hungry Howie Modifieds – No. 36 Chance Rice; ABC Stock Cars A-Group – No. 24 Damon Place; ABC Stock Cars B-Group – No. 2x Jerry Schroll; Sport Stocks – No. 40 Glenda Metz.
New in 2012 is Darb's Dash! One division each night will have an extra special 4-car dash to determine the fastest of the fast in a sprint to the finish. Over the course of the season each division will get four opportunities to participate in a dash event, a little something extra for fans and teams alike.  This Saturday Night (6/09/12) the Modifieds will be dashing for dinner, while on Sunday Afternoon (6/10/12) the Sport Stocks will be dashing !
We remind race fans that on Saturday Nights the front gates open at 5 pm.  This is also when Qualifying starts on the track.  Opening ceremonies start at 6:45 pm and the green flag drops at 7 pm sharp !
BUT – On Sunday Afternoons, like this coming Sunday, the pits will open at 11am, but no motors on till Noon.  At 12pm, Practice will begin.  At 2pm, the front side grand stands will open and qualifying will begin.  The Green Flag will drop at 4pm.
We look forward to seeing you on Saturday and Sunday at Springport Motor Speedway.