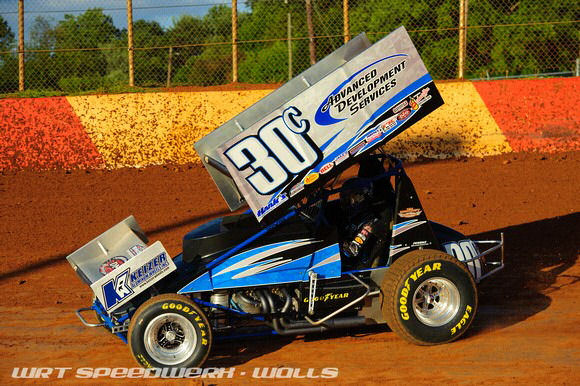 PETERSEN MEDIA
One week after dealing with a pair of rainouts during the Keystone Cup Speedweek, Lance Dewease and his Catoctin Motorsports team were again rained out Friday night at the Williams Grove Speedway and Sunday at the Bedford Speedway, but the veteran driver did manage to get in a race Saturday night where he picked off his 96th career victory at the Port Royal Speedway and his second in 2012.
Falling into the second spot behind Daryl Stimeling, Dewease simply maintained his position as Stimeling had broken out to an early lead.
While chasing down Stimeling, Dewease felt pressure for the second spot from a red hot Greg Hodnett, who had charged his way up from his eight starting spot.
With nine markers complete, the yellow bunched the field back up, and put the Fayetteville, PA driver on the rear nerf of Stimeling, but when the race resumed, Stimeling again set a torrid pace for the next six laps, until the red flew on lap 15.
Stimeling again seemed to have Dewease covered as he got off to a great restart, but on the 19th lap, things took a dramatic change when Stimeling was forced into the pits with a deflated left rear tire.
"I hated to see that for him (Stimeling)," said Dewease. "He was solid all night and I know exactly what he went through, I sure have lost my fair share that way."
Up front, Dewease was able to fend off Dewease, and pick up his second win at the track in 2012, and 96th of his storied career, and third overall on the season.
"We had a second place car tonight, but it's definitely better to be lucky than good any night," said Dewease. "We've had a rough stretch here the last few weeks and it's great to get back into victory lane.
Dewease would like to thank Viper Risk Management Group, Wings Unlimited,
Hank's Performance Products, Schaeffer Racing Oils,
Penske Racing Shock,s
FK Rodends,
Keizer Aluminum Wheels,
DMI Racing Components,
Astro Titanium,
Morrison Racing Engines,
Tom Shockey Collision, Kirkey Seats, FW Graphics,
WRT Web Designs,
WRT SpeedWerx, ViperVenom Fuels, and Schoenfeld Headers for their continued support.
ON TAP: Dewease will now look to defend his home turf in a trio of events this upcoming weekend as the UNOH All Star Circuit of Champions invade Posse Country. They will be at the Williams Grove Speedway on Friday, the Lincoln Speedway on Saturday, and they will cap the weekend off with a stop at the Utica Rome Raceway on Sunday.
STAY CONNECTED: Stay up to speed with Lance by visiting his website, www.lancedewease.com.