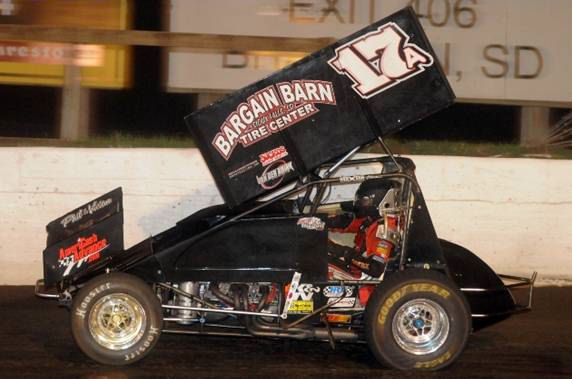 By Bill W
June 12, 2012 – Austin McCarl needed a few more laps at Huset's Speedway near Brandon, South Dakota on Sunday night. As the track slicked off, the talented young sprint car pilot got faster and faster. As the checkers fell, he was one spot away from passing his Dad, Terry, and recording a top five run. This Sunday night, he'll try to grab his first win of the year at the 3/8-mile oval.
Things started in time trials, where the Altoona, Iowa driver was tenth quick. "We didn't qualify as well as we'd like," says Austin. "I just didn't get the lap in that I needed to."
A third place run in the heat set up his feature run. "We got through the heat o.k.," says Austin. "It was pretty uneventful. We learned some things from the heat. We got some problems resolved that we ran into the week before. I didn't feel very good then."
Austin would start ninth in the 25-lap main event. "We missed the invert by one spot," he says. "So instead of starting on the front row, we were back in row five behind a bunch of good guys. We got to running well, and I was getting comfortable. I was pulling the wing back more and more as the track slicked off."
The TMAC Motorsports/Bargain Barn Tire Center #17A was adapting quickly to changing track conditions. "The track really came to us as it slicked off," says Austin. "I think that's the way it's going to be this year. I think we have a great car when things get dry-slick at Huset's. That evens the playing field. I can tighten the car up and go to work. The car really got going about halfway through the race."
The charge continued, but as he was making a move on Terry, the checkers fell for Austin with a sixth place finish. "I ended up passing Kaley (Gharst) and (Gregg) Bakker there with about ten to go," he says. "I wish the race had been about 40 laps, because I think we would have had something for them…especially if we would have had a yellow. Twenty-five laps goes pretty quick there."
Austin is getting some great help every week at Huset's. This week, he will add his father as crew chief, a bit of a role reversal from Saturday nights at Knoxville. "I have to thank Alex Johnson and Justin Boese for helping out," he says. "I couldn't do it without Bargain Barn Tire Center, Americash Advance and all of our great partners."
Visit Austin on the Web!
Keep up to date on Austin's exploits and check out the new look at www.AustinMcCarl.com!
Austin's Releases
If you'd like to be included via e-mail, shoot one to sprntcar@hotmail.com with "Austin" in the subject line.
Austin would like to thank Bargain Barn Tire Center of Sioux Falls, AmeriCashAdvance.com, Sweeter Construction, Rossie Feed and Grain, DeBerg Concrete, Sweeter Construction, Deanfield Farms, Phil and Vivian, Bosma Poultry, Vortex, Kosama of Altoona, Chris Spaulding-Attorney at Law, CM Rock, 212 Bar & Grill, Maxim Chassis, Van Der Brink Designs, Engler, HRP, Aurora Rod Ends, Butlerbuilt, KSE, Hoosier Tire, BRMS, K&N Filters, Sander, Jocko's Sprint Parts, Crow Safety and Bell Helmets for all their help!