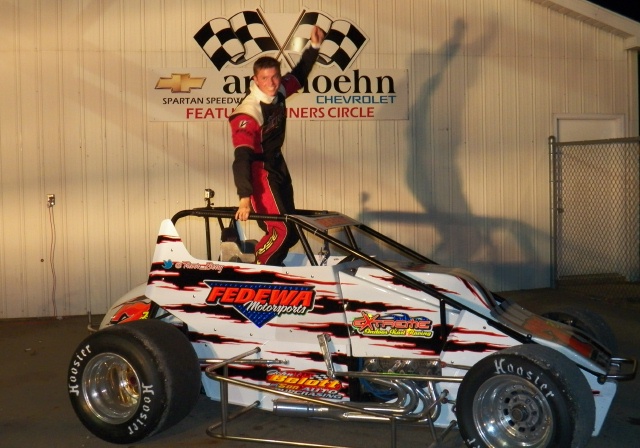 Matt Prieur
Clio, Michigan (Wednesday, June 13th, 2012): If his first career Feature Win in his first career start in the Non-Winged Sprint Cars division at Spartan Speedway proved that 19-year-old Trevor Berry was a solid contender for the 2012 Rookie of the Year title at the ¼ (0.250) mile semi-banked paved oval, then his second Feature Win in just three starts vaulted him to the moniker of 2012 Track Championship Title Contender!
The Clio, Michigan rising star proved that his first Feature triumph back in May was no fluke as on Friday, June 8th, he backed that victory up by out-qualifying the field in Time Trials and then for good measure, he would go on to score his second Feature Win of the year over a stout field of Non-Winged Sprints that included Defending Track Champion and Teammate Tom Fedewa as well as Auto Value Super Sprints star, Ryan Litt, and Winged Sprints Superstar on the Dirt, Dustin Daggett.
"There were a lot of heavy hitter's there that's for sure, but my Dad gave me a great car all night, it was just on a rail, anywhere I pointed it, it went." Explained Berry as he reflected on his second Feature win of the season in only three starts; "Luckily we stayed out of trouble and had another good point's day. I can't say enough about this whole team, this is pretty special."
Earlier in the week, Berry learned that his Father, Legendary Super Late Models star in the Midwest, Dennis Berry will be elected into the Michigan Motorsports Hall of Fame Class of 2012 Inductees. A very special honor for the entire Berry family, so the Feature Win at Spartan was shared and dedicated to his Father and Crew Chief.
When not running the Sprint car, Berry will race his open-wheeled Modified out of the Clio, Michigan race shop and race a limited schedule with the Full Throttle Modifieds Series as well as make limited appearances in weekly competition close to home at Dixie Motor Speedway in Birch Run, Michigan as well as Owosso Speedway in Ovid, Michigan.
The night after his Non-Winged Sprint Cars Feature Win, the Berry Racing Incorporated Team loaded up the open-wheeled Modified and ventured over to Owosso Speedway where his night started off by winning the Fast Qualifier Award. In the Feature, he started deep in the field and was scored with an eighth place finish at the pay window.
"I forgot how bumpy the place was," He laughed as he remembered the historic 3/8s (0.375) mile high-banked paved oval located northeast of Lansing and west of Owosso in Ovid, Michigan. "We had a good car, but we just had a bad roll of the dice and started pretty deep in the field. So we tried a few different things and we've got some good notes for the Owosso Fall Nationals (In Late September). He ended.
For the remainder of the 2012 racing season, Berry's #7 Non-Winged Sprint Car from the Fedewa Motorsports stable as well as his #7 open-wheeled Modified with a Port City Racecars chassis has sponsor decals on each machine from; Extreme Indoor Kart Racing, Rat-Tech Engine Service, Davis Racing Equipment, Joe Gibbs Driven Racing Oil, Go Pro Cameras, Monogramming by Martha, Andrea's Place Styling Salon, and M.P.H. Promotions.
For more information about Trevor Berry and the Berry Racing Team and to inquire about additional sponsorship opportunities for the rest of the 2012 season, log onto the teams' website at: www.berryracing.com. You can also follow Berry by becoming a fan on his Facebook Fan Page. Just go to: www.facebook.com search "Berry Racing Incorporated and click on "Like". Finally you can also follow the team on Twitter by going to: www.twitter.com/trevor_berry and click on the "Follow" button.