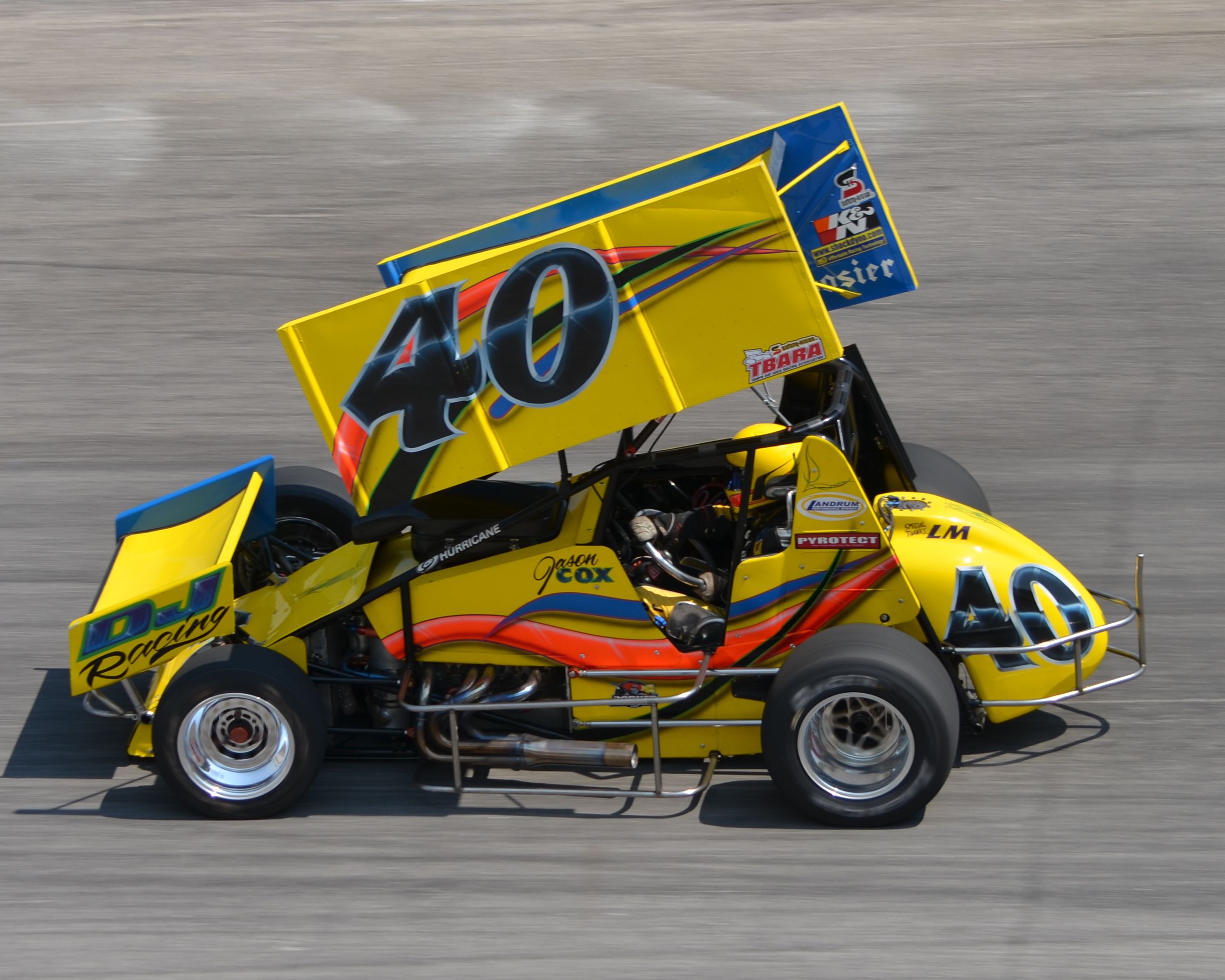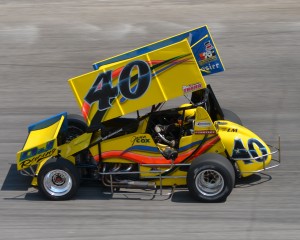 By Duane Turner
Jason Cox from Park City, IL took the lead on lap 10 of "The Fastest Short Track Show in the World" and checked out on the field to win his first feature at Toledo Speedway. "I just need to thank Dick and Jane Fielier for letting me drive for them." Stated Cox from victory lane. "The car was hooked up all night, and it paid off with the win. I need to thank DJ Racing, Landrum Performance Springs, and Pyrotect for their support this year."
Dave Baumgartner and Jim Swain brought the field down to the green flag to start the 30-lap event. The duo would race side by side through turns one and two, but Baumgartner would take control as they entered turn three. Just as the field completed lap two, Sondi Eden came to a stop in turn two with a broken u-joint. On the restart, Ryan Litt would make his presence felt as he passed Swain for the second position, and quickly put pressure on Baumgartner for the lead. On lap four, Litt moved to the high side and would race side by side with the leader until the caution came out on lap five for Kevin Feeney who had a flat right rear tire.
Once again on the restart, Litt would keep pace with Baumgartner. Litt would try the high side again, but could not get the momentum needed to take the lead. Caution would wave again on lap 8 as Troy Decaire would come to a stop in turn two. Just as the caution would wave, smoke would show from Litts machine ending his evening.
The lap 8 restart is when Jason Cox would make his intentions known. The youngster would dive to the bottom going from fourth to second before the field reached turn one. Two laps later Cox would catch the leader in turn three, then drove to the high side and quickly disposed of early race leader Baumgartner.
At this point, Cox would begin to check out. By the halfway point, Cox had built up nearly a half track lead over Baumgartner. On lap 20, Jimmy McCune would take over the third position as they entered lapped traffic. On lap 26, McCune would catch Baumgartner for second, and would make the pass for position, just as the caution came out for Randy Sweet who lost a top wing entering turn three, hitting the turn three wall hard with the right front. Sweet would exit the car under his own power, and was OK.
The final restart would have Cox out front with several lapped cars between him and the second place car of Baumgartner, with McCune in third. Cox would again begin to check out at the drop of the green, but the race was on for second place. One lap later, McCune would drive around Baumgartner on the highside to take over the second position. By the time the white flag waved, Cox was in control of the race. McCune cleared the lapped cars, but would run out of laps before he could challenge for the lead.
Cox would take the checkers for his first ever win at the high-banks of Toledo Speedway. McCune would take second, with Baumgartner, Cody Gallogly, and Joe Swanson rounding out the top five. However, in post race inspection, the 55 of Dave Baumgartner would fail inspection, disqualifying him for the event.
In heat race action, Dave Baumgartner would claim the first heat race with a last lap pass for the win, with Kyle Flint, and Mike Ling taking the second and third heat race events. Up next for the Auto Value Bumper to Bumper Super Sprints, is a co-sanction event with the Hoosier Outlaw Sprint Series on Saturday, June 23rd at Baer Field Speedway in Ft. Wayne, IN. Then the series will move to Birch Run, MI and the fast 4/10th mile of Dixie Motor Speedway on Friday, June 29th. For more information on the Auto Value Bumper to Bumper Super Sprints, log on to their official website atwww.supersprints.com, or their facebook page at www.facebook.com/avbbss
Qualifications
40 Jason Cox 12.473 2) 7 JoJo Helburg 12.711 3) 45 Ryan Gillenwater 12.759 4) 7s Joe Swanson 12.918 5) 7 Troy Decaire 13.042 6) X Cody Gallogly 13.098 7) 42 Ryan Litt 13.129 8) 70 Sondi Eden 13.192 9) 46 Jim Swain 13.231 10) 55 Dave Baumgartner 13.247 11) 24 Bill Tyler 13.249 12) 37 Hank Lower 13.337 13) 14 Dorman Snyder 13.337 14) 20K Kyle Flint 13.431 15) 88 Jimmy McCune 13.432 16) 1 Randy Sweet 13.494 17) 61 Kyle Feeney 13.671 18) 99 Mike Ling 13.790 19) 9 Tim Cox 14.179 20) 61 Kevin Feeney 14.678 21) 44 Teddy Alberts 15.355 22) 6 Jim Dolph 15.933
Heat Race 1
1) 55 Dave Baumgartner 2) 42 Ryan Litt 3) 1 Randy Sweet 4) 14 Dorman Snyder 5) 40 Jason Cox 6) 7s Joe Swanson 7) 9 Tim Cox 8) 6 Jim Dolph
Heat Race 2
1) 20k Kyle Flint 2) 70 Sondi Eden 3) 24 Bill Tyler 4) 7 Troy Decaire 5) 7h Jojo Helberg 6) 61k Kyle Feeney 7) 61 Kevin Feeney
Heat Race 3
1) 99 Mike Ling 2) 45 Ryan Gillenwater 3) 88 Jimmy McCune 4) X Cody Gallogly 5) 46 Jim Swain 6) 37 Hank Lower DNS Toddy Alberts
30 Lap A-Main 1) 40 Jason Cox 2) 88 Jimmy McCune 3) x Cody Gallogly 4) 7s Joe Swanson 5) 99 Mike Ling 6) 20k Kyle Flint 7) 24 Bill Tyler 8) 7 Troy Decaire 9) 14 Dorman Snyder 10) 45 Ryan Gillenwater 11) 46 Jim Swain 12) 1 Randy Sweet 13) 42 Ryan Litt 14) 7 Jojo Helburg 15) 6 Jim Dolph 16) 61k Kyle Feeney 17) 61 Kevin Feeney 18) 9 Tim Cox 19) 70 Sondi Eden 55 Dave Baumgartner DQ, DNS 37 Hank Lower, 44 Teddy Alberts