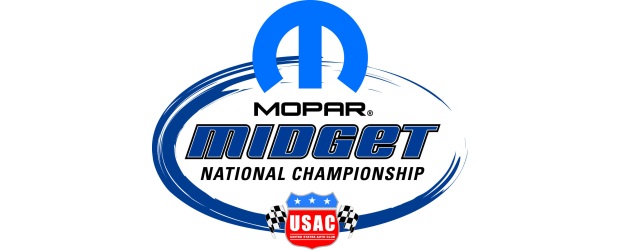 By Dick Jordan
Newly-crowned Indiana Midget Week Champion Darren Hagen takes a comfortable 146-point lead over Tracy Hines into this Friday's "Casey's General Stores USAC Challenge" at Iowa Speedway in Newton, Iowa. Hagen won two of the five Indiana Midget Week features last week and Hines, the IMW runner-up, continues to pursue that elusive final leg of USAC's "Triple Crown."
Kyle Larson of Elk Grove, Calif. capped IMW with a 30-lap feature win Sunday night at the Kokomo Speedway in his Toyota TRD Bullet/Speedway Toyota. He assumed the lead when Michael Pickens spun on lap 18 and led the rest of the way to beat Bryan Clauson, Hines, Brad Kuhn and Chris Windom.
Hagen, of Riverside, Calif., caught Alex Bright on the white-flag lap of Saturday night's 30-lapper at Lawrenceburg Speedway and led the final two laps in his Liberty Village/McGladrey & Pullen DRC/Esslinger Ford. Bright took second ahead of Windom, Hines and Larson.
Levi Jones of Olney, Ill. led all 30 laps of Friday's race at Bloomington Speedway in his 3 Wide Networks/Fatheadz Eyewear Beast/Esslinger Ford. Jerry Coons Jr. was the runner-up ahead of Shane Cottle, Hagen and Windom.
USAC National Drivers Champion Bryan Clauson of Noblesville, Ind. led all but the opening lap of Thursday's 30-lapper at Lincoln Park Speedway in Putnamville in his Toyota TRD Bullet/Speedway Toyota. He passed Nathan Smee on lap two and never looked back, beating Hagen, Caleb Armstrong, Cottle and Windom.
Hagen captured Wednesday night's 30-lap IMW opener at Gas City I-69 Speedway, passing Davey Ray on lap three and leading the balance of the race to beat Coons, Larson, Hines and Steve Buckwalter.
Drivers at Iowa Speedway will be aiming at Bobby Santos' track record of 139.553 mph.
2012 MOPAR USAC NATIONAL MIDGET POINT STANDINGS
1-Darren Hagen-649; 2-Tracy Hines-503; 3-Kyle Larson-458; 4-Chris Windom-442; 5-Caleb Armstrong-431; 6-Bryan Clauson-420; 7-Bobby East-397; 8-Brad Kuhn-367; 9-Mario Clouser-358; 10-Levi Jones-357.