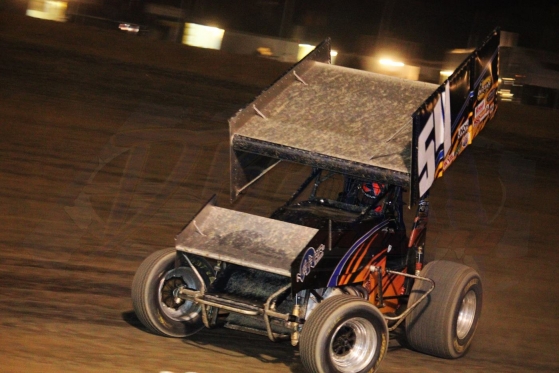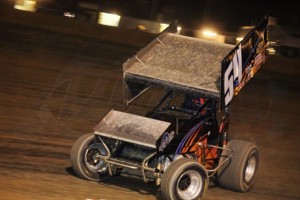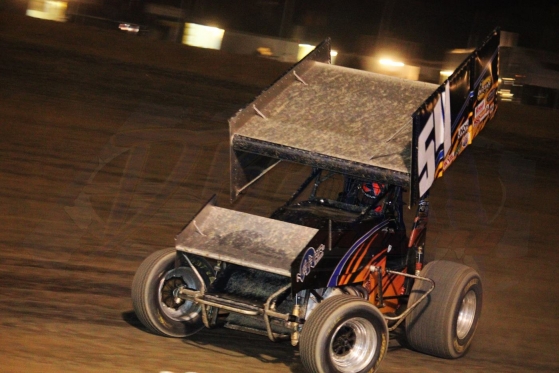 From RaceFanNetwork
In what is turning out to be one of the hottest weather weeks in years, it' also a great time for a winged sprint car team get hotter.  CAP HENRY and Team CHR is enjoying being on the hot seat at the "30th Annual Ohio Sprint Speedweek" where nine races in nine nights will cause Team CHR to beat the heat as well as the rest of the teams in the pit area.
"Gotta thank @AndrewBarmanDTK, the real master mind behind our good #OhioSpeedweek lol", said Cap on his Twitter feed.  "My guys have been givin' me some killer cars all week…!"
And that they have….Cap has qualified in the Top 5 for the first 4 races, nailed a New Track Record at Waynesfield and he's scored 3 Top 10's.  His worst finish (17th) came while leading the first 36 laps of the feature only to avoid a flipping back marker in front of him.  After being sent to the tail of the field, Cap and Team CHR has spent most of Speedweek near the front getting a 2nd, 4th and 8th in the next three "A" Mains.
The "Speedweek" schedule continues for the rest of the week at:
Tuesday, June 26th @ Sharon Speedway, Hartford, OH
Wednesday, June 27th @ Fremont Speedway, Fremont, OH
Thursday, June 28th @ Hilltop Speedway, Millersburg, OH
Friday, June 29th @ Limaland Motorsports Park, Lima, OH
Saturday, June 30th @ Fremont Speedway   Fremont, OH
Results:
Friday @ Attica Raceway Park: 17th in "A" Main / 4th Quickest Out of 40 Cars
Saturday @ Waynesfield Raceway Park: 2nd in "A" Main / 1st (N.T.R.) Out of 45 Cars
Sunday, @ Cannonball Motor Speedway: 4th in "A" Main / 5th Out of 34 Cars
Monday, @ Wayne County Speedway: 8th in "A" Main / 5th Out of 45 Cars
Team CHR is sporting a new, enhanced relationship with long-time supplier Keizer Aluminum Wheels which has stepped up their support in a huge way, much like Stanton-Mopar and others who continue to realize the viability of the team's program.
Cap moves into 3rd in All Star National Points behind DALE BLANEY, TIM SHAFFER and passes DAVID GRAVEL with PAUL McMAHAN right behind them in fifth place.  He needs just 13 points to lead a very tight Ohio Speedweek points battle.
Follow Cap's Twitter feed at: www.Twitter.com/CapHenry and all of his season's progress at www.CapHenryRacing.com
TheRaceFanNetwork.com will continue to follow Cap's progress into the 2012 season with exclusive interviews, sound bytes and updates and we invite all race fans to sign up for his email blasts at: Cap Henry Updates
Team CHR would like to thank the following primary partners: Stanton-Mopar, Henry MotorSports Inc., Indy Race Parts, Lucas Oil Products, K&N Filters, T-n-T Graphics, Napa/Bellevue Auto Parts, FK Rod Ends, The RaceFanNetwork, Team CHR, DGGI Design Group, Life Personnel Development
Special thanks to: Kistler Racing Products, Simpson, Stewart's Custom Coatings, GME/Neilds Steering, G-Force Gear, Fragola Performance, Kinsler Fuel Injection, Outerwear's, Keizer Aluminum Wheels, CJ Gilbert Company, Wings Unlimited, Mad Industry, TI 64, Allstar Performance, OC Shocks
Representation for Racers (R.F.R.), is a company owned by The RaceFanNetwork, LLC and was created in 2007 by President and CEO Charlie Brown in an effort to advance the careers of young drivers through media assistance, website development, interview coaching, sponsorship packets and various other promotional activities…..