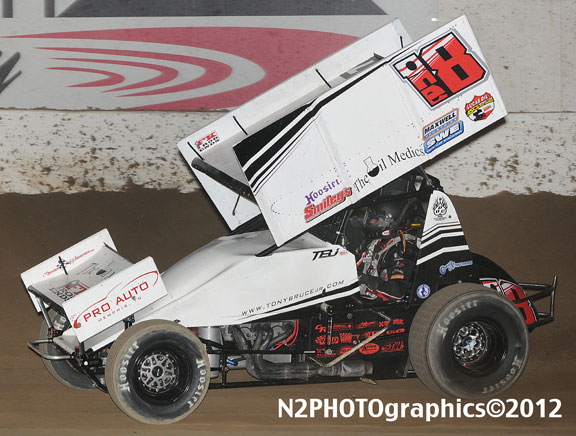 PETERSEN MEDIA
Using the momentum from three straight top-five finishes to close out speedweek, Tony Bruce, Jr scored his third victory of 2012 as he wired the field Friday night at I 30 Speedway before notching his fifth straight top five finish by crossing the stripe fifth Saturday night.
"Finally!," Bruce exclaimed. "We had some strong runs in speedweek, and over the last few races, and it is just awesome to get this Pro Auto/Oil Medics/Hinchman No.18 back in victory lane."
With 28 cars on hand, Bruce would charge his way forward from his fifth starting spot to win his heat, and put his one8 motorsports machine in the top-eight redraw.
Pulling the one pill, Bruce and crew chief, Wayne Priddy, went to work in the pit area to tighten up Bruce's machine for the ultra slick racetrack.
Once the green flag waved, Bruce laid down the hammer, and began motoring away from the field, as he was never seriously challenged.
Being slowed for a pair of cautions, Bruce nailed his restarts, as he parked his Smileys/SWE/Maxwell Industries machine on the front stretch for third time this year.
"Wayne (Priddy), and Fez really gave me a great car, and it just feels great to be back in victory lane at I 30," said the two-time Short Track Nationals winner.
Locking into the redraw for Saturday's feature, Bruce ended up pulling the six pill, and started in the third row of the feature event.
The opening lap of the race wasn't what TBJ had in mind as he hopped the cushion in turns one and two and slipped back several spots.
During the non-stop feature, Bruce would slowly claw his way forward, and get back into the top five with just a handful of markers remaining, and he slowly worked on fourth running Wayne Johnson.
Unable to make a pass, TBJ would settle for fifth, marking his fifth consecutive top five finish.
"Fifth wasn't really what we had in mind after winning on Friday, but we will take the top-five and move on to US 36."
Bruce would like to thank all of his sponsors, Hinchman Racewear, Pro Auto, The Oil Medics, Smileys, SWE, Maxwell Industries, FK Rod Ends, Butlerbuilt, Factory Kahne Shocks, Randy's Racing Filters, DriversWebsites.com, Racinboys.com, Wilwood, Zemco Headers, Hoosier Tires, Gaerte Engines, Pro Powder Coating, Fuel Safe, Bell, Weld Wheels, and ISC Racer's Tape for their support through the 2012 season.
ON TAP: TBJ and the one8 motorsports team will now take a bit of a break as they are scheduled to return to action on July 3rd at the US 36 Raceway for the inaugural running of the US 36 Nationals.
STAY CONNECTED: Stay updated with TBJ by visiting his website at
www.tonybrucejr.com, or by following him on twitter @tonybrucejr
SPONSOR SHOUT OUT: The Oil Medics
The one8 Motorsports team is proud to again be partnered up with the Oil Medics in 2012. Located in Forth Worth, Texas, the Oil Medics specialize in servicing big rigs to enhance fuel mileage they also are a full service diesel shop. On top of taking car of the rig, the Oil Medics also carry a complete line of racing lubricants to help enhance hoarse power and lead to more wins.
"We're honored to have The Oil Medics on-board for a third consecutive year! Not only do they supply performance-enhancing lubricants for our race car, they are also a full service diesel shop. With fuel prices getting higher daily, make sure to take advantage of fuel-mileage savings that The Oil Medics has to offer for your diesel truck."