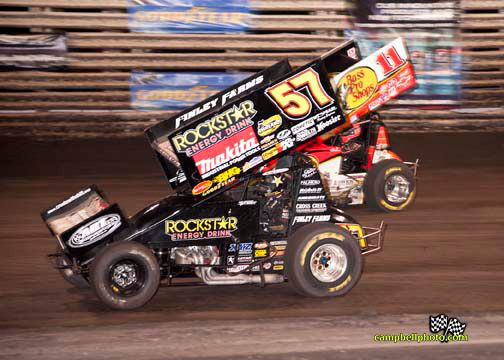 PETERSEN MEDIA
After opening up Ohio Speedweek in the Farmer No.29 with a pair of third place finishes, Shane Stewart endured a tire grinder on Tuesday, a fourth on Wednesday, and finally broke into the winner circle on Thursday before closing the week out with a fourth on Saturday.
"We had our issues over the week, but we were definitely in the hunt each and every night," said Stewart. "I have to thank Rich Farmer and his guys for giving me an opportunity to run here in Ohio all week."
After putting together a pair of third place finishes in his first two nights with the new team, Stewart had to stomach the horrendous conditions at the Sharon Speedway.
On what was an extremely slick and abrasive track, 22 out of 24 competitors got flat tires, putting many of the top contenders out of contention late in the race.
"Sharon was a disaster," Stewart explained. "When you get in conditions like that it is really no fun."
When the dust settled, Stewart was scored in the 22nd position.
On Wednesday night, Shane and his team were in action at the Fremont Speedway, a track Shane has had success at already in 2012.
Timing in fifth quickest out of the 41 cars checked in, Stewart charged to a third place finish in his heat, and put himself in the dash.
A third place finish put Shane in the second row for the feature, surrounded by Dale Blaney, Kyle Larson and Tim Shaffer.
Sitting in the third spot early, Shane hooked up in a heated battle for the third spot with Shaffer as the duo traded slide jobs through traffic.
At the stripe, Stewart found himself in the fourth spot.
"This car was pretty good again," said Stewart. "We are still battling a break problem, and once we figure that out we will be pretty good."
Thursday night the site was Hilltop Speedway, and it would be the venue that Stewart would finally get the job done.
Stewart was dominant all night as his fourth place qualifying effort led to a third place heat finish, and he found himself starting on the front row for the feature event.
Falling into second on the start to Tim Shaffer, Stewart kept his machine within striking distance as they quickly hit traffic on lap seven, until the caution waved giving the leaders a clear track.
On the restart, Stewart and Shaffer would thrill the crowd as they raced side-by-side for the lead for nearly four laps, with Stewart finally getting the lead for good on the 12th lap.
Following a lap 14 restart, Stewart simply checked out as he cruised to the win, his 12th of the season including his stint in Australia.
I have to thank Rich Farmer for putting me in this car this week and we have two more races to try and go and win.," said Stewart. "I want to thank Level Performance…they put a new motor in this thing two nights ago and it's been fantastic. ProShocks and everyone that works hard there."
Following a rainout Friday, Ohio Speedweek returned to the Fremont Speedway on Saturday night to close out the intense week, and Stewart kicked the night off in style as he timed in with quick time.
Getting through the heat and the dash, Stewart put his entry in the second row of the 50-lap feature event.
Stewart was strong early as he was able to work his way into the second spot as he applied pressure to Bryan Sebetto.
As the laps wound down, hard chargers, Dale Blaney, and Tim Shaffer entered the mix, and the trio would battle hard for the second spot.
At the end, Stewart would ultimately be shuffled back to the fourth spot, ending his speedweek with six top four finishes in seven races, including one win.
"This car has been fast since I've been in it and everything I've complained about Rich (Farmer) has gone to Shirley Kear's or Kistler's and bought it so I didn't have any more excuses. I just can't thank Daniel (Smith) and all the guys that work hard on this car," said Stewart.
ON TAP: Shane will head east for yet another speedweek, as he is set to compete in PA Speedweek kicking off six straight nights of racing on Tuesday night at Bridgeport.
STAY CONNECTED: For all of the latest news on Shane Stewart visit his website at www.shanestewart.com,become a fan of his on facebook at www.facebook.com/ShaneStewartRacing, or follow him on twitter @ShaneStewart57.