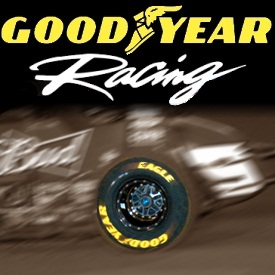 By Lee Elder
AKRON, Ohio (July 1, 2012) – Sammy Swindell won one race and took second in another as he pushed himself back atop the standings of the World of Outlaws Sprint Car Series.
Swindell won at Lakeside Speedway and finished second to Kerry Madsen at the Belleville High Banks as the WoO racers battled excessive heat in Kansas.
Like all WoO competitors, Swindell and Madsen compete on Goodyear Eagle Dirt Track Specials. Goodyear is the exclusive tire provider for the series and is the Official Tire Company as well. The line of tires Goodyear manufactures for the Outlaws is also used by other touring series around the sprint car world and is supplied to tracks with weekly sprint car programs as well.
Madsen started sixth before winning at Belleville. Swindell finished second, followed by Steve Kinser, Craig Dollansky and Joey Saldana.
Swindell took the lead from Kraig Kinser and then led the final 23 laps at Lakeside. Kinser was second, followed by Cody Darrah, Lucas Wolfe and Madsen.
The championship standings remain very close at the top. Swindell leads with 4,499 points. Steve Kinser is next with 4,490 and Donny Schatz is third with 4,486.
More information about Goodyear Racing is available at www.racegoodyear.com. More information about the WoO is available at www.worldofoutlaws.com.
Goodyear employs about 73,000 people at manufacturing plants and facilities in 22 nations. Based in Akron, Ohio, Goodyear is among the largest tiremakers in the world and is the world-wide leader in race tire innovation.