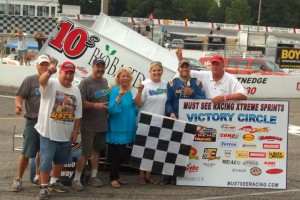 From David Sink
Kalamazoo, MI – July 14, 2012 – Jason Blonde returned to TRUFUEL Must See Racing Xtreme Sprint Series (MSRXSS) action Saturday night after injuries sustained in a crash a month ago. Blonde found victory lane after winning the ' Must See Racing 50 ' at Kalamazoo Speedway.
Blonde suffered a broken tailbone when he backed his Suellen Wilshe owned BIOBASED.US car into the wall at Lucas Oil Raceway in Indianapolis on June 9. Blonde had been absent from the past three MSRXSS events prior to Saturday's return. A Doctors release earlier in the week allowed Blonde the chance to return to action and he made up for lost time. The win was Blonde's second MSRXSS victory of the season.
Jacob Wilson lead the first twenty laps before relinquishing the lead to Brian Gerster. Gerster began to build a sizeable lead as the race wore on. It appeared that Gerster would claim the win as the laps wound down. With three laps too go, Gerster began to get into heavy lapped traffic. Exiting turn four, Gerster made contact with a lapped car and rode up and over the rear tire of the lapped car. When Gerster's car landed back on the ground it took Gerster a few seconds to gather the car up and get up to speed. Blonde took advantage of Gerster's misfortune. Gerster held on for second followed by Aaron Pierce, Jo Jo Helberg, and Jacob Wilson rounding out the top five.
Jo Jo Helberg was the nights fast qualifier with a lap of 10.701 seconds. Heat wins went to Jimmy McCune, Kyle Flint, and Troy DeCaire.
The MSRXSS will now enjoy a four week break before heading to Salem (IN) Speedway for the annual Joe James/Pat O'Connor Memorial on August 11th. Jo Jo Helberg is the defending race winner.
For more information on Must See Racing log onto www.mustseeracing.com.
MUST SEE RACING 50 OFFICIAL FINISH JULY 14, 2012
1. Jason Blonde
2. Brian Gerster
3. Aaron Pierce
4. Jo Jo Helberg
5. Jacob Wilson
6. Troy DeCaire
7. Jimmy McCune
8. Donnie Adams Jr.
9. Mike Larrisno
10. Jason Cox
11. Brian Olson
12. Hank Lower
13. Kyle Flint
14. Dave Baumgartner
15. Derek Snyder
16. Ron Koehler
17. Joe Speakman
18. Brad Wyatt
19. Jeff Bloom
20. Billy Wease
21. Ryan Gillenwater