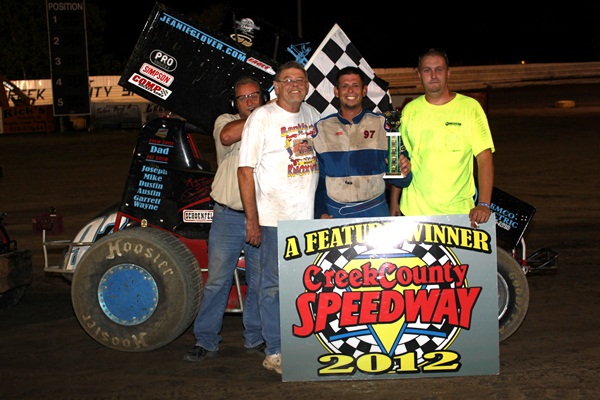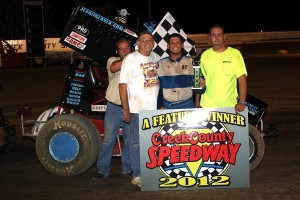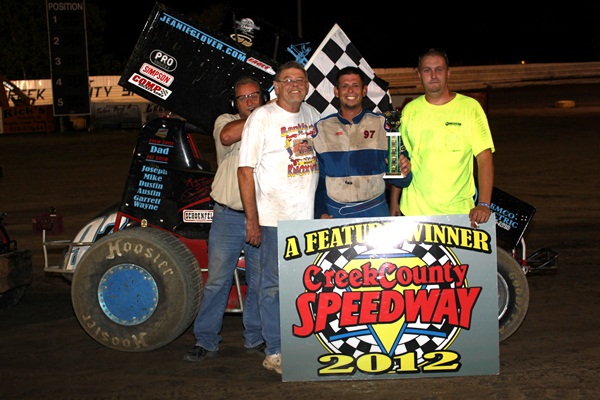 From Creek County Speedway
Sapulpa, OK — (July 20, 2012) — Kevin Cummings added his name to the lengthy list of Champ Sprint Car winners at Creek County Speedway this season by topping Friday night's feature event.
Cummings was just one of three drivers to snare their first Creek County wins of 2012 as Matt French bested the A Modifieds and Kevin Risley topped the Dwarf Cars.  In the Non-Wing 600cc Micro Sprint Car ranks, Earl McDoulett, Jr., snared his second win in a row.
Cummings became the tenth different winner in 11 Champ Sprint Car feature events this season by beating Brian McClelland, Terry Easum, Danny Smith and Frank Dittman to the line.
French took the A Modified checkered flag ahead of Ho Dean, Chad Davis, Leroy Cook, Jr., and Dena Wilson, while Risley raced to Dwarf Car victory in front of Kent Kantor, Kevin Brewer, Jeff Record and Butch Stegeman.
McDoulett enjoyed his second Non-Wing 600-cc Micro Sprint Car win in as many weeks ahead of Matt Sherrell, Chance Morton, Kyle Harris and Michael McClendon.
Action continues at Creek County Speedway next Friday night, July 27, with the American Bank of Oklahoma ASCS Sooner Region headlining a card that also includes the Champ Sprint Cars, A Modifieds and Dwarf Cars.
Creek County Speedway Results (July 20, 2012):
Champ Sprints
A Feature: 1. 97-Kevin Cummings; 2. 87f-Brian McClelland; 3. 88-Terry Easum; 4. 5$-Danny Smith; 5. 83-Frank Dittman; 6. 35-Matt Sherrell; 7. 51-Jackie York; 8. 26m-Fred Mattox; 9. 17-Brent Bates; 10. 16-Robbie Sherrell; 11. 50-Brandon James; 12. 8-Michael Tyre II; 13. 84-Alex DeCamp; 14. 9$-Kyle Clark; 15. 8p-Kenneth Walker; 16. 13-Len Larkin; 17. 23a-Travis Wood; 18. 11-Ricky York
B Feature: 1. 26m-Fred Mattox; 2. 83-Frank Dittman; 3. 51-Jackie York; 4. 50-Brandon James; 5. 13-Len Larkin; 6. 16-Robbie Sherrell; 7. 3x-Tommy Deckard; 8. 25-Chuck Bellefeuille; 9. 18b-Eric Barnes; 10. 54-Michael Gossman; 11. 99-Dillon Ake; 12. 8m-Kade Morton
A Modifieds
A Feature: 1. 99-Matt French; 2. 39-Ho Dean; 3. 52-Chad Davis; 4. 501-Leroy Cook Jr; 5. 54-Dena Wilson; 6. 53-Brett Wilson; 7. 3D-Johnny DeRamus; 8. 11x-Robert Scott; 9. 22b-Richard Bias; 10. 0w-Collin Wiseley
Dwarf Cars
A Feature: 1. 24-Kevin Risley; 2. 03-Kent Kantor; 3. 10-Kevin Brewer; 4. 67-Jeff Record; 5. 9-Butch Stegeman; 6. 2-David Cummins; 7. 47-Richard Record; 8. 57-Tanner Phillips; 9. 30x-Kelly Brewer; 10. 14-Dale Bagby; 11. 13-Rick Quinn
Non-Wing Micros
A Feature: 1. 60-Earl McDoulett, Jr.; 2. 35-Matt Sherrell; 3. 8m-Chance Morton; 4. 20r-Kyle Harris; 5. 71-Michael McClendon; 6. 33-Justin Patocka; 7. 17c-Cody Cole; 8. 26-Robby Bias; 9. 26T-Brandon Looman.