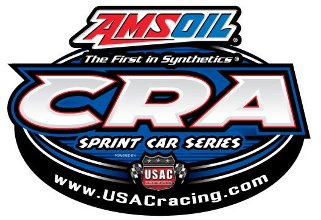 By Dick Jordan
The AMSOIL USAC/CRA Sprint Cars are preparing for the annual "Louie Vermeil Classic" September 1-2 at the Calistoga (Calif.) Speedway and Mike Spencer's bid for a record fifth straight series title seems on track.
Spencer finished fourth in Sunday night's 30-lap race at Victorville (Calif.) Raceway Park after taking second the previous night at the Perris (Calif.) Auto Speedway.
Ryan Bernal of Hollister, Calif. won Sunday night's Victorville shootout in his Keith Ford entry, leading the final 16 laps after passing Brody Roa on lap 15. Cory Kruseman was second ahead of Roa, Spencer and Shane Golobic.
Kruseman, of Ventura, Calif., led all 30 laps of Saturday night's Perris main event in his Mark Priestley entry, beating Spencer, David Cardey, Nic Faas and Bernal to the line. The win halted Spencer's streak of five straight wins at the Perris oval.
The Calistoga events will also award points toward the 2012 USAC Western Classic Sprint Car championship. Tony Hunt of Lincoln, Calif. currently leads that series' standings.
2012 AMSOIL USAC/CRA SPRINT CAR POINT STANDINGS
1-Mike Spencer-955, 2-Nic Faas-769, 3-Brody Roa-674, 4-Ryan Bernal-667, 5-Austin Williams-664, 6-Rip Williams-625, 7-Cory Kruseman-613, 8-Matt Mitchell-461, 9-Cody Williams-450, 10-Seth Wilson-431.
2012 USAC WESTERN CLASSIC SPRINT CAR POINT STANDINGS
1-Tony Hunt-562, 2-Shauna Hogg-538, 3-Scott Pierovich-388, 4-Tom Baker-340, 5-Gordon Rodgers-319, 6-Marty Hawkins-233, 7-Brian McClish-209, 8-Tim Skoglund-179, 9-Cody Gerhardt-174, 10-Taylor Simas-155.
2012 USAC WESTERN CLASSIC SPRINT CAR DIRT POINT STANDINGS
1-Tony Hunt-403, 2-Shauna Hogg-369, 3-Tom Baker-252, 4-Marty Hawkins-233, 5-Scott Pierovich-214, 6-Gordon Rodgers-164, 7-Taylor Simas-155, 8-Jerry Cisco-86, 9-Geoff Ensign-49.