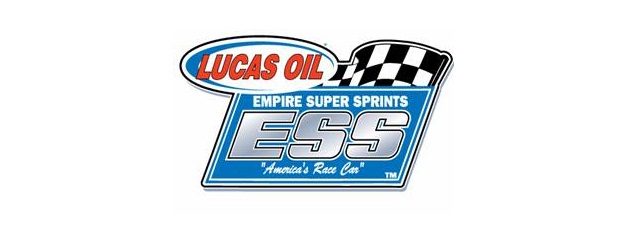 By Dean Reynolds
SYRACUSE, NY – As the stretch drive begins for the Lucas Oil Empire Super Sprints, a very important three event weekend awaits up in the province of Quebec. Full point events at Autodrome Granby and Le RPM Speedway on Friday and Saturday will be followed by the first ever wingless challenge back at RPM on Sunday.
Back in June, Justin Barger took the victory at Granby over a talented field in the pits. This Friday he will be back in hopes of the $1,850 payday that comes to the winner. With the added tow money set for the night if you take the green flag in the A-Main you will take home a cool $500.
The next night it's off to the exciting quarter-mile in St. Marcel, Le RPM will host its third ESS sanctioned event in a row. The $1,800 to win $450 to start event will also be a very important stop on the tour.
These two events will close out the Fondations 4 Saisons Quebec Super Star Series where the top ten in points will split up from the lucrative point fund. Barger leads Quebec's own Alain Bergeron and Paul Kinney in the series.
The Le Groupe Ultra Tour of Canada will also see the final two full point events with show-up points awarded at the Canadian Sprint Car Nationals closing out that point Series.
Then on Sunday night, history will be made as it will be ESS' first ever wingless event in the 30 year history of the club. The $1,800 to win $260 to start event will see who is the best ESS driver with the wings off.
To add to the pot, Eric Varin Roofing has set up at $1,000 point fund to the top five in points from the winged event on Saturday and the wingless event on Sunday.
The weekend will also see a very friendly rivalry as the stars from the US will battle the stars from Canada. Heading the US side will be current ESS point leader Chuck Hebing, Lance Yonge, Barger, Shawn Donath, Kinney, Cory Sparks, Matt Tanner, Mike Stelter, Jeff Cook, Kevin Ward Jr., Jason Barney, Joe Trenca, James Hanson, Anthony Cain and Russ Bennett.
From Canada, Steve Poirier will lead the brigade along with Michael Parent, Bergeron, Patrick Vigneault, Etienne Girard, Dale Gosselin, Tyler Rand, Kayle Robidoux and Donald Lemire.
Three nights in Quebec, the Lucas Oil Empire Super Sprints with wings on and wings off…It will be excitement guaranteed!!
For more information:
www.empiresupersprints.com
Facebook: www.facebook.com/EmpireSuperSprints
Twitter: @ESSprints
www.autodrome-granby.com
Facebook: www.facebook.com/pages/autodrome-granby
www.lerpmspeedway.com
Facebook: Search Groups – Le RPM Speedway
Past Empire Super Sprint Winners at Autodrome Granby
June 17, 1994
Roger Horvath
June 23, 1995
Mike Woodring
Sept. 1, 1995
Craig Keel
June 21, 1996
Mike Woodring
June 20, 1997
Mike Woodring
Aug. 29, 1997
Bobby Parrow
June 19, 1998
Mike Woodring
Sept. 4, 1998
Lance Yonge
June 25, 1999
Mike Stelter
Sept. 3, 1999
Lance Yonge
June 23, 2000
Mike Wodoring
Sept. 1, 2000
Mike Stelter
June 21, 2002
Mike Woodring
Aug. 30, 2002
Mike Woodring
June 20, 2003
Mike Woodring
June 18, 2004
John Karklin Jr.
Sept. 3, 2004
John Karklin Jr.
July 29, 2005
Lance Yonge
June 16, 2006
Doug Emery
July 28, 2006
Steve Poirier
Sept. 1, 2006
Jeff VanDusen
June 15, 2007
Chuck Hebing
July 27, 2007
Jeff Cook
Aug. 31, 2007
June 13, 2008
Aug. 1, 2008
Steve Poirier
Steve Poirier
Alain Bergeron
Aug. 29, 2008
Steve Poirier
June 5, 2009
Steve Poirier
July 31, 2009
Sept. 4, 2009
June 4, 2010
Aug. 27, 2010
June 3, 2011
Aug. 5, 2011
May 11, 2012
May 12, 2012
June 1, 2012
Justin Barger
Chuck Hebing
Jessica Zemken
Jeff Cook
Shawn Donath
Steve Poirier
Shane Stewart, Dain Naida
Shawn Stewart
Justin Barger
Past Empire Super Sprints Winners at Le RPM
Aug. 29, 2010
Dan Kaszubinski
Aug. 6, 2011
Cory Sparks
The Lucas Oil Empire Super Sprints are brought to you by: Lucas Oil, Le Groupe Ultra, SUNY Canton, Universal American, Hoosier Racing Tires, Fondations 4 Saisons, Cobra Coaches, Westward Painting Company, Mach 1 Chassis, Lee's Repair Auto and Truck, Fondations 55, Eric Varin Roofing, North Eastern Pool and Spa, Car Mate Trailers, Brodix Cylinder Heads, Ohsweken Speedway, Northwood 2 Construction/Lasalle Motorsports, AKS Firearms, Jasmin Peloquin Sport, 730 Truck Stop, Riverside Bar and Grill, FX Chevy and many, many associate sponsors!!