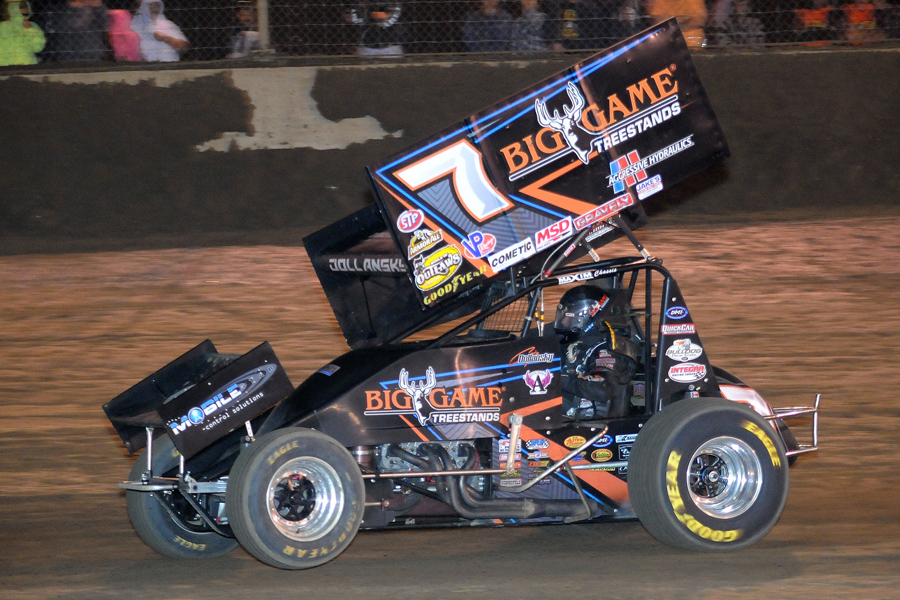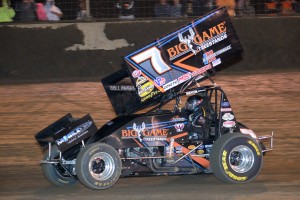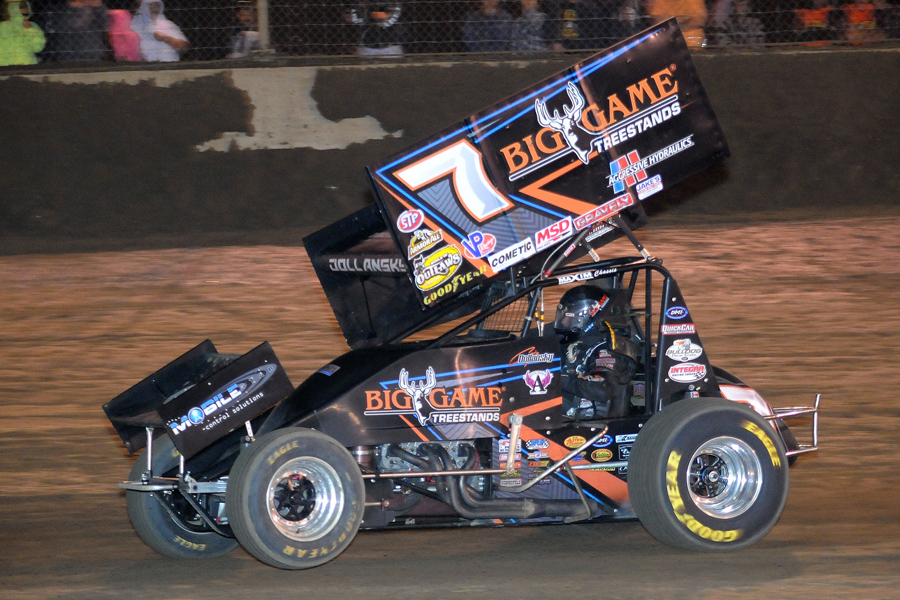 From Craig Dollansky Racing
The busiest stretch of the World of Outlaws 2012 season kicked off on Wednesday for the Big Game Treestands #7 team as they embarked on 9 races in 13 days spanning three states along the West Coast. First up for the first time since 2008 was a return to Grays Harbor Raceway where 'The Crowd Pleaser' has posted 8 top-tens that include 4 top-fives.
Making his 15 appearance at the 3/8-mile track located in Elma, Washington, Dollansky began the evening by posting the 3rd fastest time at 11.958 seconds. The strong lap also marked the first time this season that a driver has eclipsed the triple digit mark for bonus points earned in qualifying. Heat race competition saw the Aggressive Hydraulics #7 start fourth and finish 3rd. A favorable inversion for the dash then put Dollansky outside the front row where he motored into the lead and raced to victory in the 6-lap event.
Starting from the pole for the fifth time this season, Dollansky ran second before the first caution on lap 6. After enduring a red flag on lap 9 and another caution two circuits later, the Eaton's Aeroquip Performance Products backed sprinter continued to hold the runner-up position behind teammate Sammy Swindell. Shortly after the halfway point as Swindell entered lapped traffic the MobileStar Maxim began to narrow the gap on lap 20 and then raced nose-to-tail for the lead with 4 circuits remaining. With only a few laps to go, Dollansky continued to rim-ride around the highside nearly taking the top spot in turn 4 with 2 to go but came up just short when the checkered flag flew on a 1-2 finish for Big Game Motorsports.
"It was good to get into lapped traffic late in the race. Sammy had a good car from the start of the race and took off pretty good," commented the World of Outlaws point leader. "It was a good race and great effort by the Big Game Treestands teams to come out one and two with this field of cars it doesn't get any tougher. We would have liked to be one spot better but we were right there at the end. It was a great team effort again and second is a great finish."
The busy stretch of racing for Dollansky and the crew of DJ Lindsey, Luke Dollansky, and Pete Stephens now heads to Skagit Speedway in Alger, Washington for a two day show beginning tomorrow, August 31st.