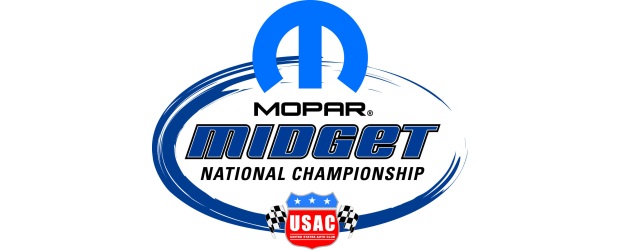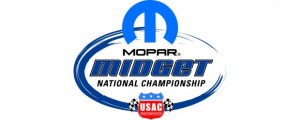 From Dick Jordan
The 2012 USAC Mopar National Midget Series has three remaining races as point leaders will head for the West Coast in November. "The Western Classic" is slated November 9-10 at Canyon Speedway Park in Peoria, Ariz. and the 73rd "Turkey Night Grand Prix" unfolds November 22 at Perris (Calif.) Auto Speedway.
Darren Hagen of Riverside, Calif. continued on his drive to the 2012 National title, emerged from last weekend's 4th DuPont "Gold Crown Midget Nationals" at Tri-City Speedway in Pontoon Beach, Calif. He has a 184-point edge over Tracy Hines in the latest tally.
Hines, of New Castle, Ind., won Thursday's 25-lap "preliminary" feature at Tri-City, but the $10,000-to-win Saturday night finale went to Kyle Larson of Elk Grove, Calif. as he paced the final eight laps of the 50-lap feature in his Keith Kunz Motorsports/Curb-Agajanian Toyota TRD/Bullet. Jerry Coons Jr. finished second in the Saturday finale after leading six late laps, while Brad Sweet, Brad Kuhn and Rico Abreu rounded out the "top-five." Larson was second to Hines in Thursday's 25-lap prelim as Hines led all 25 laps in his Parker Machinery/Turbines, Inc. Spike/Toyota. Sweet, Bryan Clauson and Alex Bright finished the top-five.
Driver Rich Camfield flipped during Thursday's events and was treated for injuries at a local hospital. Weather forced cancellation of Friday's prelims at Tri-City.
Hagen led the first three laps of Saturday's race and also leads the 2012 USAC Mopar National Dirt Midget standings, 49 ahead of Chris Windom.
2012 MOPAR USAC NATIONAL MIDGET POINT STANDINGS
1-Darren Hagen-1,152; 2-Tracy Hines-968; 3-Bryan Clauson-924; 4-Caleb Armstrong-831; 5-Kyle Larson-791; 6-Brad Kuhn-741; 7-Bobby East-732; 8-Rico Abreu-691; 9-Chris Windom-670; 10-Jerry Coons Jr.-636.
2012 MOPAR USAC NATIONAL MIDGET DIRT POINT STANDINGS
1-Darren Hagen-719, 2-Chris Windom-670, 3-Jerry Coons Jr.-636, 4-Brad Kuhn-634, 5-Bryan Clauson-601, 6-Tracy Hines-584, 7-Kyle Larson-555, 8-Davey Ray-499, 9-Rico Abreu-454, 10-Caleb Armstrong-423.