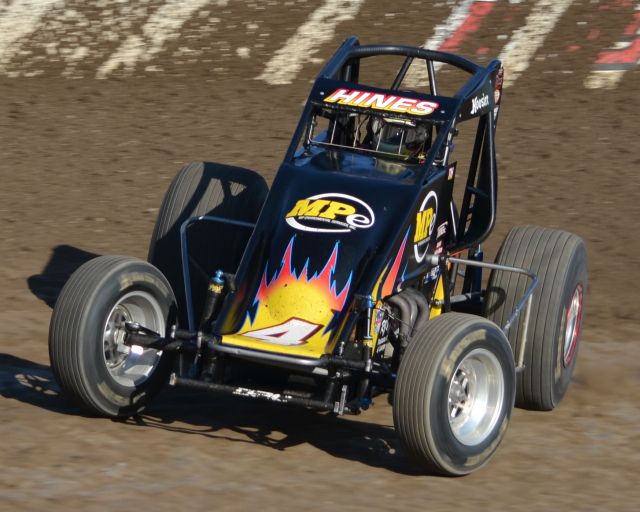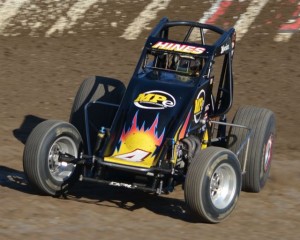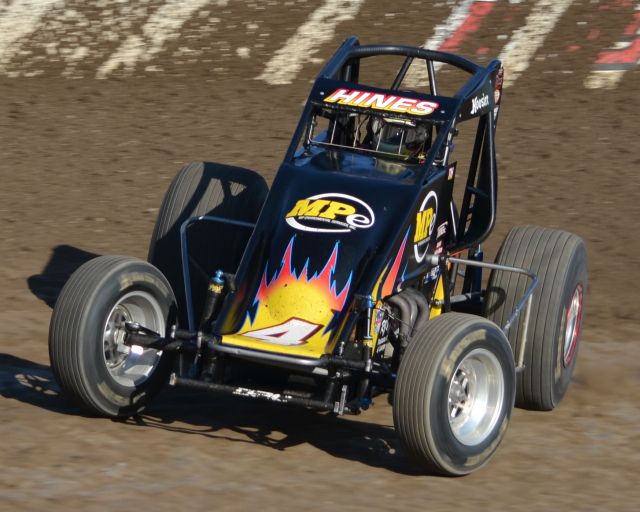 From Tracy Hines Racing PR
New Castle, IN — (October 11, 2012) — Once the calendar reaches October, races in the Midwest are usually few and far between for short track open wheel drivers. That's not the case this year as a handful of events still remain over the next two weekends. For Tracy Hines, first up is a trio of USAC races this weekend in Indiana and Michigan over a three-day stretch.
Hines opens the weekend with the USAC Amsoil National Sprint Car Series on Friday, Oct. 12, with the running of the rescheduled Jim Hurtubise Classic at the Terre Haute Action track. The event was postponed by rain back in August. Also on the docket at Terre Haute will be the Sumar Classic on Saturday, Oct. 13, for the USAC Traxxas Silver Crown Series, a race that was also rained out in August. Hines will then head north to I-96 Speedway in Lake Odessa, Mich., on Sunday, Oct. 13, for yet another race that was postponed by rained earlier in the year.
"It's going to be a busy weekend for sure," said Hines. "Anytime we can race three times in a weekend is great. It's always a challenge when we race a couple of different cars in the same weekend, but we're up to it and look to turn in three good showings. Having just one race each night allows you to focus a little more on each of the cars during that particular night."
The 2002 USAC Amsoil National Sprint Car Series champion has made two starts this season at Terre Haute in his MP Environmental DRC, finishing on the podium during Indiana Sprint Week, with a third-place showing. In his first start of the season at the legendary half-mile, Hines finished 12th in the Tony Hulman Classic. The native of New Castle, Ind., has three career USAC Amsoil National Sprint Car Series wins at Terre Haute, with those coming in 1999, 2001 and 2003.
"We've been fast in the sprint car on the bigger tracks all season," he noted. "With the cooler temperatures this weekend, we'll be churning out a lot of horsepower for sure. We were close during Sprint Week at Terre Haute. It's been quite a few years since I've won a USAC race there, and it would be great to return to Victory Lane at that historic track this weekend."
The Sumar Classic 100 will serve as the season finale of the USAC Traxxas Silver Crown Series. Hines made his last start in a Silver Crown car at Terre Haute in 2010. He enters the event this week seventh in series points, having earned four Top-10 finishes thus far in 2012. The 2000 USAC Traxxas Silver Crown Series champion finished sixth in his most recent start with the series at Eldora Speedway in Ohio during the 4-Crown Nationals, piloting the Lightfoot Racing No. 16.
"The Silver Crown car was pretty good at Eldora last month, so hopefully we can carry that momentum into the race at Terre Haute this weekend," stated Hines. "We have a chance to move up a few more spots in points and we definitely want to end the Silver Crown season on a strong note. We'll do our best to turn in a good qualifying effort and try to start at the front in the main event."
Hines will be making his first start in a sprint car at I-96 Speedway this weekend. He raced earlier this season in Michigan at Hartford Motor Speedway, finishing sixth on that sprawling half-mile. Hines enters the weekend fourth on the USAC Amsoil National Sprint Car Series all-time win list with 43, just two shy of third-place Larry Dickson.
"We raced earlier this season in Michigan on a big track and I-96 should be similar from what I hear," he noted. "It will be good to go from a half-mile at Terre Haute to the half-mile at I-96. If you find something that really works one night, you'll probably be able to use that the next night and have a good baseline and some momentum."
Hines is currently fourth in the USAC Amsoil National Sprint Car Series standings on the strength of two wins and 18 Top-10 finishes, of which 10 have been Top-Five performances. Including this weekend, six nights of racing remain for the series.
Tracy Hines Racing would like to thank: MP Environmental, Parker Machinery, FatHeadz, Turbines, Inc., Support Esophagus Cancer DRC, Shaver Specialties, AFCO Racing Shocks, Bell Race Gear, Kenny's Components, Race Bumpers, Rod End Supply, Schoenfeld Headers and Stanton Racing for their continued support.
For more information on Tracy Hines Racing, including a complete 2012 schedule, visit http://www.tracyhinesracing.com. Follow Tracy on Twitter at www.Twitter.com/TracyHinesRacin.