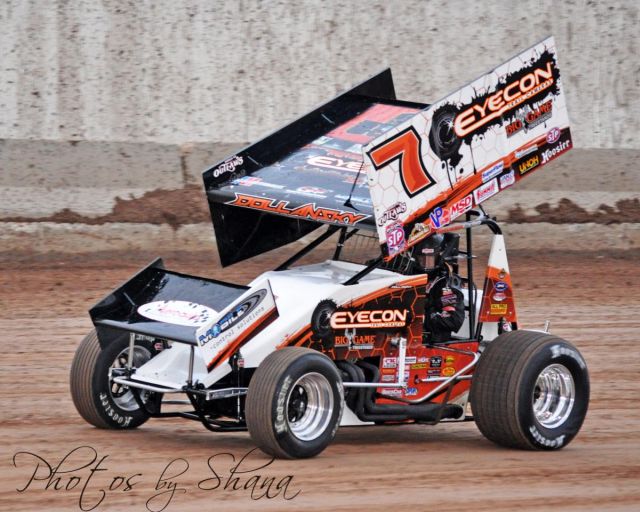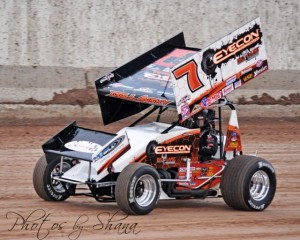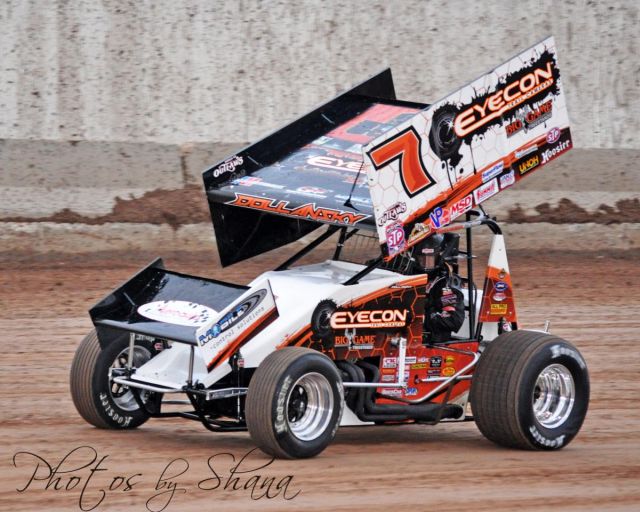 From Reid VanEck
Each year the STP World of Outlaws travel all across the country to various race tracks, some previously visited and some that are new on the schedule.  The latter was the case on Friday for Craig Dollansky and the Eyecon Trail Cameras #7 team as they prepared for their first ever visit to Stockton 99 Dirt Track.
With beautiful California weather present and a sold-out crowd on hand for the inaugural event at the 3/8-mile track, an outstanding field of 44 drivers signed into the pit area for action.  An early draw for qualifying saw Dollansky stop the clock at 14.133 seconds on a track that was still a bit greasy, which resulted in the 34th fastest time.  With plenty of work cut out in the heat race where only the top five transfer into the feature, the MobileStar Maxim started inside row five and finished 9th forcing the Elk River, Minnesota native to the B-Main.
In the Last Chance Showdown, the Aggressive Hydraulics #7 lined up outside row six and advanced through the field until taking the lead with five to go.  Unfortuately, a bunch of cautions mired throughout the 12-lap event resulted in Dollansky running out of fuel on the final lap while leading and forced him to use a provisional to start the main event.
When the green flag waved on the A-Main, 'The Crowd Pleaser' quickly discovered the brakes had went away on the Eaton's Aeroquip Performance Products #7 but still managed to move up four positions before the first caution on lap 8.  After another yellow on the next lap was followed by a pair of red flags on the restart, the Elk River, Minnesota native ran eighteenth before the next yellow appeared on lap 17.  Running in the same spot before the final caution with two circuits remaining, Dollansky continued to battle without brakes and advanced two spots before crossing the finish line in 16th position.
Up next, the Eyecon Trail Cameras #7 team heads for Silver Dollar Speedway in Chico tonight for the Mini Gold Cup event.