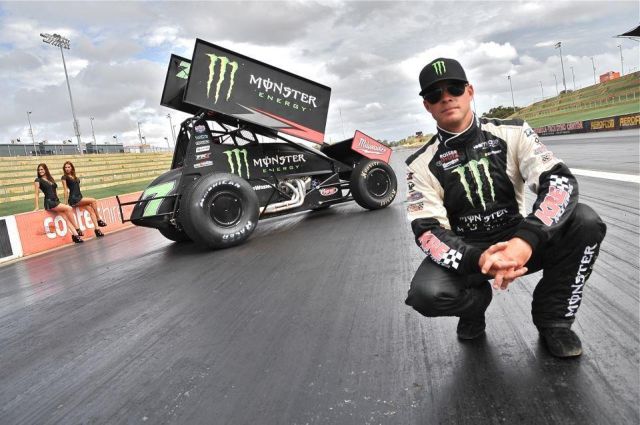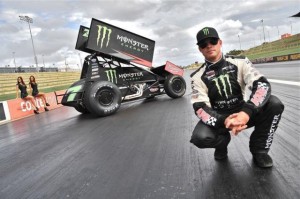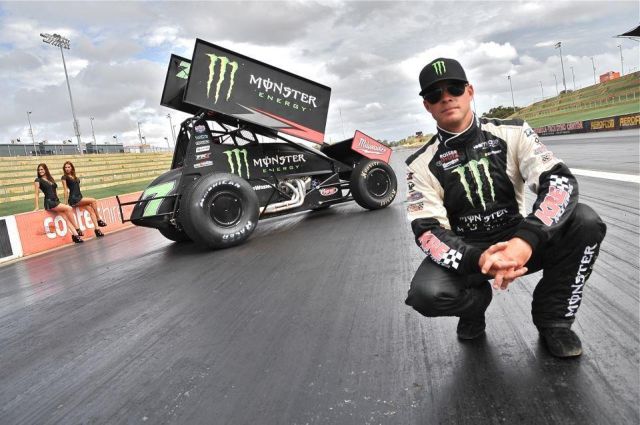 From Peterson Media
Shane Stewart and his Monte Motorsports team flexed their muscle again over the weekend as they picked up their fifth victory of 2013 as they won in Brisbane.
The night started out well for Stewart, as he timed his Monster Energy/Milwaukee Tools/GearWrench machine in second fastest, right on the heels of Todd Wanless.
Starting in position eight for both of his heat races, Stewart would record fifth and third place finishies, putting his Prosser Toyota/KRE Engines/Lucas Oil Products machine in the Dash, where he would end up fourth, putting him in the second row of the feature event.
The opening two laps of the feature went off, until a spinning car, brought out the yellow, with Stewart sitting in the third spot.
On the restart, Stewart would jump into the second spot, before taking over the lead on lap five.
Out in front, Stewart would set sail against the rest of the field. Clearly the fastest car on the track, Stewart would not seriously be challenged for the lead, as he went on to pick up a very convincing win.
"These guys are awesome," Stewart said. "I've torn up some stuff the last few weeks, but they've been there to keep me level headed, and to get everything in running order, and it's awesome to win for them with Monster Energy, Milwaukee Tools, and GearWrench."
Shane and his Monte Motorsports team thank Monster Energy, Milwaukee, GearWrench, Prosser Toyota, KRE Engines, Lucas Oil Products, K&N, Factory Kahne Shocks, Kaeding Performance, Brown and Miller Racing Solutions, Miracle Recreation Equipment, Mahle Pistons, Cometic Gaskets, OGIO, GoPro, and DC Shoes.
2013 BY THE NUMBERS- Starts-23, Wins-5, Top 5's-11, Top 10's-15.
ON TAP: Stewart is now set for the Easter Trail, kicking off on Friday night, the three race schedule is as follows-
Shane Stewart's Down Under Tour Schedule-
29th Easter Trail        Maryborough Speedway, QLD
30th Easter Trail        Archerfield Speedway, Brisbane
31st Easter Trail        Charlton Raceway, Toowoomba