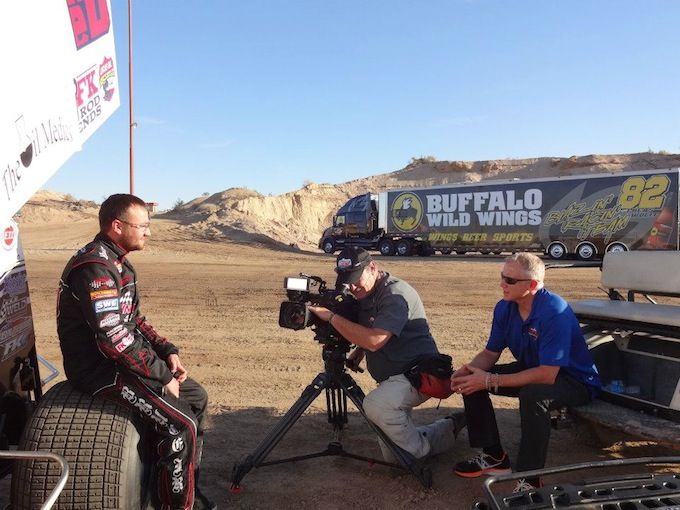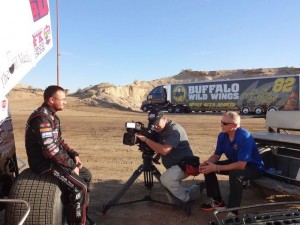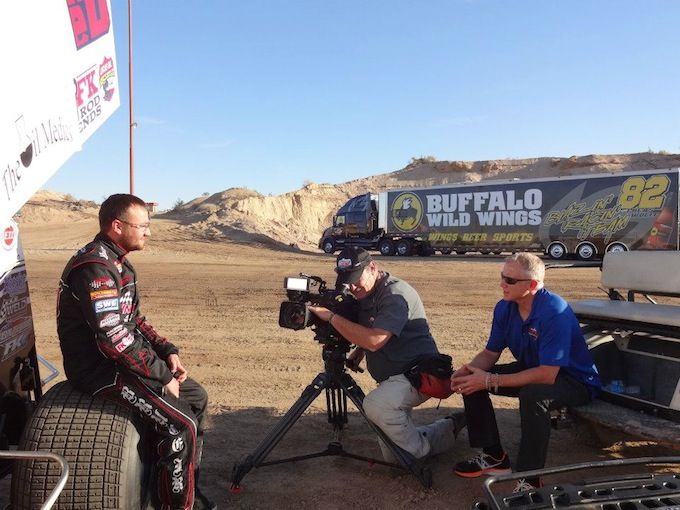 From Peterson Media
A bad weather system, and a wet track were not a winning combination over the weekend, as Tony Bruce, Jr scored a 13th place finish on Friday night, before Saturday's event was rained out.
"It was a terrible night of racing," Bruce said. "With the weather, the track was greasy the first few laps during every race, and just made it difficult, and frustrating."
Starting 7th in his heat, TBJ was able to work his Hinchman Indy/Eagle Motorsports/Oil Medics entry up to a fifth place finish, however, it was not enough to put him in the feature.
Starting third in the B, TBJ was able to work his SWE/Maxwell/FK Rod Ends machine up to a second place finish, where he would transfer to the feature event, but would be marred at the back of the pack.
Tightening his car up for the track, Bruce's car was simply too tight, for the A, and he held on as he slid around the track, and pushed up through the grease.
Though he was able to stay wreck free, TBJ ended his night with a 13th place finish.
"I think I had 45 tear-offs on before the feature, and there's not many left," he said. "We were too tight in the feature, I think we over compensated for the track."
Bruce would like to thank Hinchman Racewear, Eagle Motorsports, The Oil Medics, Smileys, SWE, Maxwell Industries, FK Rod Ends, Butlerbuilt, Factory Kahne Shocks, DriversWebsites.com, Racinboys.com, Wilwood, Schoenfield Headers, Hoosier Tires, HRP, Kaeding Performance, Schaefer Oil, Fuel Safe, Bell helmets, Four Seasons Radiator, Southern Trailer Works, KSE, Brown and Miller Racing Solutions, Weld Wheels, and ISC Racer's Tape for their support.
2013 BY THE NUMBERS- Races-5, Wins-0, Top 5's-1, Top 10's-2
ON TAP: Bruce and his team will be back in action on March 30th at the Royal Purple Raceway.
STAY CONNECTED: Stay updated with TBJ by visiting his website at
www.tonybrucejr.com, or by following him on twitter @tonybrucejr.
SPONSOR SHOUT OUT: THE OIL MEDICS
The one8 Motorsports team is proud to again be partnered up with the Oil Medics in 2013. Located in Forth Worth, Texas, the Oil Medics specialize in servicing big rigs to enhance fuel mileage they also are a full service diesel shop. On top of taking car of the rig, the Oil Medics also carry a complete line of racing lubricants to help enhance hoarse power and lead to more wins.
"We're fortunate to again team up with the oil medic family," Bruce explained. "Without their continued support we wouldn't be at where we are today. They have not only kept our racecar up front but also kept our semi in top running condition. With the amount of miles we put on in a year it's extremely important to keep our rig on the road."