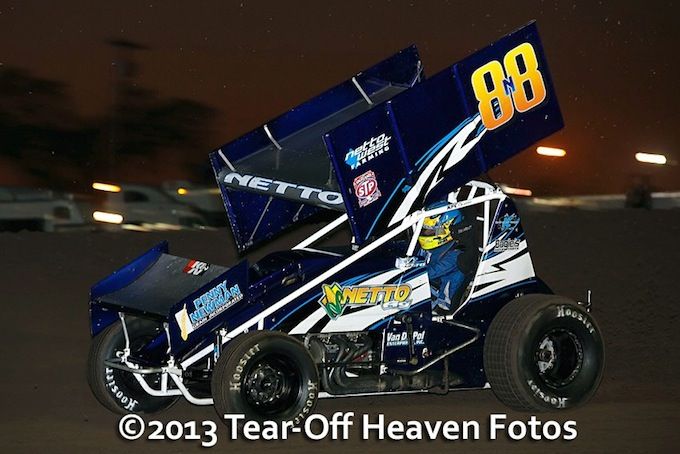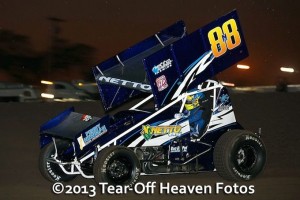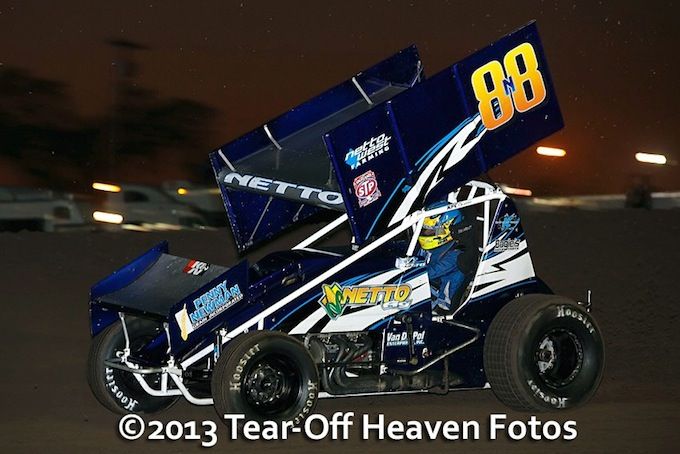 From Peterson Media
In action against both the World of Outlaws and the Rebel Cup Series of the weekend, DJ Netto's weekend was highlighted with a 13th to third place run on Saturday night at the Thunderbowl in Tulare, CA.
"Our night started out horribly, but my guys worked hard all night, and we escaped with a great third place finish.
During hot laps and qualifications, Netto complained of the engine being 'flat', so the team went to work changing gears, and such, but the engine still wasn't running up to standard as Netto timed in 18th quickest out of 20 cars.
Finding a broken fitting on their fuel pump, Netto was able to score a third place finish aboard his Netto Ag/Penny Newman Grain/Bogies Auto Parts entry, but he would start deep in the field.
"The track was tough, and we were starting in the back, so the plan was to take it easy, and not try to do too much, as the ruts were crazy."
Playing it cool, Netto kept his nose clean, as the race was marred with reds. Making some swift moves, he was able to gain ground, as he worked his way to a third place finish.
"It ended up being a great night for us," he said. "Our engine issue really had us scratching our heads to start the night, but fortunately it was an easy fix, and we pulled out a third place finish."
Friday night, Netto was in action against the World of Outlaws at the Kings Speedway in Hanford, CA, and the youngster had a less than desirable night.
Timing in 26th fastest, Netto found himself in the back of his heat, and a ninth place finish forced him into the LCQ.
Starting eighth in the LCQ, Netto would work up to the sixth, and final transfer spot, to secure a spot in the feature event.
Starting scratch on the field, Netto worked the tricky, slick surface, and put himself in the 17th spot around lap 15.
With his temperature gauge rising, Netto kept one eye on the track, and one on his gauge, until he ultimately lost the handle on lap 20, and made contact with David Gravel, ending his night.
"I made a rookie mistake," he said. "I was watching my gauges, and watched a little too long, and spun. Unfortunately we made contact with David Gravel, and we had some damage that sidelined us."
DJ and his Netto Racing team would like to thank Netto Agriculture, Penny Newman Grain, Bogies Auto Parts, Vande Pol Enterprises, and BR Motorsports for their support in 2013.
2013 BY THE NUMBERS: Starts-11, Wins-0, Top 5's-1, Top 10's-2
ON TAP: DJ and his Netto Motorsports team will be in action on Saturday night either at the Antioch Speedway in Antioch, CA with the King of the West Series, or back in Tulare, CA with the Rebel Cup Series.
STAY CONNECTED: Stay updated with DJ and his team by following him on twitter @DJNetto88.