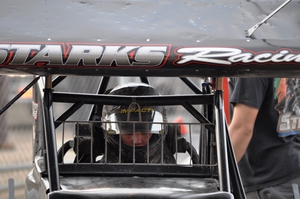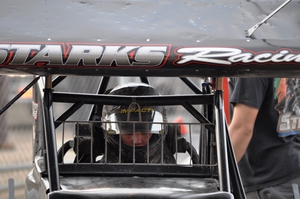 From Inside Line Promotions
Alger, WA —  (May 12, 2013) — Trey Starks categorized the initial round of the Summer Thunder Series a success.
With a great track and solid car count, Starks recorded a podium at the first show of the four-race event at Skagit Speedway on Saturday.
"It was a really cool race track," he said. "It had a top, had a bottom. You could even run through the middle a bit. We had a good car in the main; just the top three, four cars were all fast."
A week after picking up his first victory of the season at the 3/10-mile oval, Starks qualified third quickest of the 31 drivers. With the heat races inverted by four, Starks lined up on the outside of the second row in his 10-lap heat race.
"It was just a tight night of racing," he said. "Tempers were kinda up. Everybody raced hard. We got into it with a guy in the heat for a transfer spot. We battled for a couple of laps and he ran me up to the fence with a dirty slider. It just about junked both of us. That was probably the maddest I've ever been when I've been racing."
Starks dropped to sixth for a couple of laps before picking up a position on the third lap of his heat race. He then regained the fourth and final transfer spot in the closing laps to advance to the 30-lap feature, which he started third.
Starks fell to fourth place on the initial start and battled for a top three for most the event before fading to sixth on Lap 20. He powered into fifth place on Lap 24, advanced to fourth on Lap 27 and moved to third on the ensuing lap.
"We got another podium, which is good," Starks said. "Obviously you're going for the win again, but there are some really good guys this weekend and the field was great."
Starks has recorded three straight top-four finishes since a part failure forced him to crash while running second early in his season opener.
He is set to compete on Saturday at Grays Harbor Raceway in Elma, Wash., where he qualified quickest two weeks ago before the program was rained out prior to the heat races.
QUICK RESULTS –
May 11 – Skagit Speedway in Alger, Wash. – Qualifying: 3; Heat race: 4 (4); Feature: 3 (3).
SEASON STATS –
4 races, 1 win, 3 top fives, 4 top 10s, 4 top 15s, 4 top 20s
UP NEXT –
Saturday at Grays Harbor Raceway in Elma, Wash.
MEDIA LINKS –
Website: http://www.TreyStarksRacing.com
Twitter: https://twitter.com/treystarks55
Facebook: https://www.facebook.com/TreyStarksRacing?fref=ts
VIDEO –
Here is a link to check out highlights from Trey's victory at Skagit Speedway on May 4: http://www.youtube.com/watch?v=axHzc9tXVaQ&feature=youtu.be
APPAREL –
Starks has men's and women's long-sleeve shirts, t-shirts and hoodies available at any race he attends and at www.TreyStarksRacing.com.