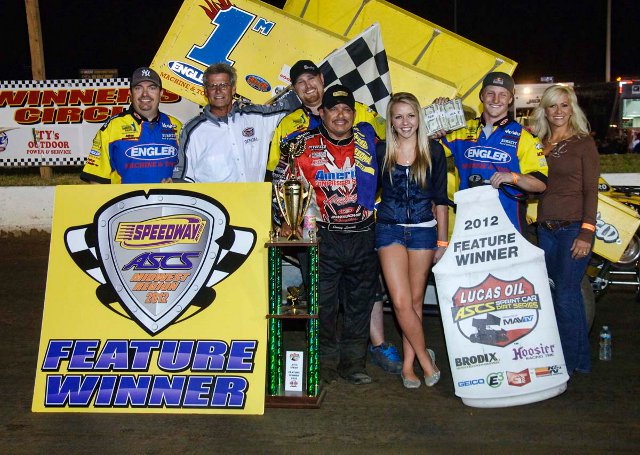 Inside Line Promotions
KNOXVILLE, Iowa (May 14, 2013) – After racing with a 410ci engine for the first time in 12 years, Mark Burch Motorsports found a couple of the bugs in the system last weekend.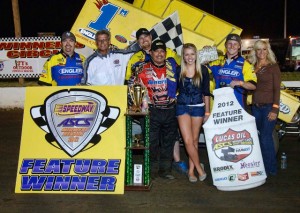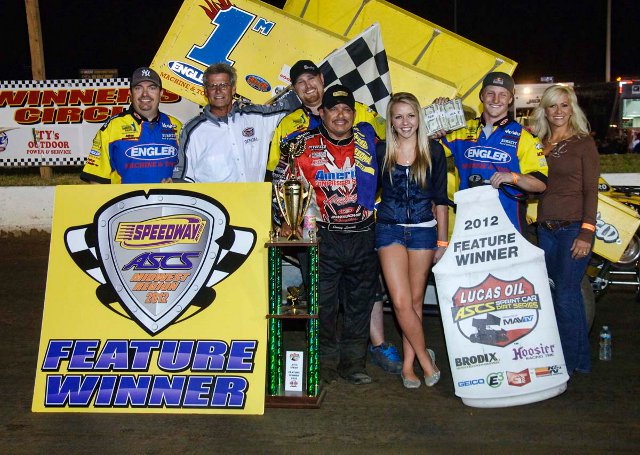 The team made its season debut with the World of Outlaws STP Sprint Car Series at the FVP Outlaws at Elko on Friday at Elko Speedway in Elko, Minn., where Danny Lasoski qualified just inside the inversion number to earn a spot on the pole of his heat race.
Lasoski led the distance to pick up the win and advance to the dash, where he maneuvered from ninth to eighth on the narrow track. Unfortunately for Mark Burch Motorsports, a mechanical issue struck early in the feature as Lasoski was battling inside the top 10.
"The throttle was hanging wide open," Lasoski said. "I was basically operating the throttle with the kill switch. It's awfully hard to drive and operate the kill switch at the same time. Whenever I couldn't do that I had to work with brakes."
That burned up the brakes and around the midpoint of the main event, Lasoski was forced to pull into the pits without any brakes. He finished 22 nd.
"We were happy we were able to race because any time I can race with Mark Burch it's a pleasure," Lasoski said. "We've got a lot of work to do because we want to win races."
The team headed to Knoxville Raceway for the Mediacom Shootout on Saturday, when Lasoski qualified 14th quickest of the 51 competitors. He finished third in his heat race to advance to the feature, but the team missed the dash by one spot.
Lasoski started the main event 18th, but quickly realized there was an issue with the steering.
"We'd been struggling all night long with the steering," he said. "It would dart really bad. In the A Main I was holding my hands still and the car would turn six feet left or six feet right."
After a handful of laps, Lasoski pulled into the pits with a 28th-place finish.
"We were fighting steering issues all night," Burch said. "We kept changing stuff and changing stuff to try to sort it out, but we could never get it straightened out. The car just had a mind of its own. It was pretty evil.
"There's a lot of people who ended up in a worse position than we are. It's disappointing to have mechanical troubles. That's why we needed to race. We need to get that stuff sorted out. It just happened to be we chose two World of Outlaws races to make our first two events. But if you're gonna be the best, you've got to beat the best."
Mark Burch Motorsports will take this weekend off before returning to the track on Wednesday, May 22, at Valley Speedway in Grain Valley, Mo., with the Lucas Oil ASCS National Tour.
QUICK RESULTS –
May 10 – Elko Speedway in Elko, Minn. – Qualifying: 15; Heat race: 1 (1); Dash: 8 (9); Feature: 22 (8).
May 11 – Knoxville Raceway in Knoxville, Iowa – Qualifying: 14; Heat race: 3 (2); Feature: 28 (18).
SEASON STATS –
2 races, 0 wins, 0 top fives, 0 top 10s, 0 top 15s, 0 top 20s
UP NEXT –
Wednesday, May 22, at Valley Speedway in Grain Valley, Mo., with the Lucas Oil ASCS National Tour
MEDIA LINKS –
Website: www.MarkBurchMotorsports.com
Twitter: https://twitter.com/mbmotorspt
SPONSOR SPOTLIGHT – AFCO Gas Shocks by Speedway Motors
Offered by Speedway Motors in Lincoln, Neb., AFCO Gas Shocks are engineered using the latest data acquisition to analyze the forces and motions experienced in various conditions. For more information, visit http://www.speedwaymotors.com/afco-gas-shocks-th.html.
"This is the first set of AFCO Gas Shocks that have built for our 410 program," Burch said. "It was a huge advantage to have all four corners adjustable on Friday night because they reworked the track multiple times. When you have to go down into the infield before you qualify or run your heat race, if you need to make some adjustments to the car for the track conditions, it's nice to be able to walk over the shock and make five or 10 click adjustments. They've been a huge asset to our program because they have a consistent product."
Mark Burch Motorsports would also like to thank Engler Machine and Tool, Wolfweld Chassis, King Racing Products, Speedway Motors, Speedway Shock Service, Hot Dot, Inc., Wireless Amber Alerts, Driven Racing Oil – by Gibbs, Hoosier Tire, Arrow Truck Sales, Donovan Blocks, Diamond Pistons, Rod End Supply, Saldana Racing Products, MSD Ignition, Vortex Wings, S & S Welding, Inc., Lee Power Steering, Gessford Machine, DMI Bulldog Rears, Wulff Pumps, Schoenfeld Headers, Red Devil Brakes, Total Seal Piston Rings, Dyer's Top Rods, Huggins Cams, Weld Racing Wheels, Goodridge Fluid Transfer Systems, Harris Decals and Awesome Racewear for their continued support.