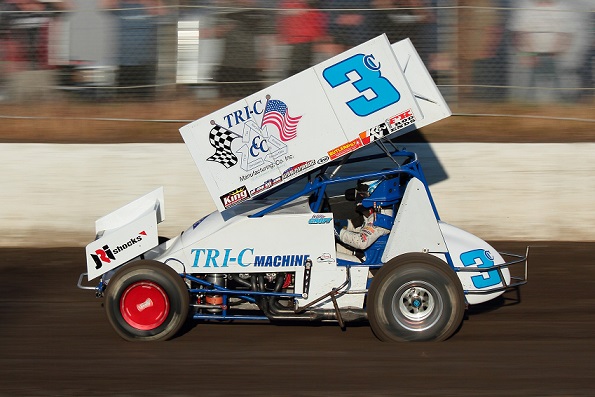 PETERSEN MEDIA
 Fresh off of his second series win of the season just one week ago, Sacramento, CA pilot, Willie Croft, put together a strong weekend in Fernley, NV as he scored a pair of third place finishes aboard the Tri-C Machine/JRI Shocks/NAAKE backed No.3C with the King of the West Series.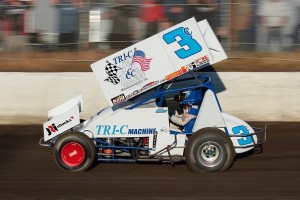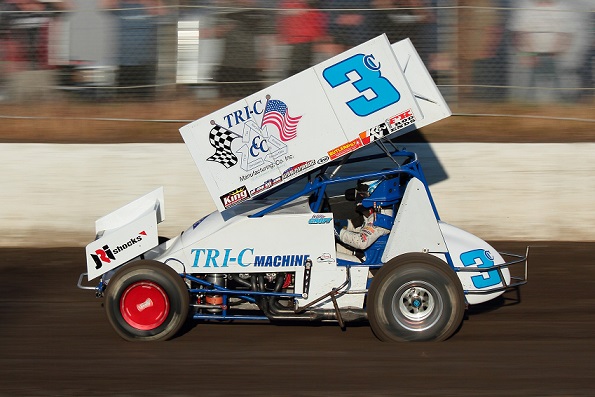 Kicking off the weekend on Friday night, Croft had speed from the get-go as he  timed his Holey Smokes BBQ/Christian Stover Foundation/ButlerBuilt machine in third quickest.
Starting fourth in his heat, Croft was able to make some strong moves, as he grabbed the lead and picked up the win, putting him in both the feature and the dash.
"Friday we were good in time trials and in the heat, but just didn't quite have the dash we had hoped for," Croft said.
A seventh place finish in the dash promptly had the Tri-C Machine team go to work on the Arai/Brown and Miller/Sander Engineering machine to get dialed in for the feature event.
On what was a rather rough track, Croft was able to move forward as he carved his way up to the third spot, as the leaders raced through lapped traffic for what seemed to be the entire feature event.
"We were really good in the feature, just couldn't quite get up to Kyle Hirst and Rico Abreu in traffic, but we were able to move forward nicely."
At the stripe, it was Croft picking up a third place finish.
Coming back to the track on Saturday, Croft laid down a strong lap in qualifications as he timed in with quick time, which was also a new track record.
As the night wore on, the track continued to get extremely slick, and Croft slipped back in his heat as he scored a fifth place finish, but made the transfer to the dash based on qualifying time, and finishing in a transfer spot.
Again struggling in the dash on a track that was taking rubber, an eight place finish put Croft in the fourth row for the feature again, but the veteran driver, ran a smooth race, that saw him stay in the rubber, and he closed his weekend out with another third place finish, propelling him to fourth in series standings.
"Overall it was a great weekend for the Tri-C team," Croft said. "We had a strong car that went forward in both features, and we ended up with a couple of podiums, and gained some important points. We will move on and look to get even better at Tulare."
The Tri-C Motorsports team would like to thank Tri-C Machine, JRI Shocks, NAAKE Suspension, Holey Smokes BBQ, The Christian Stover Foundation, ButlerBuilt, Arai, Brown and Miller, Sander Engineering, FK Rod Ends, Hinchman Indy, Schoenfeld, K&N, Smith Precision Products, A.R.T., Kaeding Performance, Dan Olson Products, Vortex Wings, AIC Powdercoating, and GUTS for their support in 2013.
2013 BY THE NUMBERS: Races-21, Wins-4, Top 5's-10, Top 10's-13.
ON TAP: Croft and his team will now head to the Thunderbowl in Tulare, CA for a Memorial Day double header on Saturday and Sunday night.
STAY CONNECTED: Stay connected with Willie Croft Racing by visiting www.williecroftracing.com. You can also follow him on Twitter @wcroft29.