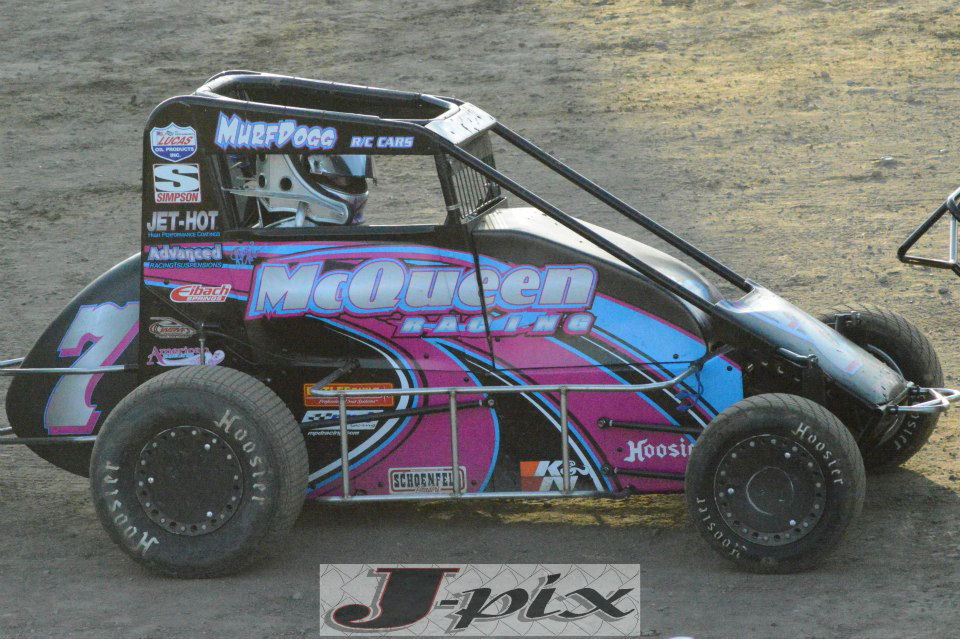 By Robert Haugh
Hoping to leave behind a recent stretch of bad luck, McQueen Racing had yet another strong, yet disappointing showing on Saturday, June 1 at the USAC-Western States/BCRA co-sanctioned event at the 1/4-mile Placerville Speedway.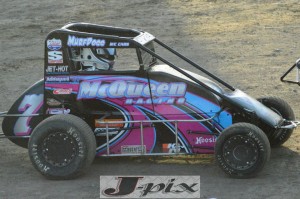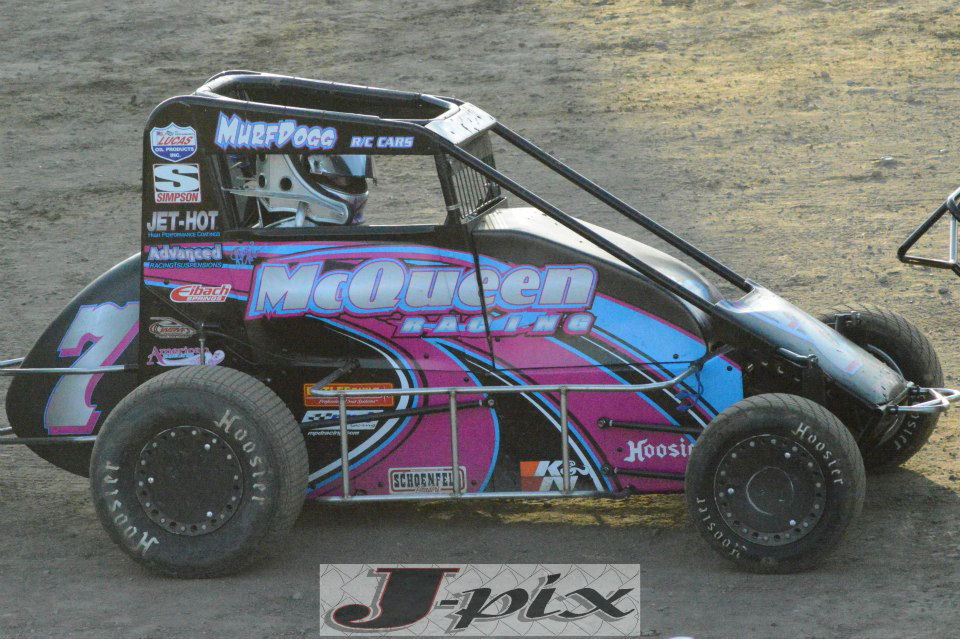 After surging from sixth to claim third in Heat 1, McQueen's evening came to a premature end on Lap 2 of the 30-lap main event when an over-aggressive competitor plowed her from behind, sending her into a tractor tire, ending her night with front end damage.
"Lightning" McQueen lined up second on the 20-car grid in the McQueen Racing #7 Lucas Oil/Simpson Race Products Spike/Esslinger by Duane McQueen, on the less-than-preferred line on the dry slick track. Hoping to march forward after pulling inline, McQueen was planning on patiently working through traffic, remaining within striking distance of the leaders. However, another competitor's impatience changed what was shaping up to be a solid run – with McQueen possibly contending for the win.
"I got into turn one on the second lap and everyone in front of me got in the corner slow so I could not plow the person in front of me. However, the person behind me did not have the same courtesy and plowed me sending me into the tractor tire bending the front end," states a disappointed McQueen.  "It is super disappointing … You know when the track is super slick and one groove on the bottom everyone in front of you is going to get into the corner soft to not miss the groove.  Amazing that some still do not understand this concept."
McQueen returns to action Saturday, June 15 at the USAC-Western States/Bay Cities Racing Association co-sanctioned event at the 3/8-mile Petaluma Speedway, where she holds the track record (14.360 – 2009) and has claimed second in her last three Petaluma starts.
Though not committed to a full USAC-Western States schedule, McQueen sits eighth in the overall standings, with two fast time awards and four top-10 finishes. McQueen also sits fifth in the Dirt series points.
McQueen became the first woman to win a BCRA Midget championship in 2011 when she claimed the BCRA Dirt Midget crown, then claimed the 2012 USAC-Western States Midget championship, amassing four Heat race wins, nine Top 5 runs, three fast time awards and 13 Top 10s in 2012. McQueen also holds five track records at the 99 Dirt Track in Stockton, Calistoga Speedway, Petaluma Speedway, Silver Dollar Speedway and Orange Show Speedway.  McQueen also recently accepted the prestigious Kara Hendrick Spirit award, one of the top awards for women in Motorsports.
McQueen Racing has dedicated the entire 2013 season to Kenny Speck, a McQueen Racing team member who lost his life earlier this year.
McQueen is also the first female owner to boast a win with a female driver when Oklahoma's Michelle Decker won a USAC Western States Midget Feature in April 2012 at McQueen's home track of Bakersfield Speedway at the helm of one of McQueen's potent Spike/Esslinger entries.
McQueen Racing would like to thank all of our wonderful sponsors: Lucas Oil Products, Simpson Race Products, Eibach Springs, DMI, Rod End Supply, K&N Filters, Advanced Racing Suspensions, MPD, Ruth Engineering, Jet-Hot Performance Coatings, Butler Built Seating Systems, Schoenfeld Headers, American Fabrication, West Evans Motorsports, Western Open Wheel Racing News and Esslinger Racing Engines by Duane McQueen.
Visit www.shannonmcqueen.com for more information on McQueen Racing.