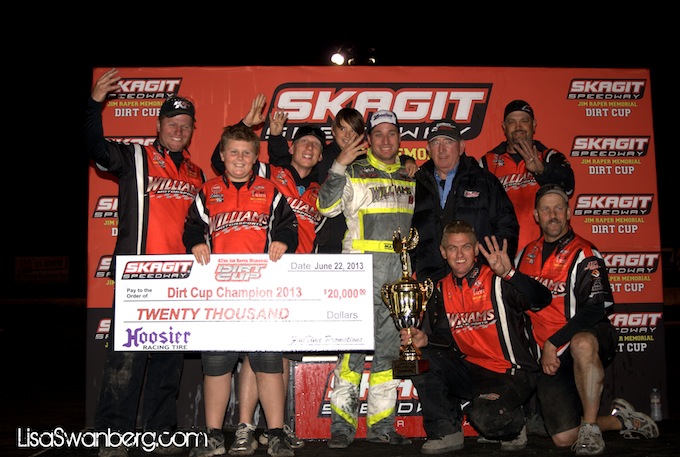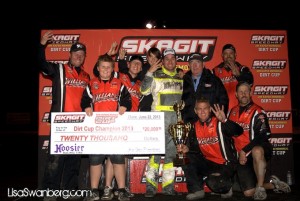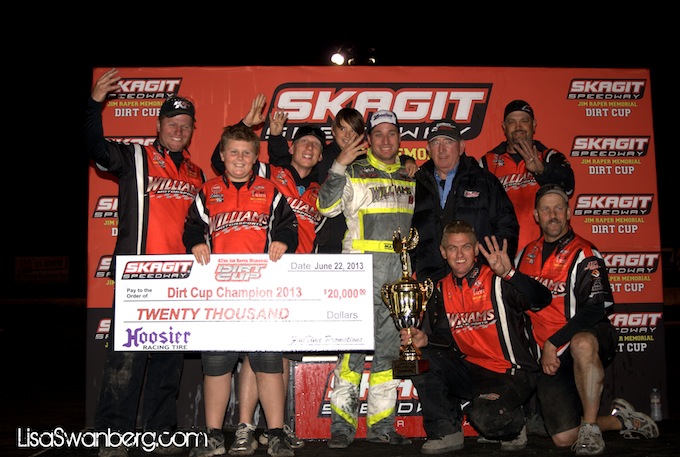 From Peterson Media
Jonathan Allard and his Williams Motorsports team have taken a liking to the Skagit Speedway. Saturday night, Jonathan Allard picked up his fourth Dirt Cup Title, moving him to second all time, as he led all 40-laps in dominating fashion.
"I cannot say enough about my guys," Allard said. "They work their butts off every night for me, and we really have something clicking at this track, I wish we could race here more often."
All weekend long, Allard was the class of the field.
With Thursday night's event being delayed due to weather, action heated up on Friday night, as Allard timed his Williams Motorsports entry in second fastest of the 31 cars checked in for the big event.
A third place finish in heat race action saw the Chico, CA driver sit second in event points, and started the feature in the 14th spot, based on the inversion.
On a slick, but very racy track, Allard showed why he was the defending race champion, as he carved his way around the Skagit Speedway to perfection, working his way up to a fourth place finish.
"Friday night we were very good," he said. "We could go anywhere we had, to and were fortunate to get up to the front."
With his performance, Allard sat atop the point standings heading into Saturday's double-header event.
Continuing to flex his muscle, Allard set the standing in qualifications, and continued to rack up points.
Another third place finish in his heat found him sitting atop the points, and again he found himself deep in the field, as he starting the 30-lap feature event from the 15th spot.
On a track that was slowly becoming tough to pass on, Allard had his elbows up as he found a way to get around nine cars, as he scored a sixth place finish, and put himself in great position for the night show.
Winning the A Scramble, Allard sat on the pole for the 40-lap feature, and that was all the reigning King of the West would need.
When the green flag dropped, Allard set sail on the field, leaving Peter Murphy, and Shane Stewart in his wake.
On lap 12, Murphy began to pressure JA, as lapped traffic became thick, but Murphy could only get alongside Allard, as he was the class of the field.
The long caution came on lap 22, and that was bad news for the rest of the field. The restart saw JA drop the hammer, and motor away from the field on the clear track, as he stretched his advantage to a straight away.
Taking the checkers, and collecting the big check from speedway promoter, Steve Beitler, Allard was very jubilant in victory lane.
"This was an awesome weekend for us," Allard said. "We had a bad fast racecar and I can't thank my guys, our supporters, and Morrie and Katie Williams for everything. I know my brother was looking down, smiling, and we will celebrate this one."
2013 BY THE NUMBERS: Races-32, Wins-7, Top 5's-18, Top 10's-20.
ON TAP: Jonathan and his Williams Motorsports team will return to action with the King of the West Series this Saturday night at the Placerville Speedway.
STAY CONNECTED: For more information on Jonathan, including upcoming events, pictures, and news please check out www.allardmotorsports.com, or follow JA on twitter @Allard0.