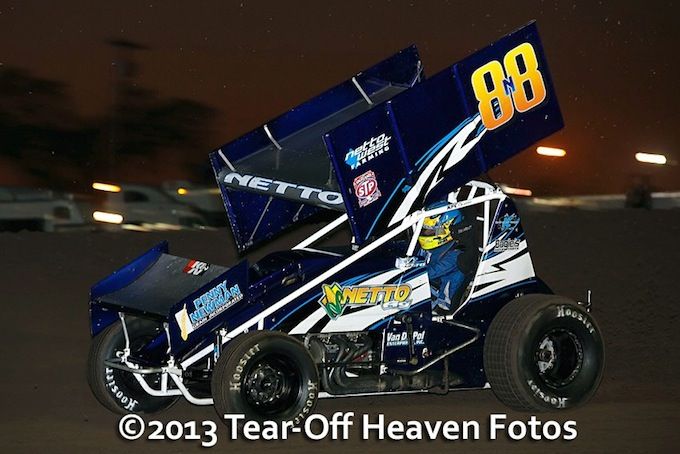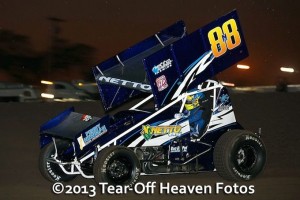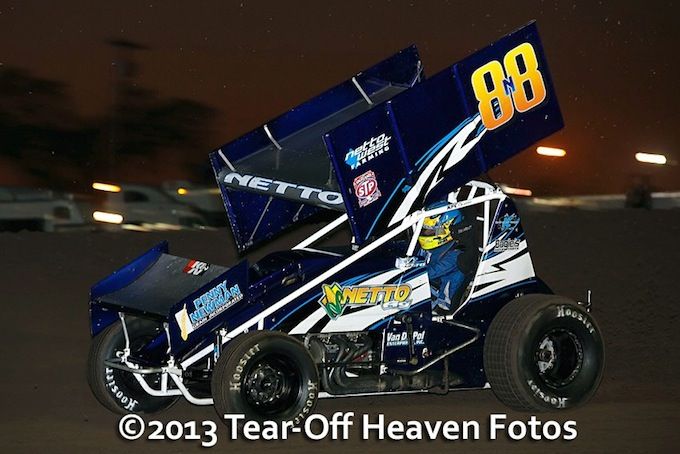 From Peterson Media
Competing in both a winged and non-winged event over the weekend, young DJ Netto showed his versatility as he scored top-10 finishes in both races.
Friday night, Netto and his Netto Ag/Penny Newman Grain/Bogies Auto Parts team were in action at the Stockton-99 Speedway for an unsanctioned winged 360ci event.
With 28 cars on hand, Netto laid down a great time trial lap as he was the second fastest car to hit the track.
Starting fourth in his heat, Netto found a liking to the top of the speedway as he charged his way to the win, and earned a spot in the dash, where he ran sixth.
The Dash finish put the Hanford, CA driver in the third row in the feature event, but he quickly moved forward as he battled with Dominic Sceliz for the second spot late in the feature event.
On a late restart, Netto ran out of real-estate on the bottom of the speedway, and slipped back to the fourth spot, where he would finish.
Shedding his wings, Netto headed to the Santa Maria Speedway in Nipomo, CA to take on the USAC West Coast 360 Sprint Cars.
Timing in seventh fastest, Netto would score a fifth place finish in his heat, putting him in the night's dash.
Picking up the Dash win, Netto started on the pole for the feature event. With Vander Weerd getting the jump, Netto ran in the second spot, as he fended off a pesky, Bud Kaeding.
On the 20th circuit in thick traffic, Kaeding and Netto got together, and hooked together, and both were forced to the back of the pack.
Netto was strong in the closing laps as he was able to recover, and salvage a sixth place finish.
"All in all it was a pretty good weekend for us," he said. "We are moving in the right direction, and it is nice to be in the thick of things again."
DJ and his Netto Racing team would like to thank Netto Agriculture, Penny Newman Grain, Bogies Auto Parts, and Vande Pol Enterprises for their support in 2013.
2013 BY THE NUMBERS: Starts-23, Wins-0, Top 5's-4, Top 10's-12
ON TAP: DJ and his Netto Motorsports will be in action this weekend at the Ocean Speedway on Friday night, and either at the Placerville Speedway or Santa Maria Speedway on Saturday night.
STAY CONNECTED: Stay updated with DJ and his team by following him on twitter @DJNetto88.