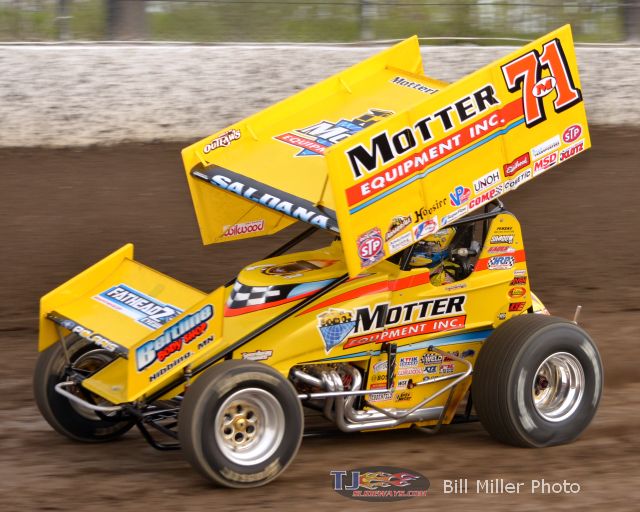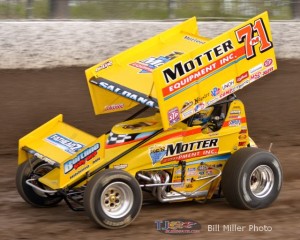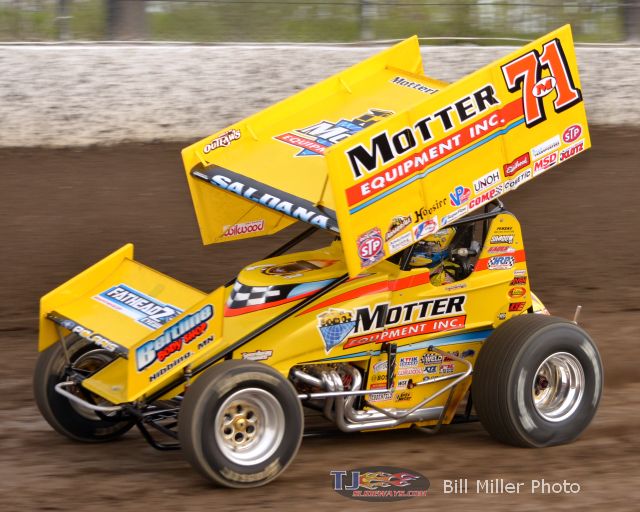 From Susan Arnold
Beaver Dam, WI — (June 29, 2013) — After a weather delay, round two of a three-in-a-row race weekend for the World of Outlaws got underway at Beaver Dam Raceway.
Joey Saldana, a four-time winner at this facility, was looking to add a fifth victory to his resume.
Saldana drove the Motter Equipment Fatheadz Eyewear 71M Sprint Car to the No. 11
qualifying position, with a 13.408-second lap around the 1/3-mile high banked oval.
After applying the Outlaws formula to the qualifying positions to determine heat race starting positions, Saldana rolled off on the outside of the front row in the third heat race.  When the green flew, pole sitter Bill Rose drove low and jumped to the lead while Saldana went to the high side with Steve Kinser challenging.  Saldana took the lead under full assault by Kinser.  Saldana and Kinser thrilled the fans with nose to tail racing, side-by-side racing, nearly colliding racing and slide job racing.  Saldana refused to surrender his position and at the halfway point, began to pull away from the field to win the heat.  Paul McMahan chased down Kinser for the second position.
The heat race win guaranteed Saldana a spot in the dash and a starting position in the first five rows of the A-Main, commensurate with his dash finish position.
After the dash inversion draw, Saldana started eighth.  The dash was filled with action all over the oval.  Saldana could not find solid footing in this event and finished tenth.
A-Main race leaders were Cody Darrah, Daryn Pittman, and Craig Dollansky, who led the lion's share of laps and scored the victory.  There was one red flag in the feature tonight when Sammy Swindell got upside down and collected Kraig Kinser in the incident on lap 22. Both drivers were okay, repairs were made to both cars and they were able to rejoin the field.
Second place tonight went to Daryn Pittman and third to Tim Kaeding.
Saldana who started 10th, came home in the 13th position.
"This wasn't the night we were hoping for," said team owner Dan Motter. "We will spend some time tonight discussing some thoughts and ideas we have, and we look forward to a good run at Cedar Lake Speedway (Wis.) tomorrow."