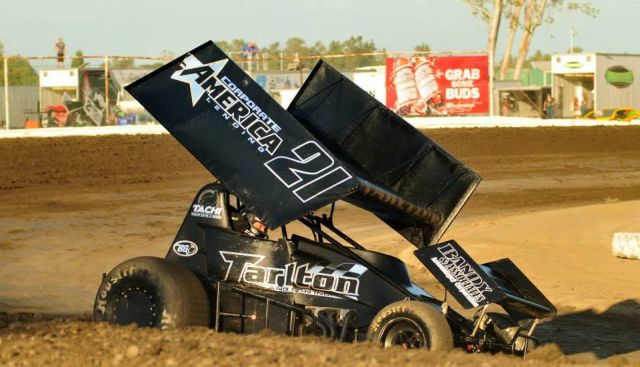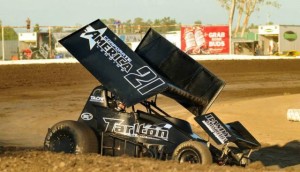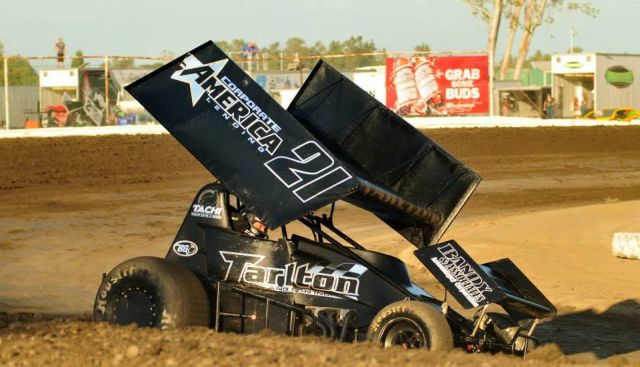 From Peterson Media
Tommy Tarlton gave it everything he had Saturday night on a 'rubbered' Ocean Speedway, but a minor slip up late in the feature knocked him out of a podium finish, as he slipped back to sixth at the finish line.
Timing in ninth fastest on the extremely worn out track in time trials, 'The Night Rider' took advantage of his front row starting spot in his heat race, and notched the win, putting him in the Dash.
Pulling the five-pill in the Dash draw, Tarlton lined his Corporate America Investments/Tachi Palace and Casino/Tarlton and Son entry up in the third row of the dash, and the Easton, CA pilot was able to score a fourth place finish, putting him in the second row for the feature event.
When the feature event went green, Tarlton did not get the jump he was looking for, as he chased after Bud Kaeding and Kyle Hirst as he ran in the fourth spot.
With Jonathan Allard taking off and hiding from the pack as he led early, Tarlton, Hirst and Kaeding raced wheel to wheel as they fought over positions two-four.
On a lap 14 restart, Tarlton got around Kaeding, in turns one and two, and took over the third spot, right before the caution flew again on lap 15.
With the track taking rubber early, Tarlton got out of the rubber on the 18th lap as he tried to get around Hirst and a lapped car, and it did not work out for him, as he slipped back to the eight spot, before he got back in the rubber.
Determined to get back up inside the top-three, Tarlton came up short, though he was able to salvage his night with a sixth place finish.
"We had a pretty good car, but rubber-down racetracks make it tough to do much, and I tried to make something happen, and it didn't work out," he said. "We are out here to win races, and we can't do that just following. We were good all night, and it was nice to have a fun night with some sponsors in the house."
Tarlton Racing would like to thank Corporate America Investments, Tachi Palace and Casino, Tarlton and Son, Bandy and Associates, Pro Signs, BG Lubricants, All Star Performance and Astro Titanium for their continued support.
VIDEO: Check out Saturday's action right here!! http://petersenmediainc.com/tommy-tarlton-slips-to-sixth-at-hk-classic/
2013 BY THE NUMBERS: Races-11, Wins-3, Top 5's-8, Top 10's-11
STAY CONNECTED: Stay connected with Tommy by visiting www.tommytarlton.com, follow @Tarlton_Racing on Twitter, or become a fan on facebook at www.facebook.com/21.