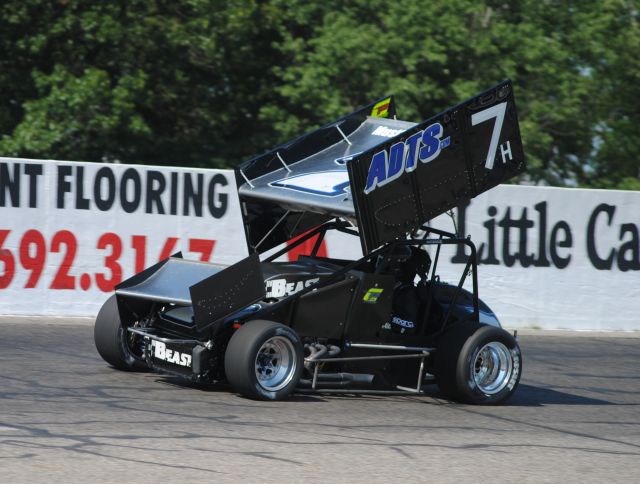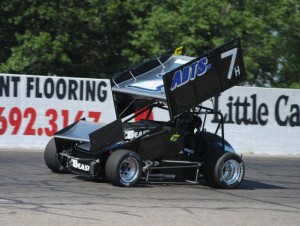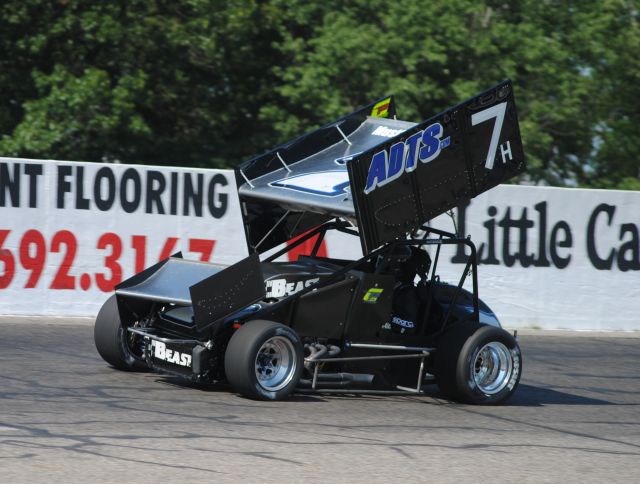 From T.J. Buffenbarger
Kalamazoo, MI – (July 20, 2013) – JoJo Helberg completed an incredible comeback to win a bizarre Auto Value Super Sprints event Saturday night at Kalamazoo Speedway.  Helberg took the lead just before halfway through the feature, got involved in a crash, and came back from the tail to cross the finish line in second position behind Troy DeCaire.  It was announced after DeCaire had gone through all of the victory lane ceremonies that he was docked two positions for jumping a restart and Helberg was awarded the victory.   For Helberg it was his second victory in AVSS competition this season.
The father and son combination of Kyle and Kevin Feeney made up the front row for the 50-lap feature event.  After racing side by side for the first lap Kyle took the lead from Kevin.  Behind them Jeff Bloom and Ryan Gillenwater ran side by side for second with JoJo Helberg picking up three spots at the start to crack the top five.  Helberg quickly disposed of Gillenwater and Bloom on successive laps and closed in on the Feeney duo.
With Helberg on the move Kevin made the move on his son Kyle to take the lead on lap nine.  Helberg and DeCaire moved Kyle back to fourth on lap 11 and set sail after Kevin.  As the trio of Kevin, Helberg, and DeCaire raced through traffic the caution appeared on lap 15  for Hank Lower slower in turns one and two.
After the restart Helberg and Decaire pounced on Feeney racing three wide for the lead.  Helberg took over the top spot on lap 18 with Decaire moving into second.  Helberg then set a torrid pace through lapped traffic with Decaire trying to keep pace until lap 29 when Kyle spun in turn four, collecting Helberg,  and Mike Ling went over a wheel and flipped hard into the wall in turn four.   All drivers emerged from their cars under their own power.  While Ling and Kyle were done for the night Helberg made repairs and rejoined the tail of the field.
DeCaire inherited the lead for the restart and pulled away from the rest of the field.  Meanwhile Helberg was on a mission charging to the front moving up to third position by Jeff Bloom on lap 38.  One lap later Helberg caught a break when the caution came out for Randy Sweet slowing in turns one and two. The caution setup a late race restart with two lapped cars between Helberg and second place Kevin Feeney.  Helberg quickly disposed of the lapped cars and dispatched Feeney for second on lap 40.
From there Helberg made a valiant effort to catch DeCaire, but could not make up the distance before the end of the race.  DeCaire crossed the finish line first and participated in victory lane ceremonies before being informed of his penalty, giving Helberg the victory.  Feeney, DeCaire, Bloom, and Joe Swanson rounded out the top five.
Helberg picked up $1,000 bonus courtesy of Sweet Manufacturing with a lap of 10.305 seconds around the 3/8-mile oval at an average speed of 131.004 miles per hour.   Herlberg, DeCaire, and
Auto Value Bumper to Bumper Sprint Car Series
Kalamazoo Speedway – Kalamazoo, MI
Saturday July 20th, 2013
Qualifications:  1. JoJo Helberg, 10.305; 2. Troy DeCaire, 10.633; 3. Jason Blonde, 10.651; 4. Joe Swanson, 10.739; 5. Ryan Gillenwater, 10.773; 6. Jeff Bloom, 10.838; 7. Kevin Feeney, 10.846; 8. Kyle Feeney, 10.896; 9. Tyler Underwood, 10.899; 10. Bill Tyler, 11.009; 11. Scott O'Connor, 11.019; 12. Mike Ling, 11.085; 13. Hank Lower, 11.085; 14. Geoff Kaiser, 11.107; 15. Jim Swain, 11.127; 16. Cody Hoover, 11.154; 17. Mike Astrauskas, 11.323; 18. Teddy Alberts, 11.380; 19. Randy Sweet, 11.880; 20. Nick Landon, 11.966.
Heat Race #1 (8 Laps):  1. JoJo Helberg, 2. Hank Lower, 3. Kevin Feeney, 4. Joe Swanson, 5. Bill Tyler, 6. Cody Hoover, 7. Randy Sweet.
Heat Race #2 (8 Laps):  1. Troy DeCaire, 2. Geoff Kaiser, 3. Ryan Gillenwater, 4. Mike Astrauskas, 5. Kyle Feeney, 6. Scott O'Connor, 7. Nick Landon.
Heat Race #3 (8 Laps):  1. Jason Blonde, 2. Jim Swain, 3. Tyler Underwood, 4. Mike Ling, 5. Teddy Alberts. DNS: Jeff Bloom
A-Main (50 Laps):  1. JoJo Helberg, 2. Kevin Feeney, 3. Troy DeCaire, 4. Jeff Bloom, 5. Joe Swanson, 6. Geoff Kaiser, 7. Jason Blonde, 8. Bill Tyler, 9. Mike Astrauskas, 10. Jim Swain, 11. Scott O'Connor, 12. Cody Hoover, 13. Tyler Underwood, 14. Randy Sweet, 15. Kyle Feeney, 16. Ryan Gillenwater, 17. Mike Ling, 18. Hank Lower, 19. Nick Landon, 20. Teddy Alberts.