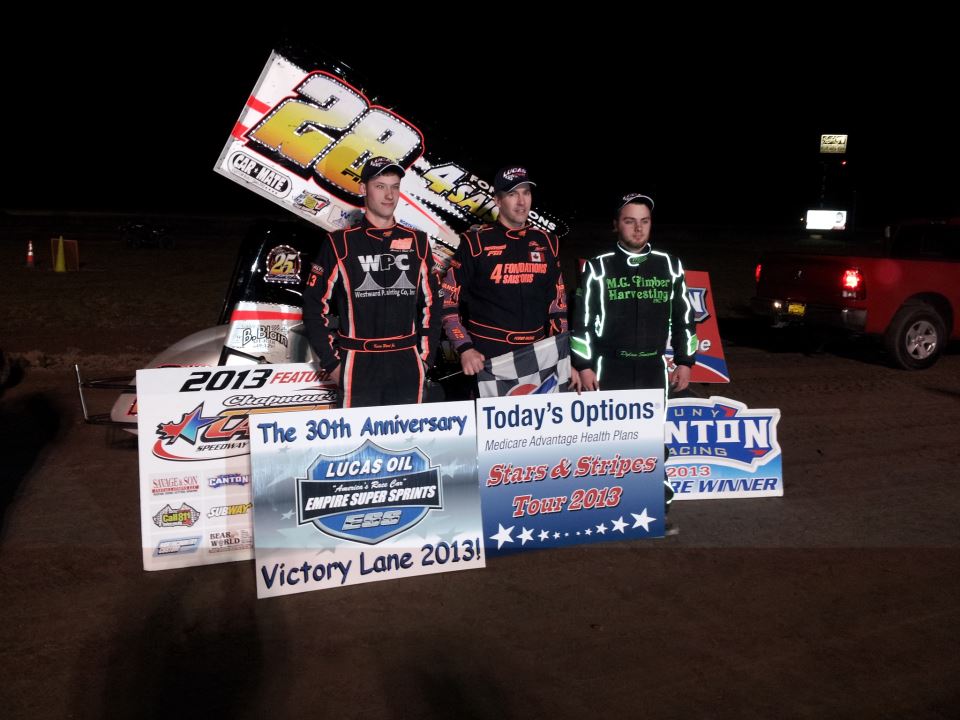 Mike Mallett
Akwesasne, NY — (July 26, 2013) — Steve Poirier is back to the form that won him three Lucas Oil Empire Super Sprint championships. The St. Mathieu de Beloeil, Que., driver took home the checkers in his second consecutive full point event on Friday night at the Mohawk International Raceway.
The 25-lap feature event paid points for several series as well as the overall championship. The win ensured Poirier as the 2013 Le Groupe Ultra Tour of Cananda title while moving him closer to the top in the Today's Options Stars and Stripes Tour as well as the SUNY Canton series. It was his 39th career series win putting him second on the all-time list behind Mike Woodring.
Poirier started on the inside of the second row as he watched Kevin Ward Jr., take the early lead in the feature event from his outside front row starting position.
Ward led as the red flag came out at the conclusion of lap one for Dylan Swiernik. Swiernik's car spun in the fourth turn and he attempted to save it from hitting the wall it did a wheel stand then rolled lightly over onto its side. He was able to continue.
For the restart Poirier pulled alongside Ward to the outside. Ward dove to the bottom of one keeping the lead from Poirier as they raced nose to tail down the backstretch.
Poirier made his move a couple laps later but just as he took the lead a second caution slowed the field. This one was for Etienne Girard as he slowed and stopped in turn four.
Poirier got a great restart as he went to the outside of turns one and two finding enough bite to drive by Ward as they exited the corner. From that point Poirier drove away.
"The car was really good for the first couple of laps," stated Poirier. "When it gets black you don't know if you are spinning tires a little bit but probably everyone was."
His only hiccup came on lap 11 as he nearly spun while navigating slower traffic and got into an implement tire on the bottom of the speedway.
"We had a couple scary moments," said Poirier. "I nearly touched the tire on the inside but the car was strong which made my job a lot easier."
Poirier stretched his lead as the race reached the halfway point while Ward now dealt with pressure from Jason Barney. Barney ultimately moved by Ward on lap 14 to take second.
Barney got his shot at Poirier on lap 20 when the final caution of then night came out for Alain Bergeron. Bergeron slowed on the frontstretch as the whole field was baring down on him necessitating the caution.
Barney gave Poirier everything he had over the final five laps but it wasn't enough as he went on to win his first event at Mohawk International since June 10 of 2011.
"Jason (Barney) was faster than me at the beginning of the race," said Poirier. "I didn't know what to expect on that restart. I could stay on bottom so I thought he would need a good run on the outside to get me."
It was Barney's best finish of the season putting him closer to getting his first win of 2013 with the Empire Super Sprints.
"We have great race cars we just need everything to click," said Barney. "Seems like these nights Steve's is stellar and he was stellar tonight. I wasn't getting off the restarts like him. I knew my only chance was to get on the outside of him in one but he was just too good."
Cory Sparks advanced from seventh starting position to get third. Sparks car was extremely good on the longer runs as the team gambled on tires and it paid off.
"This place and I get along pretty good," stated Sparks. "That last long yellow really hurt us big time. We gambled and went with a hard tire. That last yellow hurt us. If was a shorter caution I may have been able to race with Steve and Jason a little bit."
Michael Parent redrew 12th and steadily moved forward throughout the feature to finish in fourth while Ward fell back and finished fifth at the checkered flag.
Rounding out the top ten were Paul Kinney, pole sitting Jeff Cook, Tyler Rand, Sammy Reakes IV and Lance Yonge.
Lucas Oil ESS A-Main – Steve Poirier ($1,825), Jason Barney, Cory Sparks, Michael Parent, Kevin Ward Jr., Paul Kinney, Jeff Cook, Tyler Rand, Sammy Reakes IV, Lance Yonge, Chuck Hebing, Etienne Girard, Devin Caron, Lee Ladouceur, James Hanson, Alain Bergeron, Dylan Swiernik, Patrick Vigneault.
Lap Leaders – Ward Jr. 1-4, Poirier 5-25
Car Mate Custom Built Trailers Heat 1 – Hebing, Ward Jr., Kinney, Cook, Caron, Rand
Car Mate Custom Built Trailers Heat 2 – Poirier, Bergeron, Parent, Sparks, Swiernik, Hanson
Car Mate Custom Built Trailers Heat 3 – Vigneault, Ladouceur, Barney, Girard, Yonge, Reakes IV
WestFront Construction/Cobra Coaches Dash – Ward Jr.
Bonuses:
Westward Painting Company Halfway – Poirier $100
Ohsweken Speedway Winners Bonus – Poirier $100
Fondations 4 Saisons Hard Charger – Reakes IV (9 pos.) $50
Fondations 55 Pick 5 – Ward Jr. $50
North Eastern Pool and Spa Power Pick – Reakes IV, Swiernik $50
Car Mate Custom Built Trailers – Hebing, Poirier, Vigneault $25
Go Nuclear Go Fast Award – Poirier $25
JImmy D's Speed and Machine Fast Time – Poirier $25