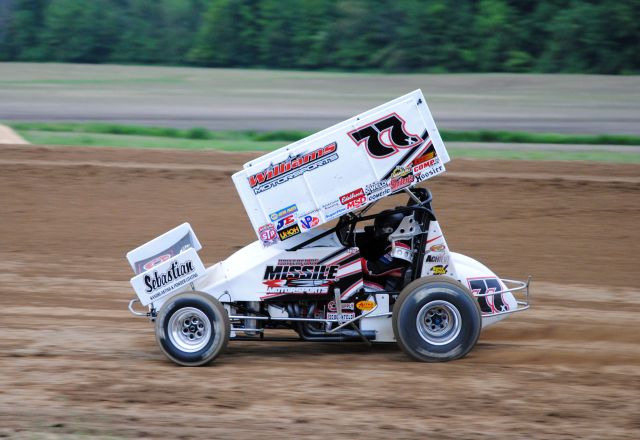 By Bill W
August 7, 2013 – Wayne Johnson registered his ninth career top ten in the 360 Nationals, which registers first on the all-time list.  His ninth place finish was a bit of a disappointment after registering the high point total on his qualifying night, but when he inspected his bent racecar later, it made sense.  The Wayne Johnson Racing #77x team will hit the track Thursday night for the 53rd Knoxville Nationals.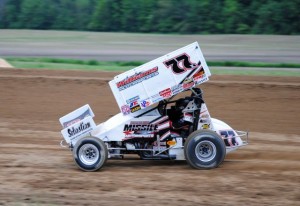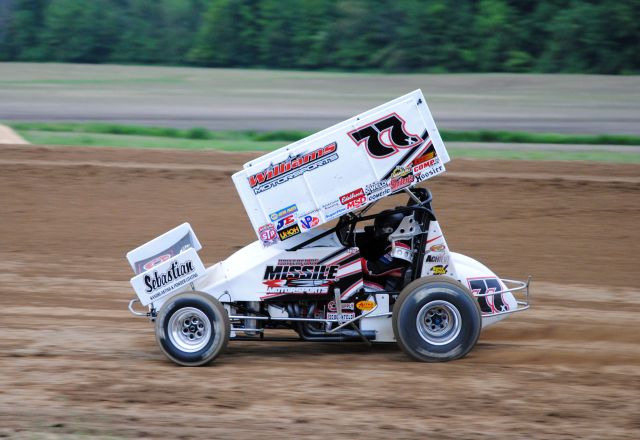 The 360 Nationals started last Thursday with quick time for Wayne.  "We talked to Charlie Fisher about some new things for qualifying," he says.  "It worked out well for us.  That was definitely a plus and had us headed in the right direction.  We haven't had many pluses lately, so that was good."
Starting sixth in his heat race, the Knoxville, Iowa driver shot up to third at the checkers and locked himself into the main event.  "The car was working well and the driver had his head on straight," says Wayne.  "We were rolling."
Starting eighth in the prelim, Wayne ran third in the non-stop 20-lapper.  "We just ran a little short at the end," he says.  "It didn't help that we didn't have any cautions.  I felt we were better than (Kyle) Larson at the end.  Who knows?  I would have liked to have found out though."
Wayne's point total would see him start outside of Shane Stewart on the front row of Saturday night's championship event.  The two-time 360 Nationals champ knew after hot laps he had some issues.  "I knew I was in trouble from the beginning," he says.  "We went out to hot lap, and our car felt weird.  We thought we had a bad bar.  We changed that, but it didn't help any.  We found out later, that the car was bent.  It was bent without ever wrecking it.  I don't know if it's metal fatigue or if the tubes are crooked in it.  This car is a 2008, so it was probably due for that."
After the ninth place finish, it was time to bring the 410 out for Sunday's "Capitani Classic" at Knoxville.  "With 81 cars…I wasn't happy with the qualifying (35th), but we weren't that far from the heat invert," says Wayne.  "Terry (McCarl) and (Davey) Heskin were racing there in the heat and I thought we may get them, but we're still struggling with some grip."
A sixth place heat finish sent him to one of two B mains, starting eighth.  "We were up to fourth and I just got loose at the end," says Wayne.  "We're figuring some things out and we're ready for Thursday night."
Look for a familiar look this week, as Wayne will have a special scheme reminiscent of his days in the FattFro #14AJ.  "Al Christoffer from FattFro is sponsoring our vinyl," he says.  "It's a replica car from a few years back at the Nationals.  It's the car we had the most success with.  We're trying to change our luck a bit here.  They did a really good job with it."
Follow Updates on Facebook!
Wayne will update as his race night goes on at his Facebook page.  Find it by searching for Wayne Johnson Racing or clicking the following link…
http://www.facebook.com/#!/WayneJohnsonRacing
Outlaw Wings – "The Wing with an Attitude"
Check out the new "recessed rivet" design put out by Outlaw Wings.  Talk to Wayne about purchasing Outlaw Wings for your car! Outlaw Wings – "The Wing with an Attitude"!
Wayne's World                                                       
Got a question for Wayne? Each week, Wayne will answer your questions about "Tech Tips", or anything that's on your mind. If you ever wondered what a part on a sprint car is all about, send an e-mail to us at sprntcar@iowatelecom.net, and we may answer it in this section! Put "? for Wayne" in your subject line. He'll try to keep it clean if you do!
Wayne's Fast Facts
This will be Wayne's 14th Knoxville Nationals competition.  He made six straight Knoxville Nationals championship starts between 2003 and 2008.  He finished 8th in 2006.
Partner of the Week – Rod End Supply
Whether you are running a go-cart, micro, mini-sprint, midget, modified, late model, sprint or a tractor, Rod End Supply has the assortment of rod ends, radius rods, and specialty products that will help you lead the field in performing at your maximum potential. At Rod End Supply, "They don't just sell 'em, they race 'em! Visit them on the web at www.RodEndSupply.com or call 1-800-284-2902 today!
"Wednesday's with Wayne"
"Wednesday's With Wayne" is an up close look at the past, present and future of colorful and talented sprint car driver Wayne Johnson. You'll never know what to expect next with Wayne, so don't miss us on Wednesdays!
To receive "Wednesday's with Wayne", send an e-mail to sprntcar@hotmail.com with"Wayne" in the subject line.
Wayne Johnson Racing would like to thank Vern Rengen and Missile Motorsports, Sebastian Sandblasting & Powdercoating, Williams Motorsports, Outlaw Wings, Team Achieve, The Oil Medics, Smiley's Racing Products, Hoosier Tire Southwest, Xtreme Accu-Tach, Simpson, Butlerbuilt, Maxim, Speedway Motors, Rod End Supply, Schoenfeld Headers, 517 Design and Canyon Apparel.