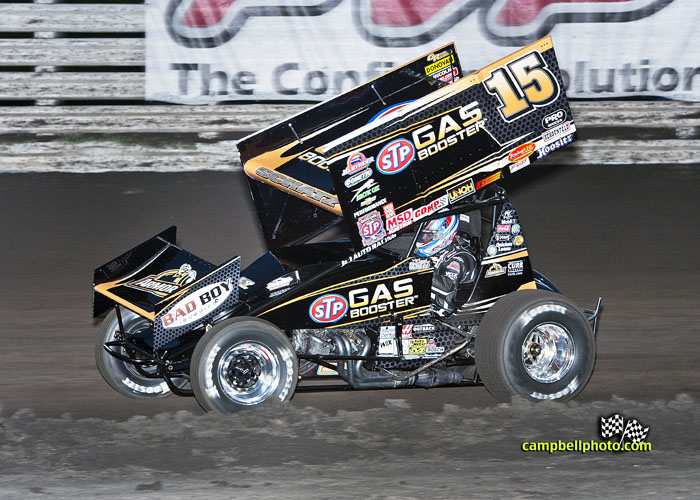 By T.J. Buffenbarger
Knoxville, IA – (August 10, 2013) —  Donny Schatz used a final lap pass on Lynton Jeffery to win the B-Main at the 53rd Annual FVP Knoxville Nationals.  Schatz started fourth and quickly moved up to the second spot before making the final lap pass for the victory.
Jeffery lead at the start while Schatz and Scott Winters raced for second.  Behind them Tim Kaeding threw a big slide job on in turn two and nearly spun in front of the field.  Kaeding somehow managed to keep going, but several cars were held up avoiding Kaeding with no caution flag coming out.
After a red flag for a tip over by Sam Hafertepe, Jr. with 15 laps to go Jeffery continued to lead during the restart with Schatz on his back bumper, but the big mover was Dusty Zomer who moved into the final transfer spot.  Zomer then quickly disposed of Winters for third one lap later.   Ian Madsen then pulled a slide job on Winters for the final transfer spot with 10 laps to go.
Schatz continued to pressure Jeffery for the lead until the final lap when Schatz dove to the bottom and slid up in turns three and four to take the lead and the victory.  Jeffery, Zomer, and Madsen transferred to the 50-Lap A-Main.
53rd Annual FVP Knoxville Nationals
Knoxville Raceway – Knoxville, IA
Saturday August 10, 2013
B-Main (22 Laps):  1. Donny Schatz, 2. Lynton Jeffery, 3. Dusty Zomer, 4. Ian Madsen, 5. Scott Winters, 6. Brandon Wimmer, 7. Wayne Johnson, 8. Jason Sides, 9. Brnson Maeschen, 10. Terry McCarl, 11. Craig Dollansky. 12. Davey Heskin, 13. Mark Dobmeier, 14. Randy Hannagan, 15. Jason Johnson, 16. Danny Dietrich,17. Jeff Swindell, 18. Don Droud, Jr., 19. Josh Schneiderman, 20. Logan Schuchart, 21. Sam Hafertepe, Jr., 22. Tim Kaeding, 23. James McFadden, 24. Tim Shafer  (First seven finishers transferred to the A-Main)