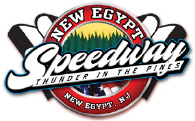 From Bob Miller
New Egypt, N.J. — (August 20, 2013) — The third year of the NAPA Auto Parts/Pioneer Pole Buildings JERSEY RUSH III was another success with JJ Grasso taking the $5,000 victory in the 30 lap 410 sprint feature as Billy Pauch held off a determined Ryan Godown to pocket the $3,000 win in the thirty lap modified feature. A big crowd attended the event that took place under picture perfect weather conditions at the New Egypt Speedway on Tuesday night.
A field of twenty-six modifieds and twenty-four sprint cars took part in the racing program that opened with the CnB Mushroom sprint car time trials. 13.340 Lance Dewease not only set fast time but established a new one lap track record with a time of 13.340 or an average speed of 118.066 mph for the 7/16th "D" shaped speedway. Sprint heat race winners were JJ Grasso, Ryan Bohlke and Kyle Reinhardt. Modified heat race winners were Roco Infante, Neal Williams and David Van Horn as Wade Hendrickson was the modified consolation.
In the 30 lap JERSEY RUSH III for sprint cars, JJ Grasso the winner of inaugural JERSEY RUSH in 2011, jumped to a commanding lead followed by Fred Rahmer and Greg Hodnett. Grasso ran to hide from the field as the battle was shaping up for the runner-up spot between Rahmer and Hodnett with Mark Smith and Ryan Smith making up the top five. The battle for second came to an end on lap twelve when Greg Hodnett came to a stop in turn four, displaying the first caution of the race.
The restart offer Fred Rahmer a shot at the leader but when the green flag feel, Grasso was off and once again setting a blistering pace. At the halfway point, Grasso remained the leader followed by Rahmer, Mark Smith, Ryan Smith and Ryan Bohlke.
As the race went on, Grasso appeared to be getting faster and opening a bigger lead over Rahmer. Slower traffic was now a problem but Grasso did a masterful job getting around the lapped traffic.
At the drop of the checker flag, Grasso had accumulated a half lap lead over second place finisher Fred Rahmer with Mark Smith fourth and Ryan Bohlke fifth. Davey Sammons finished seventh after rebounding from heat race crash when he flipped after losing the right front wheel. Sammons made the necessary repairs and came back to finish eighth in the feature. Modified driver Neal Williams raced for his first time in a 410 sprint and finished a very respectable eleventh. Ryan Godown finished sixteenth in his first 410 start.
The thirty lap modified feature was a thriller with Eric Corman leading the first lap as David Van Horn took over the top spot on lap two. By lap three, Billy Pauch was on a charge and racing in third. Van Horn quickly established a comfortable lead as Corman had to deal with Billy Pauch. By lap eleven, Pauch moved into second. Pauch quickly began to reel in Van Horn and on lap thirteen, he became the new leader. The race was far from over as Ryan Godown was now on a drive and racing in the second and catching Pauch with each lap.
On lap twenty-two, Godown continued the battle with Pauch for the lead. On at least three occasions, Godown nosed ahead of Pauch but with a strong run off turn two, Pauch remained the leader. For the final two laps, Godown stayed with Pauch looking for an opportunity to take the lead. Pauch never fumbled and went on to take the victory over Godown, Sammy Piazza, Jimmy Blewett and David VanHorn.
The Jersey RUSH III was a co-promotion between Lenny, Danny and Davey Sammons and special events promoter Bob Miller. Plans area already underway for the Jersey RUSH 4 in 2014.
410 SPRINTS FEATURE FINISH: JJ Grasso, Fred Rahmer, Mark Smith, Ryan Bohlke, Lance Dewease, Ryan Smith, Davey Sammons, Robbie Stillwaggon, Kyle Reinhardt, Logan Schuchart, Neal Williams, Davie Franek, Billy Pauch Jr., Mark Bitner, Jacob Allen, Ryan Godown, Joey Hershey, Greg Hodnett, Kyle Purks, Randy West, Rick Lafferty, Kevin Nagy, Jeff Fithian, Jonathan Swanson.
MODIFIED FEATURE FINISH: Billy Pauch, Ryan Godown, Sammy Piazza, Jimmy Blewett, David VanHorn, Rick Lauback, Eric Corman, Johnny Guarino, Craig VonDohren, Davey Sammons, Neal Williams, Jimmy Horton, Tim Buckwalter, Clay Butler, Brad Freeman, Andrew Krause, Dave Witte, Chris Garbac, PJ Oliver, Kyle Borror, DJ Ruppert, Mike Franz, John Stangle, Wade Hendrickson.