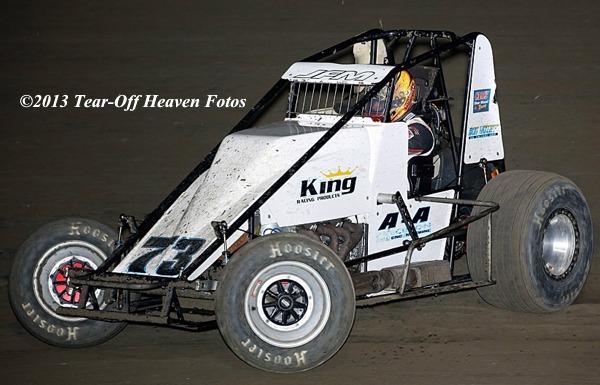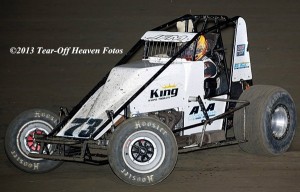 From Lance Jennings
Santa Maria, CA — (August 27, 2013) — Starting this Saturday, August 31st, the USAC Western Classic Racing Series will invade Calistoga Speedway for the "6th Annual Louie Vermeil Classic." Co-sanctioned with the Amsoil USAC/CRA Sprint Cars, the popular 2-day event will also feature the Honda USAC Western Midget Series. There will be many pre-race festivities such as a vintage car show, raffles, wine tasting, silent auctions, and beer garden events for fans to enjoy. The Spectator Gates at the Napa County Fairgrounds will open at 5:00pm with racing set to begin at 6:30pm.
Calistoga Operations Manager Tommy Hunt and his staff have raised an impressive purse for the Sprint Cars, as Saturday's main event will pay $7,500-to-win and the Sunday finale will pay $10,000-to-win. Thanks to Jerry Crowell Racing Shocks and USAC, there is also a healthy bonus available for the top seven 360 cubic-inch powered sprints in attendance. Each night, the top 360 will earn an additional $1,000 and the seventh 360 will pocket $200 at the "Louie Vermeil Classic." The bonus is listed at the end of this release as Hunt continues to search for additional sponsorship and prize money.
The festivities will actually begin on Friday, August 30th, with the Calistoga Speedway Hall of Fame Dinner. National Sprint Car Hall of Fame Driver Brad Doty will serve as Grand Marshall and Bobby Gerould will host the ceremony. This year's inductees are Johnny Anderson, Mike Andreetta, Hank Butcher, Mel Fernandez, Hank Hanestad, George Hawkins, Mike McGreevy, Walt Ross and Lem Tolliver.
After scoring fifth at Watsonville on August 9th, Ryan Bernal of Hollister has reclaimed the series point lead. Racing Keith Ford's #73 Berry Pack / King Racing Products Spike, Bernal holds a 30 point advantage with two feature wins, one heat race victory, one dash win, one Kaeding Performance / Racing Optics Hard Charger Award, four top-10 finishes, and 67 feature laps led to his credit. Ryan won last year's opening night of the Vermeil Classic and will be looking to celebrate another Calistoga victory.
Stockton's D.J. Johnson is second in the championship standings. Piloting the family owned #33 Unique Breeds / Proplant Farm Services Eagle, Johnson retired early in the Watsonville feature and scored seventeenth. To date, the leading rookie of the year candidate has yet to win a main event but has one Saldana Racing Products / Rod End Supply Fast Time Award, one heat race victory, one Kaeding Performance / Racing Optics Hard Charger Award, and four top-10 finishes. D.J. will have his sights on taking over the point lead in first visit to Calistoga Speedway.
Defending Western Classic Champion, Tony Hunt of Lincoln is third in the point chase. Driving Mike Phulps' #56 Metal Works / Red Line Oil Maxim, Hunt ran sixth at Ocean Speedway after starting fourteenth. As this writing goes to press, the 10-time USAC Champion has yet to win a feature but has three top-10 finishes in 2013. This Labor Day weekend, Tony will be looking for a feature win and adding Calistoga Speedway to his win list.
Fair Oaks' Shauna Hogg is fourth in the Western Classic standings. Racing the family owned #5 Borello Racing Engines / Jerry Crowell Racing Shocks Eagle, Hogg drove to ninth at Watsonville after starting twentieth. Currently, the veteran driver has yet to win a feature, but has two heat race victories and one top-10 finish on the season. Shauna will have her sights on upsetting the field and claiming a "Louie Vermeil Classic" victory.
Riverdale's Landon Hurst sits fifth in the championship points. Piloting the family owned #179 Kings River Commodities / Duinkerken Farms Maxim, Hurst ran twelfth in the Ocean Speedway feature. Also a regular competitor with the USAC West Coast Sprints, the rookie contender has yet to win a feature and may miss the races at Calistoga.
Gordon Rodgers, Marty Hawkins, Bud Kaeding, "The Human Highlight Reel" Geoff Ensign, and Richard Vander Weerd round out the top-10 in points. Other WCRS drivers expected to compete are Matt Streeter, James Sweeney, Scott Hall, Jim Richardson, Klint Simpson, Jeff Griffin, Tom Baker, and more.
With five victories, "The Demon" Damion Gardner leads the USAC/CRA point standings. Gardner is followed by Nic Faas, 5-time champion Mike Spencer, Matt Mitchell, "The Cadillac" Cody Williams, Bud Kaeding, Austin Williams, Brody Roa, Ryan Bernal, and Richard Vander Weerd. Other drivers expected to be in action are "The Ripper" Rip Williams, "Super" Rickie Gaunt, Seth Wilson, and Ronnie Gardner. At press time, NASCAR Nationwide Series standout Kyle Larson has committed to Sunday's finale after racing Saturday in Atlanta, Georgia. In addition, former SCRA 360 Champion Chad Boespflug will travel from Indiana to join a talented driver roster at the "Louie Vermeil Classic."
USAC Western Classic entries must follow series rules to earn championship points. Competitors should note that Calistoga Speedway is located on a California State Fairgrounds and has a mandatory 95db at 100ft muffler rule. Knoxville type mufflers are not allowed and series rules apply. All cars must meet series tech standards and race track muffler rules to compete.
The USAC Western Classic Racing Series would like to thank Amsoil, Hoosier Tire, BR Motorsports, Competition Suspension Inc., DJ Safety, Extreme Mufflers, Kaeding Performance, Keizer Wheels, King Racing Products, Racing Optics, Rod End Supply, Rugged Radios, SBI Fuel Systems, and Saldana Racing Products for their support. If you or your company would like to become part of the series, email PR Director Lance Jennings at
lwjennings@earthlink.net
.
———————————————–
LOUIE VERMEIL CLASSIC SPRINT CAR CHAMPIONS:
2008-Kevin Swindell; 2009-Mike Spencer; 2010-Damion Gardner; 2011-Mike Spencer; 2012-Kyle Hirst.
SATURDAY & SUNDAY 360 SPRINT CAR BONUS:
1) $1,000, 2) $650, 3) $500, 4) $350, 5) $300, 6) $250, 7) $200.
USAC WESTERN CLASSIC SPRINT POINT STANDINGS:
1-Ryan Bernal-410; 2-D.J. Johnson-380; 3-Tony Hunt-355; 4-Shauna Hogg-321; 5-Landon Hurst-113; 6-Gordon Rodgers-94; 7-Marty Hawkins-86; 8-Bud Kaeding-73; 9-Geoff Ensign-71; 10-Richard Vander Weerd-68; 11-D.J. Netto-65; 12-Jace Vander Weerd-62; 13-Kolby Araki-38; 14-Austin Liggett-13.
AMSOIL USAC/CRA SPRINT POINT STANDINGS:
1-Damion Gardner-957; 2-Nic Faas-826; 3-Mike Spencer-766; 4-Matt Mitchell-645; 5-Cody Williams-591; 6-Bud Kaeding-564; 7-Austin Williams-564; 8-Brody Roa-530; 9-Ryan Bernal-491; 10-Richard Vander Weerd-415; 11-Rip Williams-395; 12-R.J. Johnson-376; 13-David Cardey-313; 14-Jace Vander Weerd-298; 15-Rickie Gaunt-276; 16-Cory Kruseman-265; 17-Markus Niemela-262; 18-Seth Wilson-246; 19-Charles Davis Jr.-232; 20-Bryan Clauson-210.
2013 USAC WESTERN CLASSIC RACING SERIES SCHEDULE
DATE – TRACK – LOCATION
August 31: *Calistoga Speedway – Calistoga, CA (Louie Vermeil Classic)
September 1: *Calistoga Speedway – Calistoga, CA (Louie Vermeil Classic)
September 5: Silver Dollar Speedway – Chico, CA (Gold Cup Race of Champions)
———————————————–
* = Co-Sanctioned Event with USAC/CRA Sprint Car Series.
This schedule is subject to change.