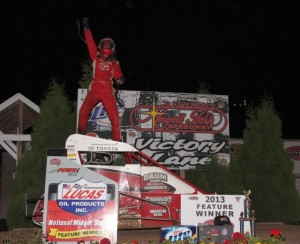 From Tim Tuttle
Sun Prairie, WI — (August 31, 2013) — Zach Daum drove to his second straight feature victory and fourth of the season in the POWRi Lucas Oil National Midget Series on the opening night of the 33rd annual Pepsi Nationals, co-sanctioned by Stark Automotive Group/Mid-State Equipment Badger Midget Series, Saturday at Angell Park Speedway.
Daum passed championship rival Andrew Felker on the 21st of 30-laps on the one-third mile track for the lead. The 22-year-old from Pocahontas, Ill., pulled out a quarter-lap advantage before a caution with two laps to go. Felker was lined up second for the restart, but Daum was never threatened. He opened up a five car-length lead on the next-to-last lap and maintained it to the checkered flag, finishing .751 of a second ahead of runner-up Felker.
It was Daum's third victory in the past seven features and extended his lead in the POWRi championship to 200 points, 3,300-3,100. A POWRi win pays 200 points.
Daum started fifth in his Eagle-Toyota, moved up to fourth on the first lap, took third with a slide job in turns one and two on Caleb Armstrong on the 11th lap and was running third when a red flag came out for Terry Babb's crash into the turn one wall on the 15th.
"I was running third and fourth early in the race and was able to move around and found where I needed to be," Daum said. "I found the bottom. The cushion had started to go away and the bottom was really good in three and four. I tightened the car up a little more during the red so it would roll the bottom better.
"I was just trying to size him (Felker) up. We could hold our own in turns one and two, but we were faster in three and four. I had a good run (on the pass for the lead) in turns three and four."
Darren Hagen of Riverside, Calif., had been running second when race was stopped and engine problems prevented him from continuing. Daum inherited second.
Felker had led the opening 14 laps from pole in his Spike-Fontana. Following the restart, the 20-year-old from Carl Junction, Mo., was able to hold off Daum's side-by-side challenges for the lead in turns one and two and three and four until they came out of turn four on the 21st lap. Daum, on the bottom, zoomed past Felker and began pulling away.
"He (Daum) found the bottom and was better in three and four than we were," Felker said. "He made it happen on us. Our car started to go away a little or maybe the top went away. It's always good to finish second. But it was a bummer after leading the opening 20 laps. The red flag (15 minutes to repair the wall from Babb's crash) seemed long and it took us out of our rhythm. But second is definitely good."
Brad Kuhn of Avon, Ind., climbed from 12th starting position to finish third in the Bill Ecker/Amy Reisdorf-owned Spike-Fontana. Tonight's Pepsi Nationals finale, with a 50-lap feature that pays $4,000 to the winner, is the Badger season finale. The Ecker/Reisdorf No. 57 came into the weekend trailing the Danny Felker-owned No. 11 by three points in the Badger owner points. Kuhn came into the weekend ahead of Andrew Felker in the Badger driver's championship by 116 points.
"Third is OK," Kuhn said. "I don't care about points, but the points mean a lot to the people (co-owners Ecker and Amy Reisdorf) who own the car and we've put a lot of effort to winning the championship. We've got a motor problem and that's one variable you can't fix at the race track. It's flat, like it has a dead cylinder. It's (financially) risky to run it because it's a lot of money if it blows up. It's a tough decision for the owners to run tomorrow (Sunday)."
POWRi rookie-of-the-year leader Parker Price-Miller, a 15-year-old from Kokomo, Ind., finished fourth and Brandon Waelti of Sun Prairie, Wis., was fifth.
POWRi Lucas Oil National Midget Series feature results (30 laps): 1. Zach Daum, 2. Andrew Felker, 3. Brad Kuhn, 4. Parker Price-Miller, 5. Brandon Waelti, 6. Jake Blackhurst, 7. Davey Ray, 8. Daniel Robinson, 9. Billy Balog, 10. Dalton Armstrong, 11. Danny Stratton, 12. Garrett Aitken, 13. Cody Weisensel, 14. Caleb Armstrong, 15. Robbie Ray, 16. Darren Hagen, 17. Seth Motsinger, 18. Terry Babb, 19. Austin Brown, 20. Todd Lehr, 21. Tyler Thomas, 22. Isaac Chappel.
For more information, go to www.POWRi.com