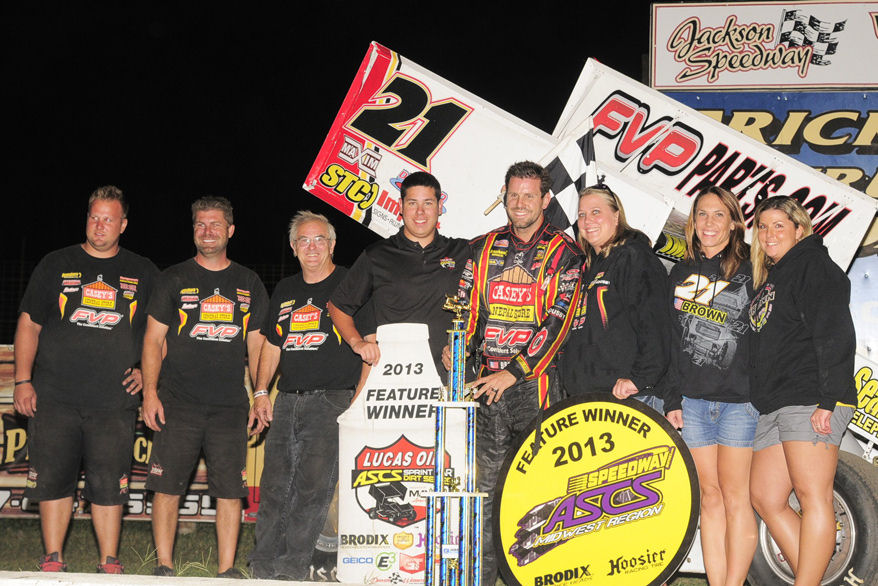 By Bill W
September 2, 2013 – Brian Brown and the Casey's General Stores/FVP #21 team picked up a pair of big wins, each netting them $4,000 last weekend.  The prestigious Jackson Nationals in Minnesota started things off on Saturday night, and a win at the Randolph County Raceway in Moberly, Missouri capped things on Sunday.  This weekend, the Grain Valley, Missouri driver will compete with the MOWA series at the 34 Raceway in West Burlington, Iowa on Friday and Saturday night, before towing across the state to compete in the Nebraska Cup at Eagle Raceway on Sunday.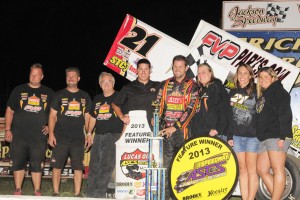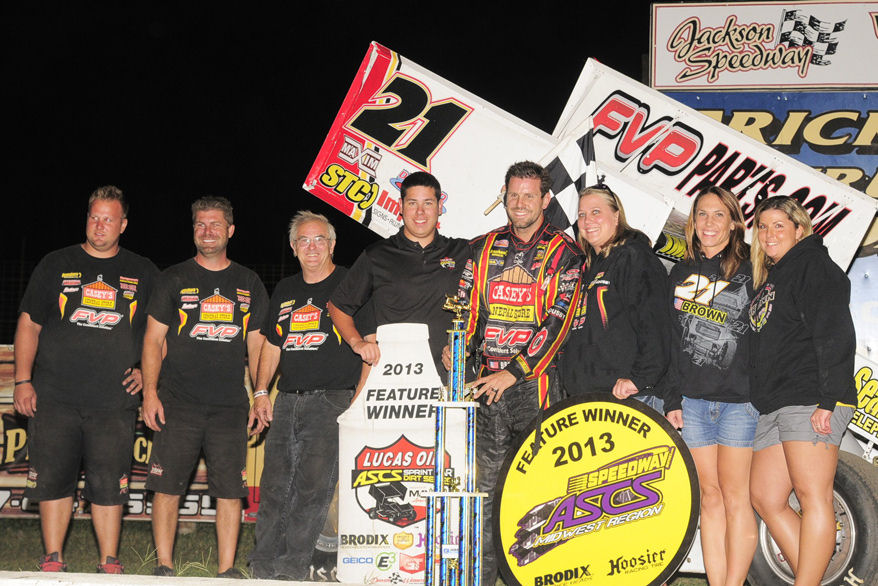 Things started for you at Jackson Speedway on Friday.  You drew the eighth starting spot in your heat before moving up to third.
To not have the draw go our way had us worried.  That is so crucial at an ASCS race.  We had some tough cars in front of us, and it could have been make or break for our team.  We were able to go from 8th to 3rd and that gave us a lot of confidence going into the main knowing we had a quick car.
That got you into the redraw.  You were third at the end of the first lap, and that's where you would finish.
We got lucky enough to draw the one.  I think I got snookered on the start a little bit.  It's my job to set the pace on the start as the pole-sitter, but Jeff (Swindell) got out there and took off about halfway through three and four.  I came down the straightaway wanting to make a nice arc in the corner (turn one), and I got in there and crawled up on the right front.  That let (Gregg) Bakker by, and that was really all she wrote.  I thought we may have had a better car than those guys, but with the cautions we had, there was never any lapped traffic to deal with.  If anything, on the first night of an ASCS show, you want to lock yourself in, and we did that.
You don't get a shot at the track until late when you lock yourself in.  What was your strategy heading into the finale?
We didn't really know what the track was going to do.  It changed three or four times throughout the night.  Chad (Morgan) drew the one, and we've been very very lucky on these draws.
You seemed to be good from the start, and shot out to a good lead.
The track changed during the A.  We ran the bottom for a while…then we went to the top and then the middle.  You had to really be on your toes.  Chad and Travis (Marsch) do a really good job of letting me know what's going on around me during a red or a yellow.
There was the threat of the rain, and there were a couple of red flag periods, including the open red for fuel on lap twelve.
I was a little nervous there on lap twelve.  Our tire was pretty worn at that point.  That will make you nervous with eighteen to go.  We were able to hold on, and I'm really tickled to win our first Jackson Nationals.  We won the overall title there a couple of years ago, but this is the first one we've really won.  It's one of the most prestigious races in the country really…you get your name on a t-shirt up with Doug Wolfgang, Sammy Swindell and the legends of our sport.  It's something to be proud of.
You made the long trip to Moberly on Sunday.
There were some races we could have stopped at that were closer…some even paid more to win.  We don't get to run in front of our friends and partners often enough.  To have the Goodson family there from Impact, and Don Long came down from Iowa…that means a lot.
You drove from fifth to second in the heat, and you started seventh in the feature.
The people at Randolph County Raceway not only had a great crowd, but the fans were out in force too.  The track had multiple lanes too.  They did a great job with it.  We were able to get up to second, and work our way by Jonathan (Cornell).  He did a good job and was able to drive back by us.   Unfortunately, I got into Randy Hibbs a little bit lapping him, and he tore some things up.  He's a good friend of ours, and we definitely didn't want to do that.
You have a great record in Moberly, and you were able to get back by Jonathan for the win.
We finally got by him and we were able to set sail there towards the end.  Jonathan is strong not only in that area, but anywhere.  When you can outrun him, you know you're doing something right.  There was a tough field of cars there, with a lot of ASCS National guys as well.
Your win total has been getting up there lately, and you have three more races this weekend.
That makes fourteen, and we think twenty is still attainable.  I feel like we're as strong now as ever.  We have a lot of confidence.  We're looking forward to Burlington this weekend.  It's always good to run with MOWA and they are putting some really good money up, with $10,000 possible.  Brad Brown and a bunch of others do a lot to make the Nebraska Cup special, and we're looking forward to Sunday too.
Follow Brian on the Web, Twitter and Facebook!
Follow Brian at his website located at www.BrianBrownRacing.com!
Also keep up with FVP, Casey's and Brian on Facebook and Twitter at the following links…
Twitter Links – @BrianBrown21, @FVPRacing, @CaseysGenStores
Facebook Links
Brian Brown Racing – www.facebook.com/pages/Brian-Brown-Racing/200630163294222
Casey's General Stores – www.facebook.com/pages/Caseys-General-Stores/112073528804354
FVP Racing –  http://www.facebook.com/FVPRacing?ref=ts&fref=ts
Other Web site info
Casey's: www.caseys.com
FVP: www.fvpparts.com
Brown's Bits
Brian has a pair of MOWA wins to his credit.  On July 27, 2011 he won during Illinois Speedweek at the Spoon River Speedway near Canton, Illinois.  Exactly one year later, he was victorious in the Mary Lee Standridge Memorial at the Jacksonville Speedway in Illinois.
About Casey's General Stores
Casey's General Stores is a Fortune-500 company (NASDAQ CASY) operating nearly 1700 convenience stores in 11 states through the Midwest. Known for its "Homemade-To-Go" pizza, sandwiches, donuts and bakery items, Casey's strives to consistently deliver quality gas, fresh kitchen-prepared food, clean environments and friendly service at every retail location.  Casey's is currently the 12th largest c-store chain and sixth largest pizza chain in the United States.
About FVP
We are very excited to introduce our new line of automotive chemicals, oils and fluids to our product offering.  These new products will be available at many retailers across the country.  We continue to offer a full line of high quality oil, air, cabin air and fuel filters, plus a complete line of high quality batteries for multiple applications including cars, trucks, SUV's, commercial and other specialty vehicles.  All products are made to OE manufacturer fitment specifications.  FVP products are engineered to provide our customers with quality products that are equal or superior in performance to the major national brands at a competitive price.  To learn more about our FVP products or to find out where you can have FVP products installed in your vehicle, visit us at www.FVPparts.com!  FVP…The Confident Solution
SPLASH
In addition to our line of seasonal safety products, we are very excited to introduce a full line of SPLASH Wiper Blades.  Our SafeView Performance Blades fit 95% of the vehicles on the road with quick and easy installation for everyone.   The AccuVision Beam Blade offers memory curve steel, which provides uniform pressure for a clear wipe, without the streaks.  Look for these great new SPLASH products!  Whether it's keeping your windshield clean or free of ice, protecting your RV, boat or pool from freezing in the winter, or your sidewalk safe to walk on, SPLASH Products are what you need!  Check out our new SPLASH website at www.SPLASHWash.com!  SPLASH…SEE SAFELY!
Marketing Partner of the Week – Weld Wheels
Weld ®.  The word is virtually synonymous with racing wheels.  Their heritage is unmatched; their product is the choice of champions in most forms of motorsports.  Founded in 1968 by Greg Weld out of the pure love of racing, the company has undergone many changes over the last forty years, but one thing that hasn't changed is that the product is still designed and manufactured in Kansas City, USA.  In November 2008, the heritage and future became one, as Weld Racing, LLC was formed by current Weld management and Granite Creek Partners, LLC, to place ownership and leadership of the company back in the hands of racers.  Visit them at www.WeldRacing.com!
Associate Marketing Partner of the Week – HostIowa.net
Brian says – "One of the most important parts in making your team look professional, is your website.  I believe we have one of the most professional ones out there.  Kyle McCullough at HostIowa.net has not only been able to help us, but a lot of my friends.  He's a good friend, and I appreciate what he does for us."
If you have been searching for a reliable web solutions partner – your search is over! HostIowa.net is a homegrown, time-tested full-service web hosting and development partner. They will work with you to determine your needs and implement the right solution using services and technologies that best meet your goals. HostIowa.net is an industry leader in web hosting, web application development, and database solutions for a wide range of customers in Iowa and the United States.  Contact Kyle today at www.HostIowa.net!
Brian Brown Racing would like to thank Casey's General Stores, FVP, Searsboro Telephone Company, Impact Signs Awnings Wraps / impact4800.com, Champion Brands, SPLASH, Ditzfeld Transfer, Maxim Racing, Smiley's Racing Products, Weld Wheels, Housby Trucks, www.RateWin.com, Arctic Cat, K&N Filters, Hostiowa.net, FSR Race Products, TI64, Fuel-Safe Tanks, Awesome Racewear, Wolfe Eye Clinic, Bell Helmets, CP Pistons, Carrillo Rods,  Vortex Wings, Penray, All Pro Cylinder Heads, Butler Built Seats, AkzoNobel Sikkens, AllDayParts.com, Tru Square, Jack Links, Deli Express, Snap-On Tools, Rod End Supply, KSE Racing Products, Winters Performance Products, Santomauro Racing Products, Cometic Gaskets, Kaeding Performance, Donovan, Magtech, ISC Racers Tape, Kinsler Fuel Injection, Racing Optics, Mothers Wax, Don's Truck Wash, Gardner Farms, Hoosier Tires, GoPro, XYZ Machining, Brown and Miller Racing Solutions, Peterson Fluid System, Red Devil Brakes, Schoenfeld Headers, ADD, 6B Apparel, Zips Energy Seeds, Bosch, NGK, Garrett Racing Engines, MSD and WSIB Insurance for all their support!