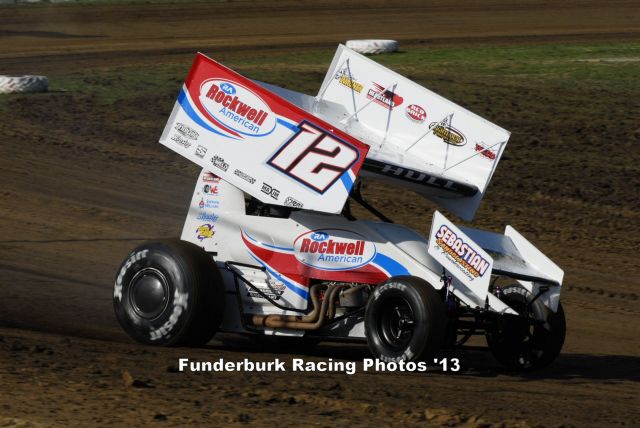 By Bill W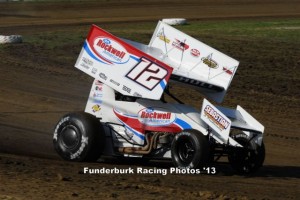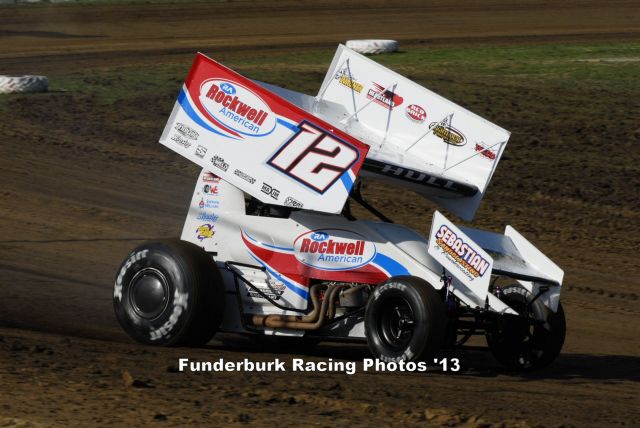 September 3, 2013 – A win at Montgomery Motorsports Park near New Florence, Missouri on Saturday has Jerrod Hull and the Rockwell American #12 team in a familiar place atop the MOWA point standings.  A fourth place finish Sunday night at Quincy Raceways in Illinois capped the weekend, and sets up a two-day affair at the 34 Raceway in West Burlington, Iowa paying $4,000 to win Friday and $5,000 on Saturday.
While son Jett got some valuable laps at Jacksonville, Illinois on Friday, Jerrod tagged along to race the 410 show as well.  "We qualified third, and ran second in the heat race," he says.  "We were starting tenth in the feature.  It was a good time to experiment with things in a non-points show that didn't mean much, so that's what we did.  Wow, did we miss it big time!  I pulled in about lap six or seven."
Back in MOWA action on Saturday night in New Florence, things went well from the beginning for the Sikeston, Missouri driver.  "We were nice from hot laps," says Jerrod.  "The car felt great.  We started seventh in the heat race and ran second.  We were able to win the Dash from outside row one too."
Starting from the pole, Jerrod would lead every lap to pick up his second win of the season.  "It was just the way you want it to go," he says.  "It couldn't have gone any better.  It was a great night.  There were cautions early on, and then one later on lap sixteen.  All in all, the car was working great.  It was perfect."
It was on to Quincy on Sunday night.  "We were able to run third in the heat race, and we ended up starting sixth in the Dash," says Jerrod.  "We ran fifth in that.  We were o.k.  We weren't real good."
That would line him up inside row three for the main event.  "We changed a few things for the feature," says Jerrod.  "We were able to pass one car and finish fourth.  The track had a big cushion, and that's where guys were running.  We weren't perfect, but it was good for the points, and overall, it was a good weekend."
The team is looking forward to the weekend at West Burlington.  "We always enjoy going to Burlington and we seem to do well there," says Jerrod.  "We're really looking forward to that one, and hopefully, we'll have a little luck and keep the point lead going."
Jerrod and the #12 team would like to thank: Rockwell American, Midland Performance, Super Shox, Sebastian Sand Blasting & Powder Coating, Inc., Sherwin Williams, Chuck's Small Engines, Don Hamilton, HRP, Lighthouse Christian Center, Logo Daddy, Hoosier Tire, Simpson, Weld, Automotive Machine, Maxim and Heartland Trailer Manufacturing.