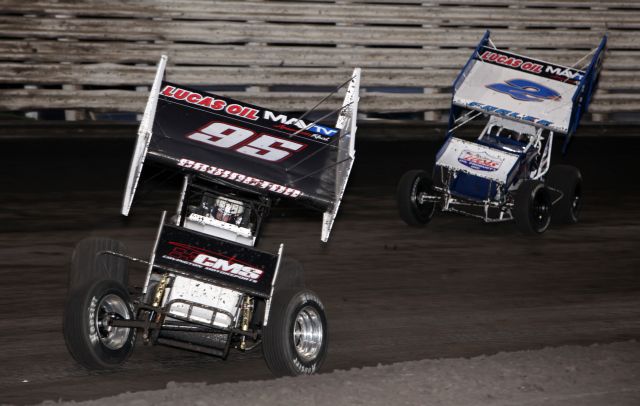 PETERSEN MEDIA
Dealing with a bent up chassis, Matt Covington rallied in the Saturday night feature and scored a fifth place finish at the South 69 Speedway, and took over the Sooner Region points lead heading into this weekends final event.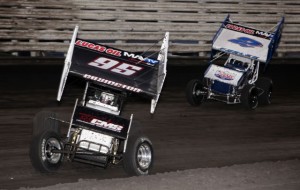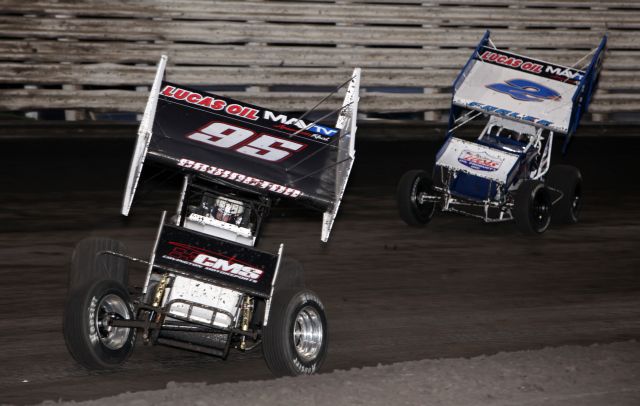 Starting on the pole of his heat race, the initial start was waived off to a jumped start, and the second start, saw Covington slip into the second spot.
Covington would hold the second place finish, as he found himself missing the redraw and starting 10th in the feature event.
When the feature event got underway, Covington seemed to have a very strong T&L Foundry/Triple X/Winters backed machine as he found himself in the sixth spot as early as the fourth circuit.
On the fifth lap, a pair of front runners got together, and began flipping, and as Covington made evasive action to avoid them, he was hit in the rear by a car behind him who didn't see the wreck, and Covington slid backwards into the wall.
Heading to the work area, the crew fixed what they could, but Covington's entry was not even close to 100%.
Restarting the race with the point championship on the line, Covington had his elbows up with a badly damaged racecar, and was able to salvage his night with a fifth place finish, and took the point lead.
"To be honest my guys told me the car was pretty good, and it didn't take long for me to realize they weren't exactly telling me the truth," Covington joked. "I know why they said what they said, and fortunately we were able to salvage a good night."
Matt and his Covington Racing team would like to thank T&L Foundry, Triple X Chassis, Winters, Brodix, C.G. Martin Company, Factor 1 Racing, All-Star Performance, Outlaw Wings, Pro Shocks, DMI Components, Keizer Wheels, ButlerBuilt, Simpson Race Products, GME Steering, Wesmar Racing Engines, and Schoenfeld Headers for their support in 2013.
2013 BY THE NUMBERS: Starts-35, Wins-2, Top 5's-15, Top 10's-20
ON TAP: Covington will be in action at the Kennedale Speedway Park on Saturday night as he looks to claim the ASCS Sooner Region Championship!
STAY CONNECTED: For all the latest news of Matt Covington, visit his website, www.mattcovingtonracing.com, like him on facebook, https://www.facebook.com/pages/Matt-Covington-Racing-wwwmattcovingtonracingcom/154701427982961, or follow him on twitter, @mattcovington11.