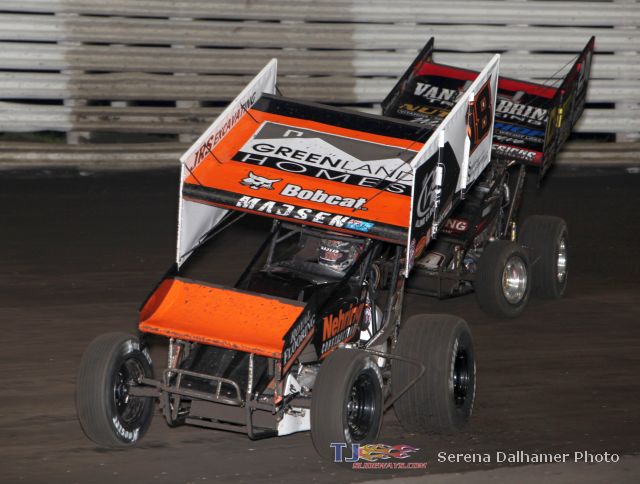 PETERSEN MEDIA
 For the second Sunday-in-a-row Ian Madsen and his KCP Racing team were standing in victory lane at the Huset's Speedway garnering a nice pay day, as Madsen won the season finale event at the track.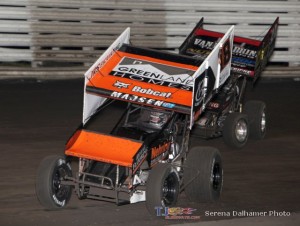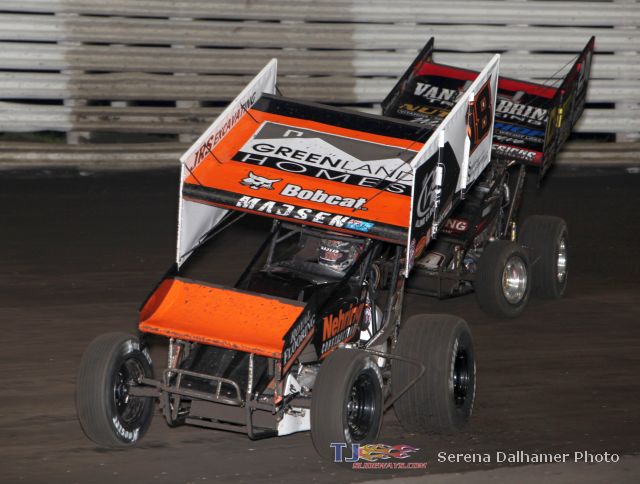 With 15 cars on hand for the $10K to win race, Madsen kicked his night off by timing his Nehring Construction/Aspen Aire/Rider Racing Engines No.18 machine in sixth fastest.
Lining up fourth in heat race action, Madsen would score a fourth place finish, putting him in the third row for the feature event.
With two-wins at the speedway under his belt already in 2013, Madsen had confidence to get to the front from the third row.
Working around the Brandon, SD facility, Madsen found himself in the top spot late in the feature, as he went on to pocket the huge pay day.
"We have really started clicking as of late, now that we have nearly a season together," Madsen said. "Everyone who makes this possible is really a joy to work with, and I hope we can keep rolling in wins to finish out the year."
Madsen spent Friday and Saturday night at the 34 Raceway in Burlington, IA competing against the MOWA.
On Friday night, Madsen rebounded with a fourth place finish after spinning off the track with eight to go, and on Saturday he backed his performance up with another fourth place finish.
"The weekend overall was a great," he continued. "The boys have been working hard all year, and everyone is really putting forth their best efforts."
Ian and his KCP Racing team would like to thank Nehring Construction, Team Kline Electric, Logan Contractors Supply, Royal Flooring, Greenland Homes of Iowa, Stepping Stone Genetics, Quality Traffic Control, Factory Kahne, Rider Racing Engines, JRS Excavating, Brown and Miller Racing Solutions, Kent Performance, Smith Precision Products, Moose Blocks, Speedway Motors, Aspen Air Inc. Heating and Cooling, and Kustom Concrete Pumping for their support.
2013 BY THE NUMBERS: Starts-57, Wins-10, Top-5's- 23, Top 10's-33
ON TAP: Ian and his KCP Racing team will take on the World of Outlaws this weekend in Spencer, IA and Spring Valley, MN. "We are excited to take on the World of Outlaws this weekend especially since we will be racing so close to the home of Jim Pomerenke with Stepping Stone Genetics," Madsen said.
STAY CONNECTED: To keep up with Ian make sure you follow him on twitter by clicking over to www.twitter.com/IanMadsen. You can also visit the teams website at www.kcpracing.com.