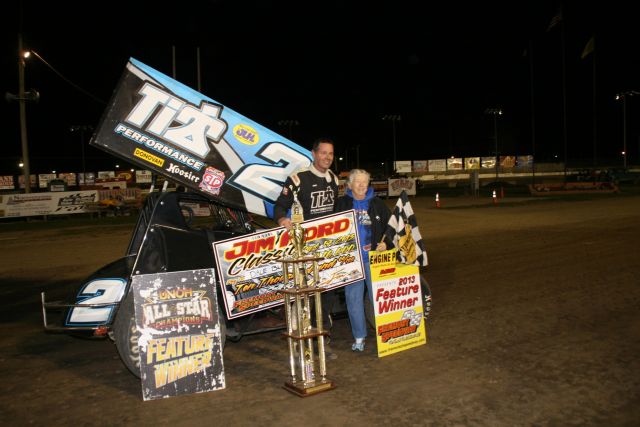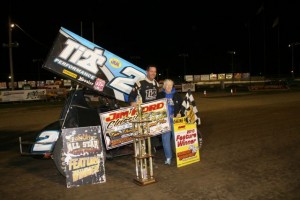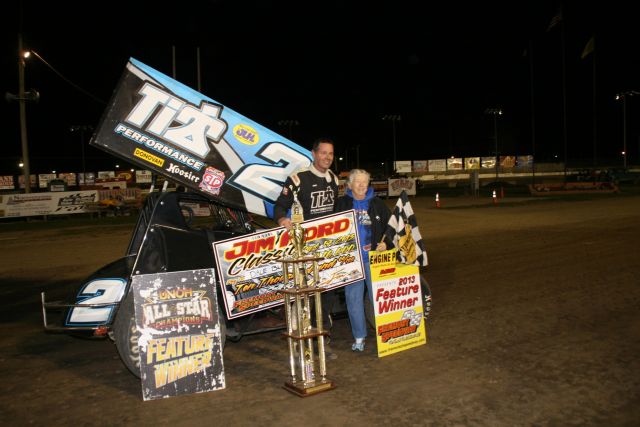 From Brian Liskai
Fremont, OH — (September 14, 2013) — Dale Blaney has turned Fremont Speedway into his personal bank. The Hartford, Ohio driver took his third $10,000-to-win victory of the season Saturday to wrap up the University of Northwestern Ohio All Star Circuit of Champions 110th visit to "The Track That Action Built."
Blaney led all 50 laps of the Sixth Annual Jim Ford Classic on JLH General Contractors Night, but Tim Shaffer didn't make it an easy payday. Shaffer, who started 16th in the field, caught Blaney with six laps to go but a slight bobble in turn two on the white flag lap cost him a shot at "The Low Rider."
For Blaney it was his sixth UNOH All Star win of the season and the 99th of his career to move him into first place in all-time series wins. It was Blaney's 14th career All Star win at Fremont and the 19th overall at the track moving him into a tie for 28th on Fremont's all-time win list.
Blaney had suffered mechanical issues the previous couple of weeks and was looking forward to the two-day Jim Ford Classic at Fremont.
"Fremont is like my second home. You guys have treated me great here and we always really good here. Rich Farmer (promoter) does a fantastic job with this place. People of Fremont are lucky to have him. The track was awesome and you could run any where. The top was prevalent but traffic was fun. I wish we could have stayed in traffic the whole race it was fun working through there. To get 99 here with the $10,000…it doesn't get any better than that," said Blaney beside his Ti22 Performance/GF1 Chassis backed #2.
"I always say I hate to lead early here but our car was really good. I knew he (Shaffer) was coming because when I got to the back of the pack I never ever saw him. I could see his crew guy on the yellows looking like he wasn't far behind me. We are buddies and he races me clean. He probably could have slid me. I was just hanging on the last seven and getting really, really free. I was just trying to stay smooth and not spin," added Blaney.
With one more UNOH All Star race remaining next month at Eldora Speedway, Blaney could wrap up his fourth career series championship to move into elite company with Shaffer, Chad Kemenah and Frank Kerr.
"We run good at Eldora. We just have to go over there and do the best we can and not have any problems and qualify well and have a good night. We have a couple of three weeks to prepare and we'll be over to Eldora this Friday (for World of Outlaws show) to test a little bit," said Blaney.
Who knows what the outcome of Saturday's race would have been had Shaffer not jumped the cushion in turn two on the white flag lap. He would bring the Aaron Call/Janet Holbrook owned #83 home in second.
"It was like a storybook…everything was working just right…be aggressive and be patient, don't get the tires sealed up. I was running Dale down there at the end and it was going to be perfect and I just entered too hard and tripped over the cushion and there went our momentum," said Shaffer of his Kistler Engines/J&J Auto Racing/VRP Shocks/Champion Oil backed machine.
"My team has been doing a great job. Those guys have been sticking with me and it's been great. At the beginning the car was sticking pretty good and I could be aggressive and not kill the tires. If I could just sneak on up there little by little and be patient and it would really drive forward," added Shaffer.
Central Pennsylvania's Alan Krimes made his first trip to Fremont Speedway memorable, bringing his #87 home in third.
"This place is awesome. I think this was the best racing surface we've run on all year. We like it when it gets slick like this and unfortunately back home it doesn't get like this. When it gets slick like this I usually get rolling pretty good but those two cars in front of me are pretty good here," said Krimes.
"My wing was stuck forward there the first 15 laps and that hurt us early and a couple of guys got by us. We were fortunate enough to get back by those guys. This is an awesome place and we're tickled to death to come out here and run so good against a tough local field," added Krimes.
Fremont's Paul Weaver should crash his car more often when things aren't going well. The driver of the #1w 305 sprint car crashed last week and he came out better than ever. Coming off a second place run Friday night Weaver would rocket into the lead on lap 15 and would pull away for his second win of the season. It was the 33rd of his career at Fremont moving him into 11th on the track's all-time win list.
"That seemed like a 50-lapper if you counted all the cautions. We put extra fuel in it and it paid off…it kept some weight on the back end for the end of the race," said Weaver beside his Buckeye Mobile Coatings/Weaver Performance/Hampshire Racing Engines/M&L Excavating/Schiets Motorsports backed machine.
"There's such a long spell between wins when you finally get one you feel like a kid again. That was actually pretty fun. I have thank Dave Rice, Bob Hampshire, my wife, Evan Helle, Darl Schiets…so many people that helped me out after I tore the car up last week. I should have torn it up the first night out because this car is a whole lot better," added Weaver.
In the AAA Ohio Auto Club Dirt Trucks Risingsun's Shawn Valenti dominated leading all 20 laps for his third victory of the season and the eighth of his career at Fremont. Coupled with dirt truck wins at Attica and stock car wins at Lima Valenti has 10 victories in 2013.
"This all goes back to Jeff Babcock believing in me and putting me in the race cars. I can't thank everyone enough who stands behind me," said Valenti.
Krimes and Blaney would bring the field to the green for the 50-lap feature but a spin by Caleb Helms would necessitate another start. On the second attempt Blaney would bolt into the lead over D.J. Foos, Krimes, Chris Andrews, Andrew Palker and Friday night's winner Byron Reed.
With a lap in Sheldon Haudenschild would stop to bring out the caution. When the green flew Blaney quickly pulled away from Foos, Krimes, Andrews and Reed. With just five laps in Blaney had caught the back of the field and they were racing side-by-side, allowing Foos to close. But, on lap 11, Danny Mumaw would spin to give Blaney a clear track.
On the restart Blaney set sail again as Foos now was challenged by Andrews with Reed moving into fourth with Krimes, Palker and Shaffer in tow. By lap 17 Blaney was once again in lapped traffic but Foos could not close until Blaney encountered heavy traffic on lap 23 which allow Foos and Andrews to close to his rear bumper.
Disaster struck for Foos on lap 24 as the lapped car of Sam Hafertepe spun, collecting Foos who exited the track with front end damage. On the restart Blaney had three lapped cars separating him and Andrews with three more lapped cars to third running Shaffer.
At the half-way point Trey Gustin and Caleb Griffith would spin which would bring about a fuel stoppage. When the race went back to green, Blaney had two lapped cars separating him from Andrews with Shaffer in third followed by Reed, Krimes, Palker and Broc Martin.
On lap 28 Rob Hunter would get upside down in turn four and now the top four ran nose to tail on the restart. Blaney would again pull away slightly as things settled down a bit for the top five. But once Blaney encountered lapped traffic again on lap 34 Andrews and Shaffer closed with Krimes also narrowing the gap. Shaffer would take second don lap 36 and a caution for another Trey Gustin spin on lap 37 would put 'The Steel City Outlaw" on Blaney's rear bumper.
When the green flew Blaney was able to put some distance between himself and Shaffer as Krimes drove into third and quickly closed on Shaffer. As the laps ticked off Shaffer began to close as the top two pulled away from Krimes with Andrews, Brock Martin and 23rd starting Jeff Swindell in tow.
With five laps to go, Shaffer was on Blaney's rear bumper as they prepared to race into lapped traffic. As they raced to the white flag Shaffer was within half a car length of Blaney. Rocketing into turns one and two Shaffer slipped over the turn two cushion and Blaney drove off for the win. Shaffer, Krimes, Andrews and Martin would round out the top five.
Paige Polyak would storm from 21st starting spot to sixth with Swindell from 23rd to 7th while Palker, Cap Henry and Craig Mintz (up from 20th) rounding out the top 10.
Fremont Speedway put together a two-day, $5,000 point fund for the Jim Ford Classic that involved points for qualifying, passing points in the heats and feature along with heat and feature finishing positions and hard charger points. After the two days, Blaney would earn an extra $1,500 with Reed taking home an additional $1,000 with Palker getting $500; Andrews $400; Shaffer $350; Polyak $300; Sheldon Haudenschild $275; Henry $250; Mintz $225 and Krimes $200.
In the 25-lap Fremont Federal Credit Union 305 Sprint feature, T.J. Michael and John Ivy would bring the field to green but a multi-car crash on the front stretch that saw Jamie Miller and Dan Hammond flip and Alvin Roepke tore up would necessitate another try. When the green flew again Michael took the lead over Ivy, Jason Keckler, Tyler Gunn and Jordan Ryan. The caution flew after a lap for a Jeremy Duposki and Mike Moore spin.
On the restart Michael pulled away from Ivy with Keckler and Ryan in tow. With six laps in Ivy had a front tire going flat as Ryan raced into second with Keckler taking third. Michael hit lapped traffic on the eighth lap just as the caution flew for Kyle Capodice who spun in turn four right in front of the leaders.
Michael again would take charge on the start with Keckler taking second while Weaver had worked his way from 11th to fourth. Keckler would drive to Michael's outside to take the top spot on lap 11 with Weaver challenging for second. As Keckler raced into traffic on lap 14 Weaver was there to pounce and he drove into the lead on lap 15.
Only a caution for a Josh Harrison spin on lap 17 would slow Weaver's march to the win. When the green flew he pulled away as Michael had his hands full with Ryan for second. Ryan would take the runner-up spot on lap 19 but couldn't hunt down Weaver.
Weaver would take the checkers over Ryan, Michel, Keckler and Gunn.
Fremont Speedway would put a $1,500 point fund for the division over the two days of competition and Weaver earned the top prize of $300.
In the 20-lap dirt truck main, Kent Brewer and Ivy would bring the field to green but before a lap could be completed Dana Fry would spin. On the second try fourth place starter Valenti would rocket into the lead over Ivy, Brewer and Jimmy McGrath. But a Cory McCaughey spin after a lap was complete would slow the pace.
Another caution for a Fry and Loren Schwochow spin on lap three followed by a Brad Keckler spin on lap four kept the field close. When the green flew again though Valenti ran away from the field while Ivy, McGrath, Matt Foos, Daniel Roepke and Dustin Keegan waged a tremendous battle for second.
With Valenti stretching his lead, at the halfway point Ivy ran second with Roepke, McGrath and Foos in tow. Roepke would take second on lap 14 with Foos moving into third on lap 16. But no one was going to catch Valenti as he drove to the win over Roepke, Foos, Ivy and McGrath.
Prior to the races the 2014 Fremont Speedway Queen's Pageant was held and the panel of judges chose Maria Gerber as the queen with Jessica Shanteau as first runner-up.
Fremont Speedway will be back in action Saturday, Sept. 28 when the World of Outlaws STP Sprint Cars come to town for a $10,000-to-win event. Reserved seating is available by going to
www.fremontohspeedway.com
and clicking on the World of Outlaws banner.
Fremont Speedway – 9/14/2013
JLH General Contractors Night
UNOH All Star Sprints (37 Cars)
[#]-Starting Position
Qualifying – Kistler Engines
1. 16-Chris Andrews, 12.121; 2. 80-Trey Gustin, 12.166; 3. 5R-Byron Reed, 12.199; 4. 35-Stuart Brubaker, 12.252; 5. 33M-Sheldon Haudenschild, 12.265; 6. 53-DJ Foos, 12.280; 7. 55-Brad Bowman, 12.294; 8. 81-Lee Jacobs, 12.303; 9. 87-Alan Krimes, 12.306; 10. 2-Dale Blaney, 12.325; 11. 60K-Jody Keegan, 12.378; 12. 57X-Andrew Palker, 12.382; 13. 9Z-Duane Zablocki, 12.386; 14. 83M-Broc Martin, 12.389; 15. 45L-Brian Lay, 12.405; 16. 54-Cap Henry, 12.427; 17. O-Sam Hafertepe Jr., 12.450; 18. 40-Caleb Helms, 12.450; 19. W20-Greg Wilson, 12.451; 20. 83-Tim Shaffer, 12.458; 21. 45-Danny Holtgraver, 12.465; 22. 16M-Danny Mumaw, 12.467; 23. 9X-Rob Chaney, 12.484; 24. 9W-Jac Haudenschild, 12.536; 25. 5K-Adam Kekich, 12.566; 26. 1080-Jordan MacKison, 12.585; 27. O9-Craig Mintz, 12.589; 28. 81P-Paige Polyak, 12.614; 29. 40DD-Caleb Griffith, 12.649; 30. 70-Jeff Swindell, 12.712; 31. 22S-Brandon Spithaler, 12.755; 32. 24H-Bryan Sebetto, 12.756; 33. 97-Dean Jacobs, 12.830; 34. 39M-Matt Merrill, 12.884; 35. 312-Mike Linder, 13.198; 36. 5T-Travis Philo, 13.199; 37. 787-Jimmy Pooler, 13.356
Heat 1 Kear's Speed Shop –  (10 Laps – Top 5 finishers transfer to the A-feature)
1. O-Sam Hafertepe Jr.[2] ; 2. 87-Alan Krimes[4] ; 3. 16-Chris Andrews[6] ; 4. 45-Danny Holtgraver[1] ; 5. 40DD-Caleb Griffith[8] ; 6. 9Z-Duane Zablocki[3] ; 7. 33M-Sheldon Haudenschild[5] ; 8. 97-Dean Jacobs[9] ; 9. 5K-Adam Kekich[7] ; 10. 787-Jimmy Pooler[10]
Heat 2 All Pro Aluminum Heads (10 Laps – Top 5 finishers transfer to the A-feature)
1. 40-Caleb Helms[2] ; 2. 16M-Danny Mumaw[1] ; 3. 2-Dale Blaney[4] ; 4. 53-DJ Foos[5] ; 5. 83M-Broc Martin[3] ; 6. 80-Trey Gustin[6] ; 7. 70-Jeff Swindell[8] ; 8. 39M-Matt Merrill[9] ; 9. 1080-Jordan MacKison[7]
Heat 3 Dragon Race Fuels –  (10 Laps – Top 5 finishers transfer to the A-feature)
1. W20-Greg Wilson[2] ; 2. 45L-Brian Lay[3] ; 3. 9X-Rob Chaney[1] ; 4. 5R-Byron Reed[6] ; 5. O9-Craig Mintz[7] ; 6. 22S-Brandon Spithaler[8] ; 7. 55-Brad Bowman[5] ; 8. 60K-Jody Keegan[4] ; 9. 312-Mike Linder[9]
Heat 4 Kinsler Fuel Injections –  (10 Laps – Top 5 finishers transfer to the A-feature)
1. 83-Tim Shaffer[2] ; 2. 54-Cap Henry[3] ; 3. 9W-Jac Haudenschild[1] ; 4. 57X-Andrew Palker[4] ; 5. 24H-Bryan Sebetto[8] ; 6. 35-Stuart Brubaker[6] ; 7. 81-Lee Jacobs[5] ; 8. 5T-Travis Philo[9] ; 9. 81P-Paige Polyak[7]
Dash – Outer Wears Performance Products  (6 Laps, finishing order determined first 6 starting positions of A-feature
1. 87-Alan Krimes[1] ; 2. 2-Dale Blaney[2] ; 3. 53-DJ Foos[3] ; 4. 16-Chris Andrews[4] ; 5. 5R-Byron Reed[5] ; 6. 57X-Andrew Palker[6]
B-Main – MSD Ignitions (12 Laps – Top 4 finishers transfer to the A-feature)
1. 33M-Sheldon Haudenschild[3] ; 2. 81P-Paige Polyak[10] ; 3. 80-Trey Gustin[1] ; 4. 70-Jeff Swindell[11] ; 5. 97-Dean Jacobs[13] ; 6. 35-Stuart Brubaker[2] ; 7. 81-Lee Jacobs[5] ; 8. 9Z-Duane Zablocki[7] ; 9. 39M-Matt Merrill[14] ; 10. 312-Mike Linder[15] ; 11. 1080-Jordan MacKison[9] ; 12. 787-Jimmy Pooler[17] ; 13. 5T-Travis Philo[16] ; 14. 60K-Jody Keegan[6] ; 15. 55-Brad Bowman[4] ; 16. 5K-Adam Kekich[8] ; 17. 22S-Brandon Spithaler[12]
A-Main –  (50 Laps)
1. 2-Dale Blaney[2]; 2. 83-Tim Shaffer[15]; 3. 87-Alan Krimes[1]; 4. 16-Chris Andrews[4]; 5. 83M-Broc Martin[7]; 6. 81P-Paige Polyak[21]; 7. 70-Jeff Swindell[23]; 8. 57X-Andrew Palker[6]; 9. 54-Cap Henry[9]; 10. O9-Craig Mintz[20]; 11. 24H-Bryan Sebetto[24]; 12. W20-Greg Wilson[14]; 13. 45-Danny Holtgraver[16]; 14. 9W-Jac Haudenschild[19]; 15. 40-Caleb Helms[13]; 16. 33M-Sheldon Haudenschild[12]; 17. 16M-Danny Mumaw[17]; 18. 80-Trey Gustin[11]; 19. 5R-Byron Reed[5]; 20. 9X-Rob Chaney[18]; 21. 45L-Brian Lay[8]; 22. 53-DJ Foos[3]; 23. 40DD-Caleb Griffith[22]; 24. O-Sam Hafertepe Jr.[10]
Hard Charger: 70-Jeff Swindell[+16]
Fremont Federal Credit Untion 305 Sprints (24 Cars)
[#]-Starting Position
Heat 1 –  (8 Laps – Top 5 finishers transfer to the A-feature)
1. 8I-John Ivy[1] ; 2. 68G-Tyler Gunn[4] ; 3. OO-Alvin Roepke[7] ; 4. 19R-Steve Rando[5] ; 5. 4K-Bobby Clark[3] ; 6. 4T-Jim Taddeo[2] ; 7. O8-Andy Feil[6]
Heat 2 –  (8 Laps – Top 5 finishers transfer to the A-feature)
1. 8M-T.J Michael[1] ; 2. 25-Jason Keckler[6] ; 3. 39M-Tony Beaber[4] ; 4. 1W-Paul Weaver[5] ; 5. 22D-Dan Hammond[2] ; 6. 10-Josh Harrison[3] ; 7. 11G-Luke Griffith[7] ; 8. 1-Nate Dussel[8]
Heat 3 –  (8 Laps – Top 5 finishers transfer to the A-feature)
1. 5R-Jordan Ryan[6] ; 2. 2-Ricky Peterson[2] ; 3. 10S-Roger Shammo[5] ; 4. 4M-Jamie Miller[4] ; 5. 36-Seth Schneider[7] ; 6. 13D-Jeremy Duposki[1] ; 7. 1M-Mike Moore[8] ; 8. 12-Kyle Capodice[3]
A-Main –  (25 Laps)
1. 1W-Paul Weaver[11]; 2. 5R-Jordan Ryan[6]; 3. 8M-T.J Michael[1]; 4. 25-Jason Keckler[5]; 5. 68G-Tyler Gunn[3]; 6. 8I-John Ivy[2]; 7. 4K-Bobby Clark[14]; 8. 19R-Steve Rando[10]; 9. 1-Nate Dussel[22]; 10. 36-Seth Schneider[12]; 11. 10S-Roger Shammo[7]; 12. 11G-Luke Griffith[19]; 13. O8-Andy Feil[21]; 14. 2-Ricky Peterson[8]; 15. 4T-Jim Taddeo[18]; 16. 12-Kyle Capodice[23]; 17. 10-Josh Harrison[17]; 18. 39M-Tony Beaber[9]; 19. OO-Alvin Roepke[4]; 20. 4M-Jamie Miller[13]; 21. 22D-Dan Hammond[15]; 22. 1M-Mike Moore[16]; 23. 13D-Jeremy Duposki[20]
Hard Charger: 1-Nate Dussel[+13]
AAA Auto Club Dirt Trucks (23 Trucks)
[#]-Starting Position
Heat 1 –  (8 Laps – Top 10 finishers transfer to the A-feature)
1. 8KB-Kent Brewer[2] ; 2. 37-Eric Devanna[4] ; 3. D1-Dustin Keegan[6] ; 4. 2-Matt Foos[5] ; 5. 99H-Art Howey Jr.[8] ; 6. 25S-Tony Siferd[7] ; 7. 99X-Gene Potridge[1] ; 8. 3X-Brad Keckler[3]
Heat 2 –  (8 Laps – Top 10 finishers transfer to the A-feature)
1. 36M-Cory McCaughey[2] ; 2. 5-Jimmy McGrath Jr.[6] ; 3. 115-Ben Good[1] ; 4. 7-Dana Frey[4] ; 5. 16-Brandon Perkins[3] ; 6. 17-Bob Dible[5] ; 7. 10-Roger Inks[8] ; 8. 31-Mark Lawson[7]
Heat 3 –  (8 Laps – Top 10 finishers transfer to the A-feature)
1. 7B-Shawn Valenti[4] ; 2. 4S-Keith Sorg[2] ; 3. OO-John Ivy[7] ; 4. 88-Dan Roepke Jr.[5] ; 5. 92-Loren Schwochow[1] ; 6. P51-Willie Keegan[6] ; 7. 18w-Cory Ward[3]
A-Main –  (20 Laps)
1. 7B-Shawn Valenti[4]; 2. 88-Dan Roepke Jr.[11]; 3. 2-Matt Foos[10]; 4. OO-John Ivy[2]; 5. 5-Jimmy McGrath Jr.[3]; 6. D1-Dustin Keegan[7]; 7. 17-Bob Dible[18]; 8. 37-Eric Devanna[6]; 9. 18W-Cory Ward[20]; 10. 99H-Art Howey Jr.[9]; 11. 115-Ben Good[12]; 12. 4S-Keith Sorg[8]; 13. 16-Brandon Perkins[15]; 14. 3X-Brad Keckler[23]; 15. 92-Loren Schwochow[16]; 16. 99X-Gene Potridge[22]; 17. 31-Mark Lawson[21]; 18. 8KB-Kent Brewer[1]; 19. 7-Dana Frey[13]; 20. 10-Roger Inks[19]; 21. 36M-Cory McCaughey[5]
Hard Charger: 17-Bob Dible[+11]