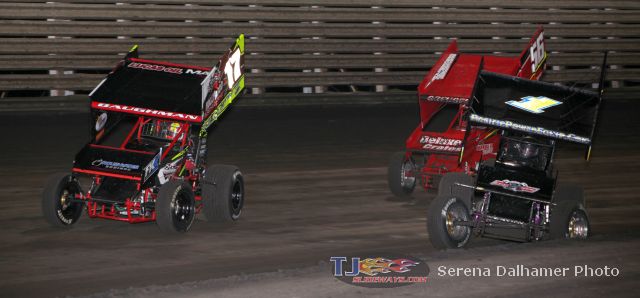 Inside Line Promotions
KENNEDALE, Texas (Sept. 17, 2013) – What started out on a good note ended sour last Saturday for Josh Baughman.
After drawing the pole of a heat race, Baughman faced mechanical issues in his heat race at Kennedale Speedway Park in the ASCS Lone Star vs. ASCS Sooner Region event. Baughman held on for a third-place finish in his heat, which started him on the front row of a B Main.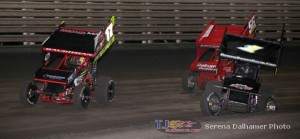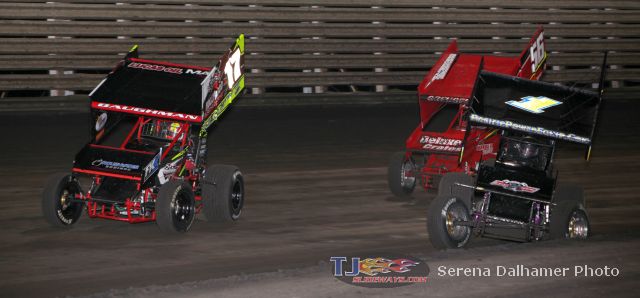 "I had a fuel problem, like it was running on five cylinders," he said. "When we came in they changed out the box and the whole fuel system. They were rushed to get us back out there for the B Main."
When Baughman pushed off to start the consolation, the engine died after running for a second or two. That forced Baughman to have a second push and be relegated to the back of the pack.
With only 12 laps to earn a transfer position, Baughman got tangled in an incident a couple of laps into the feature. He ended upside down.
"There was about four cars together," he said. "Lack of patience on my end. I forced a pass and it didn't work out. I got upside down. It cost me the night."
Baughman is scheduled to return to action on Saturday with the Lucas Oil ASCS National Tour at Texas Motor Speedway in Fort Worth, Texas, for the Port-a-Cool U.S. Dirt Track Championship.
In last season's inaugural event, Baughman ended third in his heat race, third in a B Main and he charged from 22nd to place 13th in the feature.
"Texas is a pretty good sized 3/8 mile," he said. "It's around the fence. I like to gas it up and run the top, so I'm hoping for a good weekend. I hope everything goes in our favor and we have some luck on our side."
QUICK RESULTS –
Sept. 14 – Kennedale Speedway Park in Kennedale, Texas – Heat race: 3 (1); B Main: 8 (2).
SEASON STATS –
28 races, 0 wins, 1 top five, 6 top 10s, 9 top 15s, 14 top 20s
UP NEXT –
Saturday at Texas Motor Speedway in Fort Worth, Texas, with the Lucas Oil ASCS National Tour
SOCIAL MEDIA LINKS –
Twitter: https://twitter.com/josh_baughman17
Facebook: https://www.facebook.com/joshbaughmanracing
SPONSOR SPOTLIGHT – Hinchman Racewear
With more than 80 years in the industry, Hinchman Racewear prides itself on safety, experience, innovation, quality and customer service. For more information on how Hinchman Racewear can protect you, visit http://www.HinchmanRacewear.com.
"I really like Nancy and the people at Hinchman Racewear," Baughman said. "They build a really nice suit and they get it done really quickly."
Baughman would also like to thank Hollywood Blasting and Coating, GF1 Chassis, Factory Kahne, B&H Industrial Supplies, Ti22 Performance, Roush Yates Racing Engines and Keizer Aluminum Wheels for their continued support.