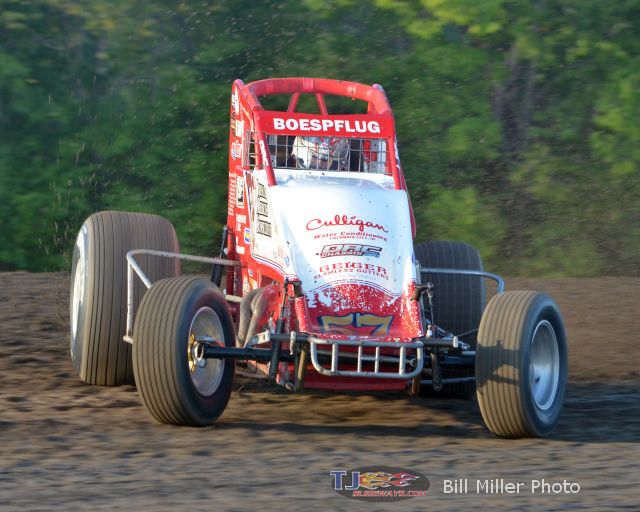 PETERSEN MEDIA
 Chad Boespflug and his Paul Hazen No. 57 team were in action for a pair of events over the weekend, and the team had a very up and down weekend.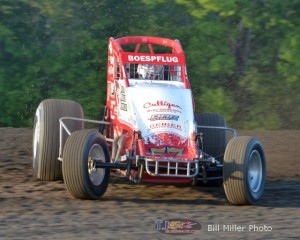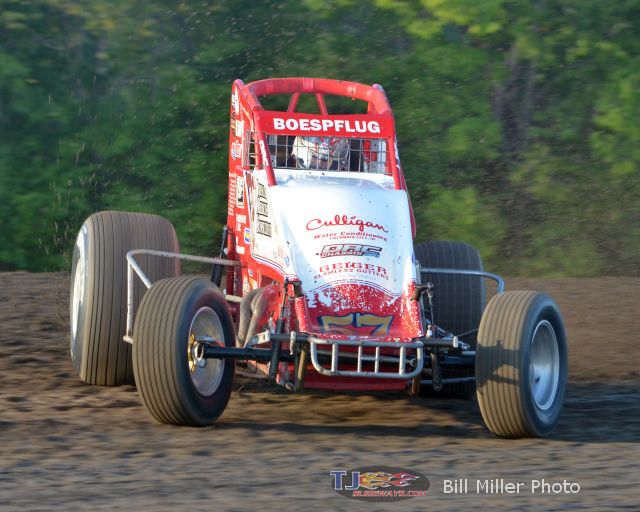 Kicking off in Gas City, IN looking to add to their 19-point championship lead, Boespflug kicked his night off by pulling a very low pill and starting on the pole of his heat.
Picking up the heat win, Boespflug earned the right to re-draw for his starting position in the feature, and he ended up with the six, putting himself in the third row.
When the green light's flashed Boespflug was able to work his way up to the fourth spot as he worked on third running, Jarret Andretti.
Battling with Andretti, 'The Flug" left the door-open for Justin Grant, and he slipped back to the fifth spot, before falling as far back as the seventh spot.
Electing to move to the top of the speedway, Boespflug's machine started to come alive as he got around Kevin Thomas, Jr to take over the sixth spot.
Looking to get more, Boespflug closed quickly on a slowing Todd Keen, and contact ensued, and Boespflug's night came to an abrupt end, and ultimately lost his point lead with just one race to go.
"It was a bummer night," he said. "We got going up top, and we hit a car that was slowing, and heading into the finale at Gas City, we now are trailing by 29 points, so we really need to be on our 'A Game" next week."
Saturday night the team headed to Putnamville, IN to attack the Lincoln Park Speedway, and they had a much better night.
Thought the end of the night was much better, the start of it couldn't get much worse as the Hanford, CA driver pulled high for his heat, and lined up in the last row.
That didn't deter him however, as he was on the hammer and came up just short of grabbing the win, and settled for second, again putting him in the second row of the feature event.
When the feature got underway, Boespflug ran in the fourth spot for the first handful of laps, before he was able to slice his way into second, and begin pursuing Casey Shuman.
Once in second, Boespflug began applying relentless pressure on Shuman, but unfortunately the yellow flew a few times to halt progress.
With five to go, Boespflug carefully planned out his moves, and threw a 'hail-mary' slider, that cleared Shuman, but he slipped over the softer cushion, and wound up settling for second.
"It was a ton of fun battling with 'Shu' on Saturday, and it was nice to have a night like that after a rough night on Friday," he said.
ON TAP: Chad will be in action on Friday night at the I69 Speedway in Gas City, IN to hopefully bounce back and claim the track championship before heading back to Putnamville, IN on Saturday night.
STAY CONNECTED: For all of the latest news on Chad, visit his website at www.chadboespflugracing.com, 'like' his Facebook page, www.facebook.com/chadboespflugracing, or follow him on Twitter, @chadboespflug.