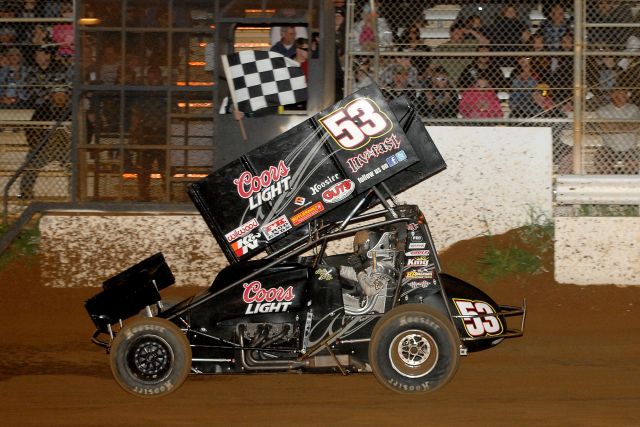 PETERSEN MEDIA
 With the California Civil War Series season finale being postponed until this Wednesday night, Andy Gregg decided to load up his Coors Light/LivFast/GUTS Racing No. 53 and head south to take on the King of the West Series in Tulare, CA.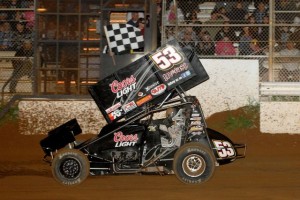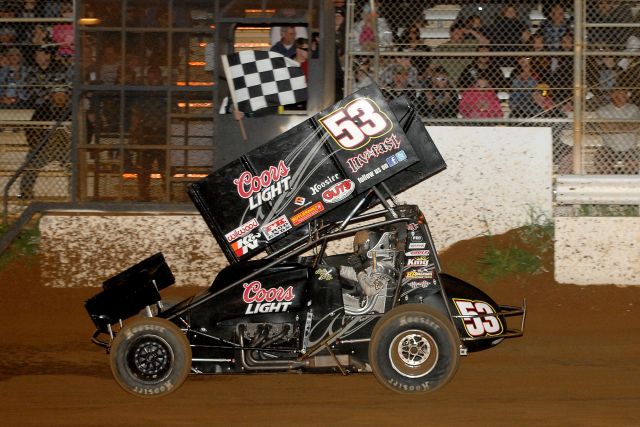 "It was a less than desirable night, but we got a chance to make some laps here before Trophy Cup, and that was good, but ending upside down, was not what he had in mind," Gregg said.
With 28 cars in action, Gregg timed in 14th fastest, good enough to put him on the front row of his heat race.
The initial start of his heat saw Bobby McMahan and Doug Gandy get together bringing out the red, and moments after all the cars stopped, the power went out, as the area was experiencing severe dust, and high winds.
After a bit of a delay, Gregg settled into the second spot behind Brent Kaeding, and finished second earning the transfer spot into the feature event.
Lining up in the seventh row of the feature event, Gregg had nowhere to go when the race went green, as he got a piece of the 10-car pile up that took place in the first turn, and was forced to the work area.
Restarting with no nose-wing, Gregg tried to make laps and keep his nose clean, and did just that much of the race, as he found himself inside the top-10.
On the 24th lap, another big-wreck ensued, and again, Gregg caught the tail end of it, but this time, he took a nasty ride, though he escaped okay, his car was battered, and his night was over, and he was credited with a 14th place finish.
"If we could have gotten he jump in our heat, or qualified better we would have been a little farther forward, and possibly missed the whole thing, but it happened. Fortunately I was able to hop out after a pretty nasty flip, and can race again."
Andy would like to thank Coors Light, LivFast Clothing Co., GUTS Racing, Meyers and Son Drywall, Ervin Sales Group, K&N Products, FK Rod Ends, Eagle Motorsports, King Racing Products, BR Motorsports, Hinchman, Brown and Miller Racing Solutions, and 103.5 The Blaze for their support in 2013.
2013 BY THE NUMBERS: Races-43, Wins-7, Top 5's-22, Top 10's-27
ON TAP: Gregg will be back in action on Wednesday night at the Placerville Speedway before heading to the Silver Dollar Speedway this Friday and Saturday night for the Fall Nationals.
STAY CONNECTED: Stay up to speed with Andy by following him on twitter @andygregg16x.