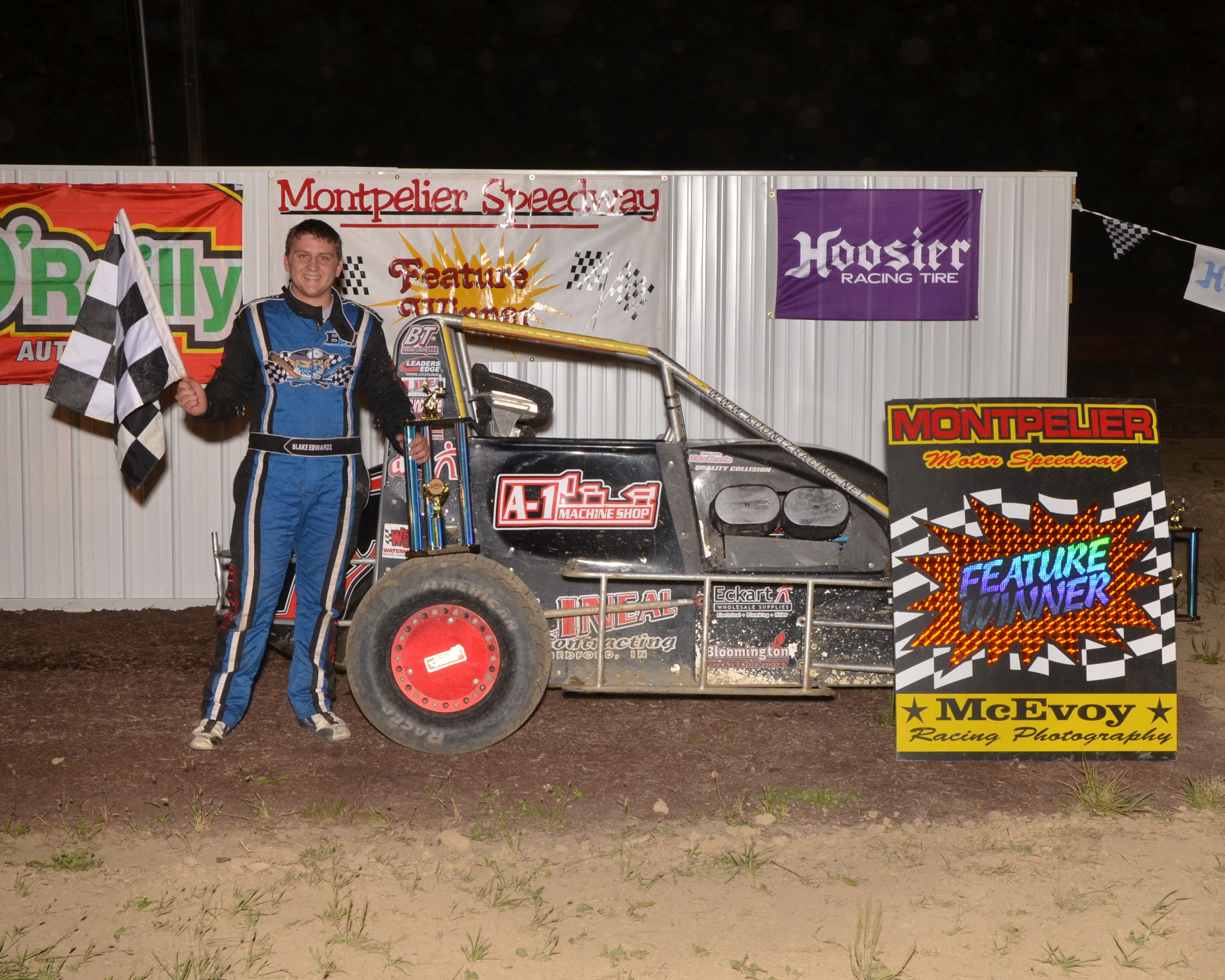 Montpelier,In. (9-28-2013)-Claremore, Oklahoma's Blake Edwards won the 20 lap midget feature and also captured the Montpelier Speedway 2013 Midget track championship Saturday night over Nick Lucas, Lynsey Liguori, Billy Wease and  Pennsylvania visitor Brett Arndt.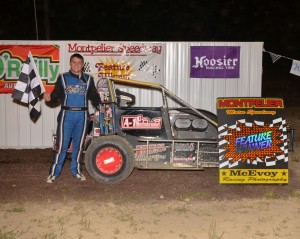 Spencer Bayston and Edwards made up the front row and before a lap was complete, the red flew for a Randy Reed flip. Reed was not injured. It took two more attempts to get things going and Billy Wease led the first circuit but after two laps Edwards had taken the lead that he would not relinquish for the remainder of the feature. However Edwards was pressured several times .
Billy Wease using the low side, nearly pulled even with Edwards as the 17e used the high side to hold the lead. Racing for 2nd through 6th was action packed with many position swaps between , Nick Lucas, Wease, Michael Koontz and Brett Arndt. 11th place starting Lynsey Liquori was making steady progress towards the front and was passing cars using the top of the track. As the field came to the white flag, the caution appeared setting up a one lap shootout.
As the green waved Edwards held a slight advantage over Wease but behind him things were intense through the final two turns with Lucas, , Lynsey Liguori, Wease and Koontz under a blanket. Edwards held on for the win but Nick Lucas took second, , then it was Wease, Liguori with a fine fourth place finish Arndt and Koontz.
Heats for the 25 cars in the pits were won by Blake Edwards, Billy Wease and Zach Hampton. Michael Koontz took the B.
A Main:
1. 17	Blake Edwards -*R  Claremore, Oklahoma
2. 6	Nick Lucas	Rockville, Indiana
3. 10	Billy Wease	Noblesville, Indiana
4. 6RR	Lynsey Liguori	Lebannon, Indiana
5. 17	Michael Koontz	Bloomington, Indiana
6. 46	Brett Arndt	Topton, Pennsylvania
7. 21	Kurt Mayhew	DeMotte, Indiana
8. 2	Tate Martz	Rushville, Indiana
9. 7	Joe Liguori	Tampa, Florida
10. 8OK	Gage Walker	Indianapolis, Indiana
11. 39	Spencer Bayston	Lebannon, Indiana
12. 8	Larry Woods	New Madison, Ohio
13. 63	Dallas Hunt	Pleasant Hill, Ohio
14. 10	Stratton Briggs - *R  Anna, Ohio
15. 41	Alex Watson	Columbus, Ohio
16. 35	Zach Hampton	Clayton, Indiana
17. 17	Joey Greening	Beaver Creek, Ohio
18. 52	Isaac Chapple *R	Wilkinson, Indiana
19. 22	John Heydenreich  Bloomsburg, Pennsylvania
20. 9	Randy Reed	Spring Grove, Illinois