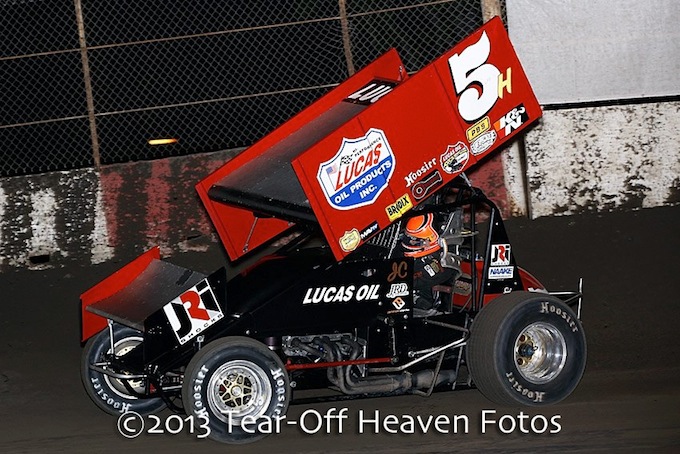 PETERSEN MEDIA
 Competing against the Civil War Series in a mid-week event, and competing in the Fall Nationals in Chico, CA over the weekend, Justyn Cox as his Van Dyke Motorsports team were very fast, as Cox scored second and sixth place finishes, before a rubber down racetrack on Saturday night, resulted in a 13th place finish.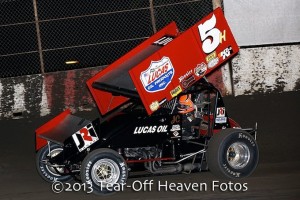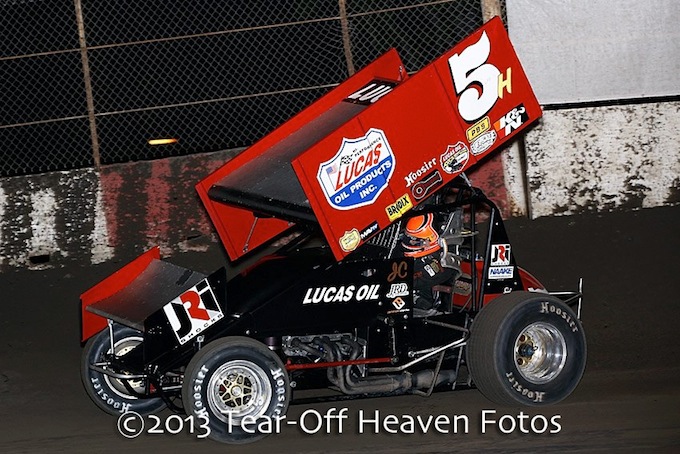 "All in all it was a great week for our team," Cox said. "We were fast all three nights, but unfortunately we had a little bad luck on Saturday night that put us in the back on a rubber down track, and we finished mid-pack."
Kicking off his busy week on Wednesday night, Cox was in Placerville, CA taking on the Civil War Series.
With 28 cars on hand, Cox timed in 13th fastest, putting him in the second row of his heat race.
Scoring a fourth place finish, Cox made the transfer to the feature event, and with the inversion, he found himself starting on the front row alongside, Tim Kaeding.
When the race got underway, Kaeding darted to the top of the speedway, and Cox dove to the bottom, and grabbed the early lead.
With one of the hottest drivers in the world breathing down his neck, Cox worked the bottom to perfection, as Kaeding relentlessly tried to make the top work.
On the 10th lap, Kaeding was able to get around Cox, and stretch out his lead, but Cox held his own in the second spot as he battled with Kaeding's teammate, Kyle Hirst.
A couple of restarts bunched the field up, but Cox held tough, and ended his night with a second place finish.
"Placerville has always been a tough track for me, and to finish in between these two Roth Motorsports cars (Kaeding and Hirst) is pretty cool," he said. "We timed in sort of bad, but with the Civil War format I knew we would be okay, and it worked out."
Heading to the Silver Dollar Speedway for the 21st Annual Fall Nationals, Cox kicked the two-night event off in style as he was the quick time winner on Friday night against the 47 cars that were checked in.
Starting fourth in his heat on a very heavy and fast race track, Cox was able to score a third place finish, putting him in both the feature event, and Dash based on his qualifying time.
Lining up in the third spot in the Dash, the Clarksburg, CA driver has his hands full as he battled a shock issue in the eighth lap race, and still was able to score a fourth place finish, putting him in the second row for the feature event.
When the feature event got underway, Cox slipped back to the sixth spot, but worked his way into the fifth spot as he chased after Andy Forsberg much of the race.
With a couple of laps to go, Cox went to make a move on Forsberg for fourth, but the two made slight contact, and Cox wound up with a sixth place finish.
After a heavy and fast track greeted drivers on Friday, Saturday brought some wind and a hard slick surface, that went away very early in the evening.
With 51 cars on hand, Cox again went out late for time-trials, a disadvantage on this night, and still managed to time his entry in seventh fastest.
Starting third in his heat, Cox threw a slider in the first corner for the lead, and managed to grab the second spot as the leader was able to cross under.
In the next corner, Rico Abreu threw a slider on Cox, and the duo touched, and Cox got into the wall, ending his heat race, and putting him into the B main.
With the track starting to take rubber, Cox lined up third in the B main event, and was able to score a second place finish, putting him 15th in the feature event.
On a track that saw almost no passing, Cox was able to sneak up to a 13th place finish.
"I have to thank all of my guys for working so hard all week," he said. "We had a really good first couple of nights, and unfortunately with Saturday's track, our heat race deal really hurt us."
Justyn and his Van Dyke Motorsports team would like to thank Lucas Oil,  K&N Products, JRI Shocks, Rodgers Racing Engines, K1 Safety Gear, JRD Endeavors, Sacramento Theatrical Lighting, Worton Designs, and College Cyclery for their support during the 2013 season.
2013 BY THE NUMBERS: Races-50, Wins-3, Top 5's-16, Top 10's-24
ON TAP: Cox and the Van Dyke Motorsports team will return to action for the Trophy Cup in Tulare, CA on October 18th and 19th.
STAY CONNECTED: For the latest news on Justyn become a fan of his on facebook at www.facebook.com/JustynCoxRacing or follow him on twitter @justyncox_jc.