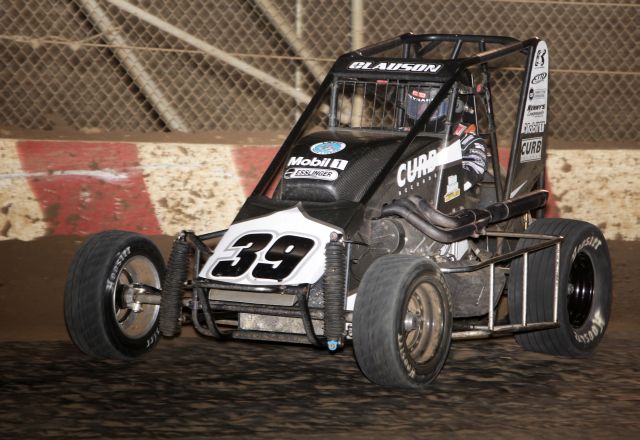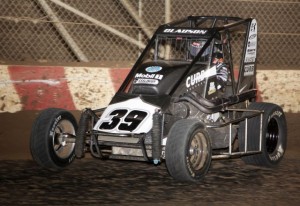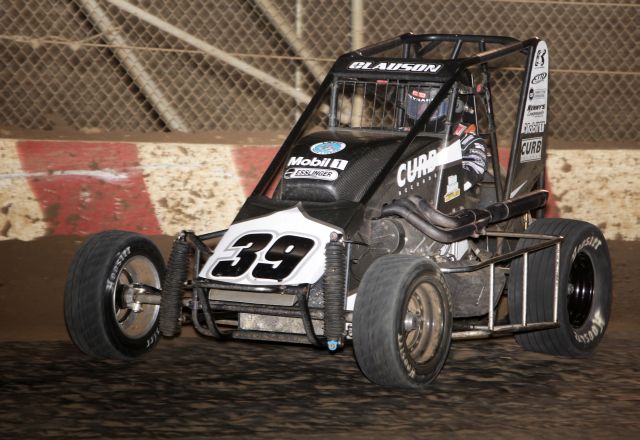 From Tim Tuttle
Pontoon Beach, IL — (October 4, 2013) — Zach Daum clinched the championship and Bryan Clauson won his fourth feature of the season in the POWRi Lucas Oil National Midget Series on Friday, the second of three events in the fifth annual DuPont Gold Crown Nationals, co-sanctioned by the Honda USAC National Dirt Series, at Tri-City Speedway.
Daum finished fourth in the 25-lap race on the high-speed three-eighths mile track and stretched his lead over second-place Andrew Felker to 4,570-4,050 going into tonight's (Saturday) $10,000-to-win finale of the 30-event season. With POWRi's rule that requires drivers to drop their worst two finishes, Daum has an unbeatable 4,460-4,030 advantage over Felker, the 2012 POWRi National Midget champion.
It is Daum's first season with Toyota and backing from Toyota Racing Development and he won his first POWRi national championship and the first national title for Toyota and TRD. The 22-year-old from Pocahontas, Ill., drove an Eagle chassis that he maintained and did the setup preparation himself.
"This is a dream come true," Daum said. "This means a lot. The championship is my first since winning one in a late model at Brownstown (Ill.) Speedway in 2006. It's a big accomplishment to bring Toyota its first midget championship, something I'm really proud of. Toyota is obviously the best motors out there and we put together a year where we didn't fall out. We had to be on the top of our game doing our maintenance.
"I wouldn't have thought we'd win eight midget races (six POWRi, one USAC, one Badger), but we've been competitive everywhere and that means more than anything to me."
Daum was fourth for the second straight night in the Gold Crown and his 11th straight top-five. He has 20 top-fives for the season.
Daum started Saturday's feature on the outside of the front row next to Clauson and took the lead by beating him to the first corner. He held it for the opening five laps.
On a lap six restart, Clauson passed Daum on the outside exiting turn two and began building a big lead in his Curb Records Spike-Esslinger. It was wiped out by the second caution, forcing a restart on lap 15. Daum had held second, Tracy Hines was third and Rico Abreu fourth.
"Clauson was really good and I could see I wasn't going to be able to hold him back," Daum said. "I could see the bottom going away in a couple of spots, but I was committed to the bottom and stayed there."
Clauson, a 24-year-old from Noblesville, Ind., drove away from Daum on the restart. Hines, driving a Spike-Toyota, passed Daum for second on the 20th lap and Abreu's Bullet-Toyota climbed into contention for close three-car battle for second.
"It was pretty exciting racing for second, third and fourth," Abreu said.
When a red flag came out on lap 23, Abreu was second, Hines third and Daum fourth for the restart with three laps remaining.
Clauson accelerated away from Abreu on the restart, ahead by a couple of car lengths going into turn one, and held that advantage to the checkered flag. Abreu of Rutherford, Calif., finished second and Hines of New Castle, Ind., third.
"The restart against Daum was the move of the race for sure," Clauson said. "I had a really strong car, especially good in (turns) one and two. I knew the 67k (Abreu) was coming at the end and I figured the top was coming in and I jumped up after the last restart in turns three and four. I had drive to the front on the bottom and you hate to give up what has gotten you there."
But Abreu never got within range of throwing one of his sliders.
"I spun the tires on the last restart," Abreu said. "The slide jobs had killed my tires. I wish the red hadn't come out. If it hadn't, I think I had a pretty good shot at (passing) Clauson. But I'm not disappointed at all with second."
The top eight cars by points from the Thursday and Friday features will race in a dash tonight (Saturday) to establish their starting positions for the 40-lap Gold Crown championship. They are Clauson, Abreu, Daum, Chris Bell, Darren Hagen, Shane Cottle, Caleb Armstrong and Alex Bright.
The POWRi Speedway Motors 600cc Outlaw Micro Series will join the program for its season finale tonight (Saturday). Nathan Benson of Concordia, Mo., has clinched the championship.
POWRi Lucas Oil National Midget Series feature results (25 laps): 1. Bryan Clauson, 2. Rico Abreu, 3. Tracy Hines, 4. Zach Daum, 5. Christopher Bell, 6. Darren Hagen, 7. Shane Cottle, 8. Brad Kuhn, 9. Caleb Armstrong, 10. Alex Bright, 11. Dave Darland, 12. Kevin Thomas, 13. Danny Stratton, 14. Andrew Felker, 15. Jonathan Beason, 16. Jake Blackhurst, 17. Jerry Coons Jr.,18. Tyler Thomas, 19. Taylor Ferns, 20. Brady Bacon, 21. Austin Brown, 22. Dalton Armstrong, 23. Parker Price-Miller, 24. Billy Wease, 25. Bobby East.
For more information, visit www.powri.com.